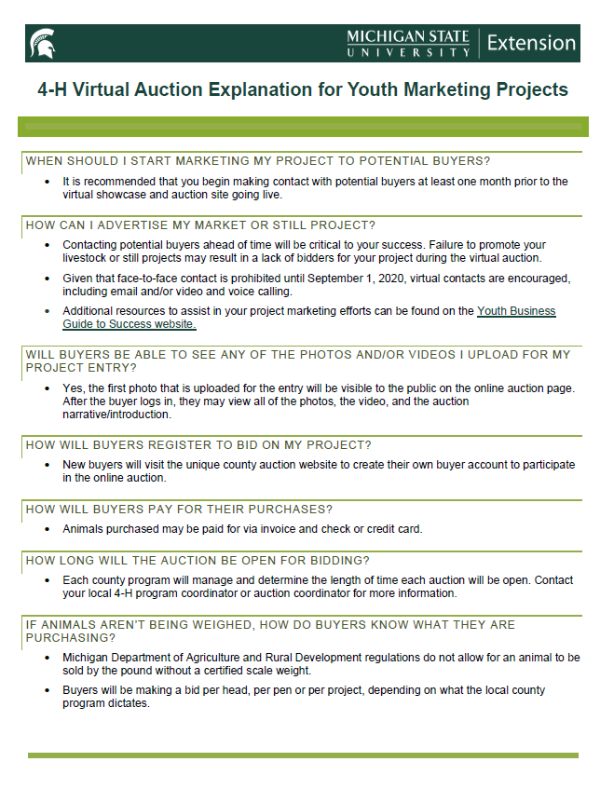 4-H Virtual Auction Explanation for Youth Marketing Projects
June 23, 2020 - Author: Michigan State University Extension
When should I start marketing my project to potential buyers?
It is recommended that you begin making contact with potential buyers at least one month prior to the virtual showcase and auction site going live.
How can I advertise my market or still project?
Contacting potential buyers ahead of time will be critical to your success. Failure to promote your livestock or still projects may result in a lack of bidders for your project during the virtual auction.
Virtual contacts are encouraged, including email and/or video and voice calling.
Additional resources to assist in your project marketing efforts can be found on the Youth Business Guide to Success website.
Will buyers be able to see any of the photos and/or videos I upload for my project entry?
Yes, the first photo that is uploaded for the entry will be visible to the public on the online auction page. After the buyer logs in, they may view all of the photos, the video, and the auction narrative/introduction.
How will buyers register to bid on my project?
New buyers will visit the unique county auction website to create their own buyer account to participate in the online auction.
How will buyers pay for their purchases?
Animals purchased may be paid for via invoice and check or credit card.
How long will the auction be open for bidding?
Each county program will manage and determine the length of time each auction will be open. Contact your local 4-H program coordinator or auction coordinator for more information.
If animals aren't being weighed, how do buyers know what they are purchasing?
Michigan Department of Agriculture and Rural Development regulations do not allow for an animal to be sold by the pound without a certified scale weight.
Buyers will be making a bid per head, per pen or per project, depending on what the local county program dictates.
Is resale still an option?
The ability to resell an animal will be determined locally. Contact your local 4-H program coordinator or auction coordinator for more information.
How do buyers get their purchases?
Buyers will indicate where they would like their purchases transported to and/or processed when they check out at the conclusion of the sale.
If an animal or still project should go to a residence, the seller will contact the buyer to make arrangements for pickup or delivery of the purchase. The seller will be responsible for making contact within 48 hours of the conclusion of the sale in order to make arrangements.
If an animal will be sent to the processor, transportation will be coordinated by the 4-H program coordinator and/or auction coordinator. The buyer will need to contact the processor with their cutting instructions and pick up their meat from the processor.
To learn more about participating in the virtual auction as a buyer, view the "4-H Virtual Auction: Potential Buyer FAQ."
For other tips on participating as a youth in the virtual auction, please visit the Youth Members page of the Virtual Showcase and Auctions website.