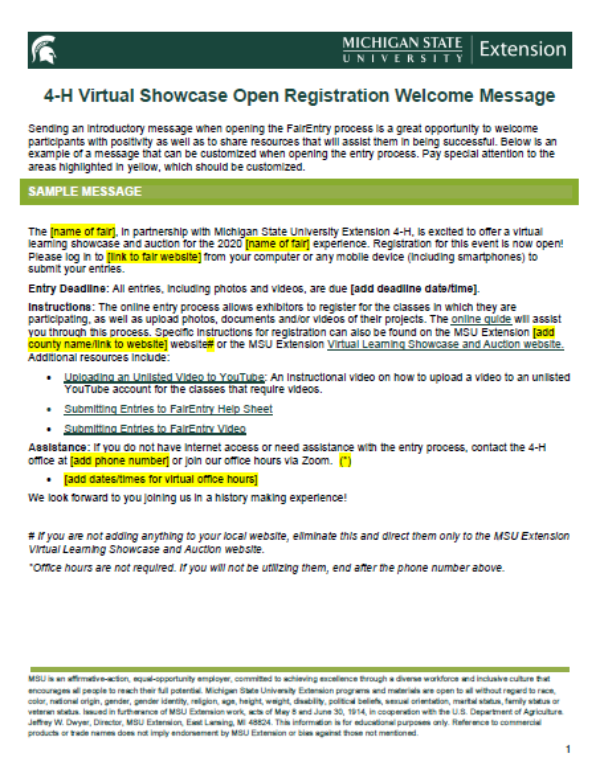 4-H Virtual Showcase Open Registration Welcome Message
DOWNLOAD
July 8, 2020 - Author: Michigan State University Extension
Sending an introductory message when opening the FairEntry process is a great opportunity to welcome participants with positivity as well as to share resources that will assist them in being successful. Below is an example of a message that can be customized when opening the entry process. Pay special attention to the areas highlighted in yellow, which should be customized.
SAMPLE MESSAGE
The [name of fair], in partnership with Michigan State University Extension 4-H, is excited to offer a virtual learning showcase and auction for the 2020 [name of fair] experience. Registration for this event is now open! Please log in to [link to fair website] from your computer or any mobile device (including smartphones) to submit your entries.
Entry Deadline: All entries, including photos and videos, are due [add deadline date/time].
Instructions: The online entry process allows exhibitors to register for the classes in which they are participating, as well as upload photos, documents and/or videos of their projects. The online guide will assist you through this process. Specific instructions for registration can also be found on the MSU Extension [add county name/link to website] website# or the MSU Extension Virtual Learning Showcase and Auction website. Additional resources include:
Assistance: If you do not have internet access or need assistance with the entry process, contact the 4-H office at [add phone number] or join our office hours via Zoom. (*)
[add dates/times for virtual office hours]
We look forward to you joining us in a history making experience!
# If you are not adding anything to your local website, eliminate this and direct them only to the MSU Extension Virtual Learning Showcase and Auction website.
*Office hours are not required. If you will not be utilizing them, end after the phone number above.