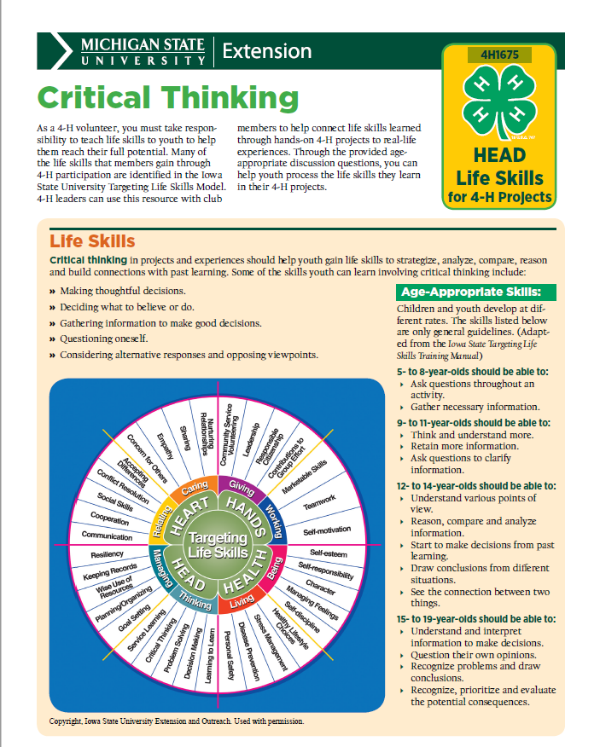 4-H Head Life Skills Sheets (4H1679)
DOWNLOAD
August 16, 2016 - Author: Michigan State University Extension
These 8.5 x 11 fact sheets help 4-H and other youth group volunteer leaders understand how project areas help young people develop life skills focused on managing and thinking from the Targeting Life Skills Model under the area of head. The 3x5 4-H Head Life Skills Pocket Cards (4H1675) are a companion piece designed to easily be transported and used anywhere.
Introduction
As a 4-H volunteer, you must take responsibility to teach life skills to youth to help them reach their full potential. Many of the life skills that members gain through 4-H participation are identified in the Iowa State University Targeting Life Skills Model. 4-H leaders can use this resource with club members to help connect life skills learned through hands-on 4-H projects to real-life experiences. The 4-H Head Life Skills sheets focus specifically on helping young people connect those life skills under the area of the head on the Targeting Life Skills Model.
4-H Head Life Skills include:
Critical Thinking
Decision Making
Goal Setting
Keeping Records
Learning to Learn
Planning/Organizing
Problem Solving
Resiliency
Service Learning
Wise Use of Resources
Each life skills sheets consists of a list of some of the skills gained through the life skill, a list of specific skills by age group, related activities, age-appropriate discussion questions, learning opportunities and places to find more information.
Copyright 2016, Michigan State University Board of Trustees