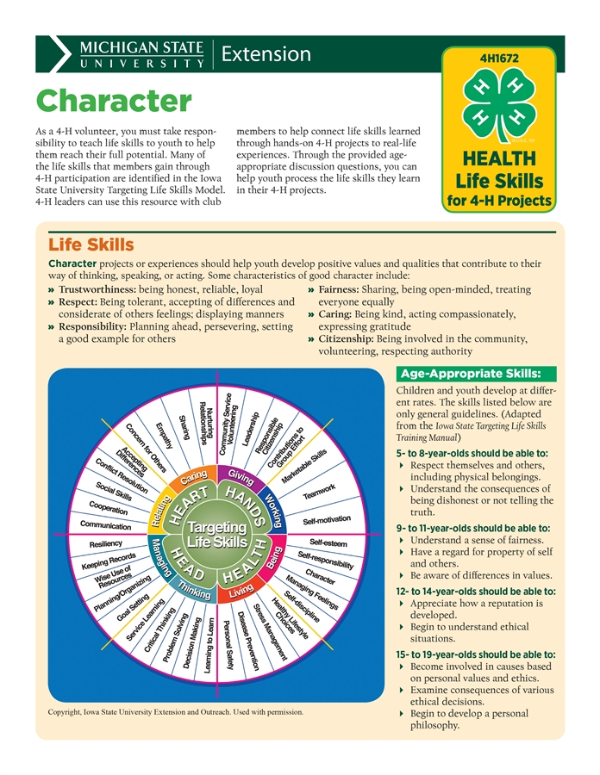 4-H Health Life Skills Sheets (4H1672)
DOWNLOAD
October 26, 2015 - Author: Kendra Moyses
Character
As a 4-H volunteer, you must take responsibility to teach life skills to youth to help them reach their full potential. Many of the life skills that members gain through 4-H participation are identified in the Iowa State University Targeting Life Skills model. 4-H leaders can use this resource with club members to help connect life skills learned through hands-on 4-H projects to real-life experiences. Through the provided age-appropriate discussion questions, you can help youth process the life skills they learn in their 4-H projects.
Life Skills
Character projects or experiences should help youth develop positive values and qualities that contribute to their way of thinking, speaking, or acting. Some characteristics of good character include:
Trustworthiness: being honest, reliable, loyal
Respect: Being tolerant, accepting of differences and considerate of others feelings; displaying manners
Responsibility: Planning ahead, persevering, setting a good example for others
Fairness: Sharing, being open-minded, treating everyone equally
Caring: Being kind, acting compassionately, expressing gratitude
Citizenship: Being involved in the community, volunteering, respecting authority
Age Appropriate Skills:
Children and youth develop at different rates. The skills listed below are only general guidelines. (Adapted from the Iowa State Targeting Life Skills Training Manual)
5- to 8-year-olds should be able to:
Respect themselves and others, including physical belongings.
Understand the consequences of being dishonest or not telling the truth.
9- to 11-year-olds should be able to:
Understand a sense of fairness.
Have a regard for property of self and others.
Be aware of differences in values.
12- 14-year-olds should be able to:
Appreciate how a reputation is developed.
Begin to understand ethical situations.
15- to 19-year-olds should be able to:
Become involved in causes based on personal values and ethics.
Examine consequences of various ethical decisions.
Begin to develop a personal philosophy.
(9 sheets, 2014)