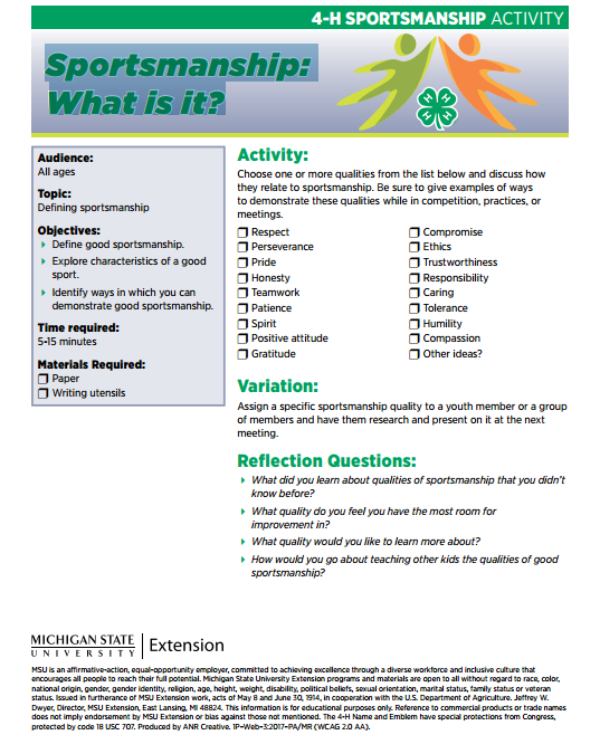 4-H Sportsmanship Activity: Sportsmanship - What is it?
DOWNLOAD
March 29, 2017 - Author: Michigan State University Extension
Audience:
All ages
Topic:
Defining sportsmanship
Objectives:
Define good sportsmanship.
Explore characteristics of a good sport.
Identify ways in which you can demonstrate good sportsmanship.
Time required:
5-15 minutes
Materials Required:
Activity:
Choose one or more qualities from the list below and discuss how they relate to sportsmanship. Be sure to give examples of ways to demonstrate these qualities while in competition, practices, or meetings.
Respect
Perseverance
Pride
Honesty
Teamwork
Patience
Spirit
Positive attitude
Gratitude
Compromise
Ethics
Trustworthiness
Responsibility
Caring
Tolerance
Humility
Compassion
Other ideas?
Variation:
Assign a specific sportsmanship quality to a youth member or a group of members and have them research and present on it at the next meeting.
Reflection Questions:
What did you learn about qualities of sportsmanship that you didn't know before?
What quality do you feel you have the most room for improvement in?
What quality would you like to learn more about?
How would you go about teaching other kids the qualities of good sportsmanship?