Animal Care and Well-Being
April 29, 2015 Author: Melissa Elischer
4-H members work hard to ensure their animals are properly cared for – helping to ensure a state of positive well-being for their animals before, during, and after a fair or exhibition. The following resource materials provide answers to commonly asked questions youth may encounter about animals during a show or exhibition:
Bookmarks
(Each pdf prints six bookmarks – 3 per 8.5" x 11" page, print 2-sided.)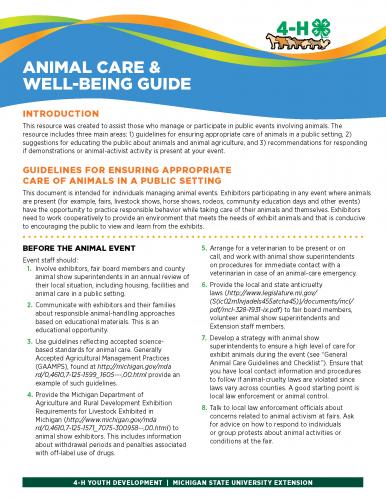 Animal Care and Well-Being Guide
This resource was created to assist those who manage or participate in public events involving animals. The resource includes three main areas:
Guidelines for ensuring appropriate care of animals in a public setting.
Suggestions for educating the public about animals and animal agriculture.
Recommendations for responding if demonstrations or animal-activist activity is present at your event.
Animal Care and Well-Being Guide
For questions or more information on these materials or related topics, contact:
Melissa Elischer, 4-H Dairy Educator
Email: elischer@anr.msu.edu
Phone: (517) 432-4306