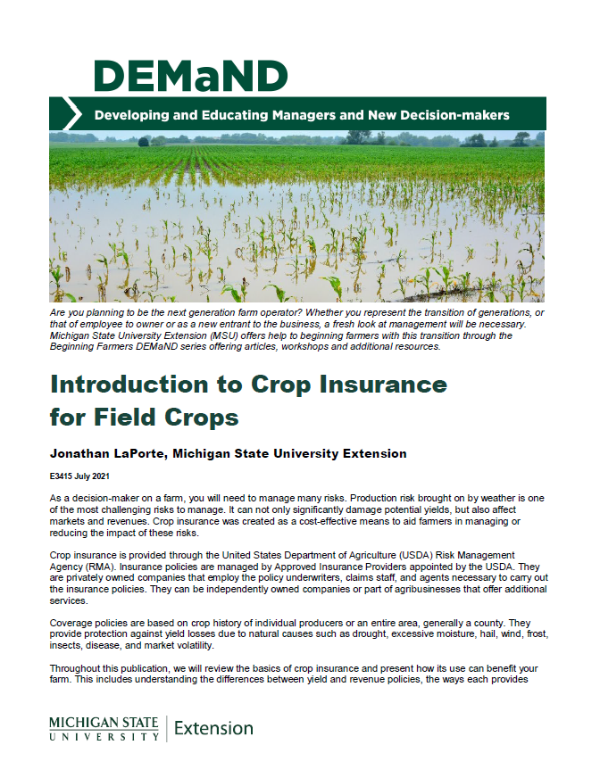 Bulletin E-3415 Introduction to Crop Insurance for Field Crops
DOWNLOAD FILE
July 12, 2021 - Author: Jonathan LaPorte, MSU Extension
As a decision-maker on a farm, you will need to manage many risks. Production risk brought on by weather is one of the most challenging risks to manage. It can not only significantly damage potential yields, but also affect markets and revenues. Crop insurance was created as a cost-effective means to aid farmers in managing or reducing the impact of these risks.
Crop insurance is provided through the United States Department of Agriculture (USDA) Risk Management Agency (RMA). Insurance policies are managed by Approved Insurance Providers appointed by the USDA. They are privately owned companies that employ the policy underwriters, claims staff, and agents necessary to carry out the insurance policies. They can be independently owned companies or part of agribusinesses that offer additional services.
Coverage policies are based on crop history of individual producers or an entire area, generally a county. They provide protection against yield losses due to natural causes such as drought, excessive moisture, hail, wind, frost, insects, disease, and market volatility.
Throughout this publication, we will review the basics of crop insurance and present how its use can benefit your farm. This includes understanding the differences between yield and revenue policies, the ways each provides protection, and the advantages offered by each. We'll also review how USDA RMA provides beginning farmers with additional benefits within crop insurance to assist in managing risks.