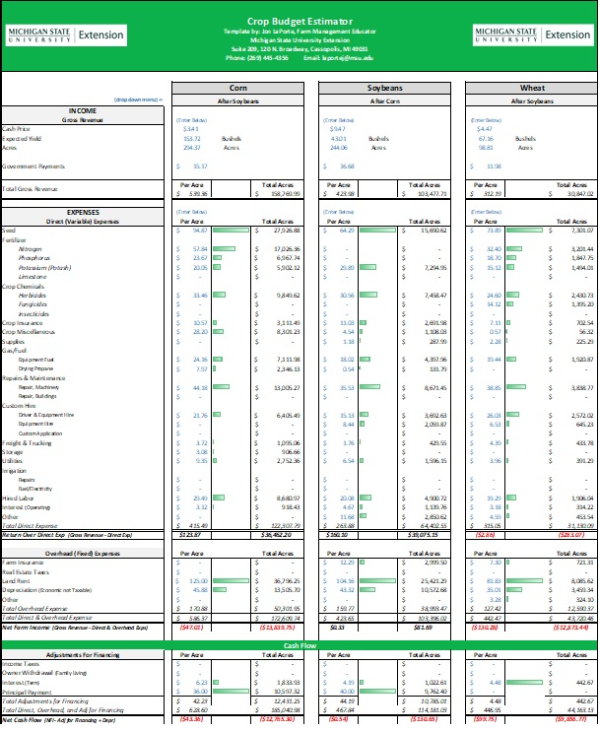 Crop Budget Estimator Tool for Grains (Detailed)
DOWNLOAD FILE
February 9, 2019 - Author: Jonathan LaPorte, Michigan State University Extension
The Microsoft Excel based tool is built around key areas that producers need to consider as they plan for and continually evaluate their growing season. It combines in one place:
Marketing Goals
Yield Goals
Detailed Chemical Planning
Detailed Fertilizer Planning
Break-Evens of:

Net Farm Income
Cash Flow
Net Worth
Economic Profitability.
The Estimator Tool is only as useful to the producer as the information that they put into it. Using their own farm records, they can build a budget that is used for Marketing decisions, comparing Chemistry and Fertilizer programs recommended by crop nutritionists and advisors, evaluating Capital Purchases (i.e. a new tractor or combine), and other important management decisions for their farm.
These management decisions are broken into four key areas:
Net Returns
Financial Scorecard
Break-Evens
Fertility Program.
More information on how to use this tool can be found in the Crop Budget Estimator Tool factsheet.
Update - 4/27/2020
Nutrient Management - A new tab has been created to input soil test and manure nutrient analysis information to better refine your production planning.
Coming soon - downloadable example file
Update - 11/4/19
Optimization Tool - Using the budgets created in the estimator, the optimization tool will determine what combination of acres returns the highest profitability.

Producers define:

Maximum total operating costs
Minimum acres of corn, soybeans, and wheat to be planted (for maintaining rotational needs)
Total number of acres to be planted
Update - 6/14/19
Economic Profitability Net Returns and Break-Even information moved to Capital & Management tab.
Financial Efficiency ratios now include Operating, Depreciation, Interest, and Net Farm Income
Video Tutorials
In addition to the fact sheet, the following videos demonstrate each area of the Crop Budget Estimator, it's uses as well as functions in the decision-making process.
Tool Overview
Net Farm Income
Chemical Planning
Fertilizer Planning
Financing
Capital
Wrap-Up & Review
---