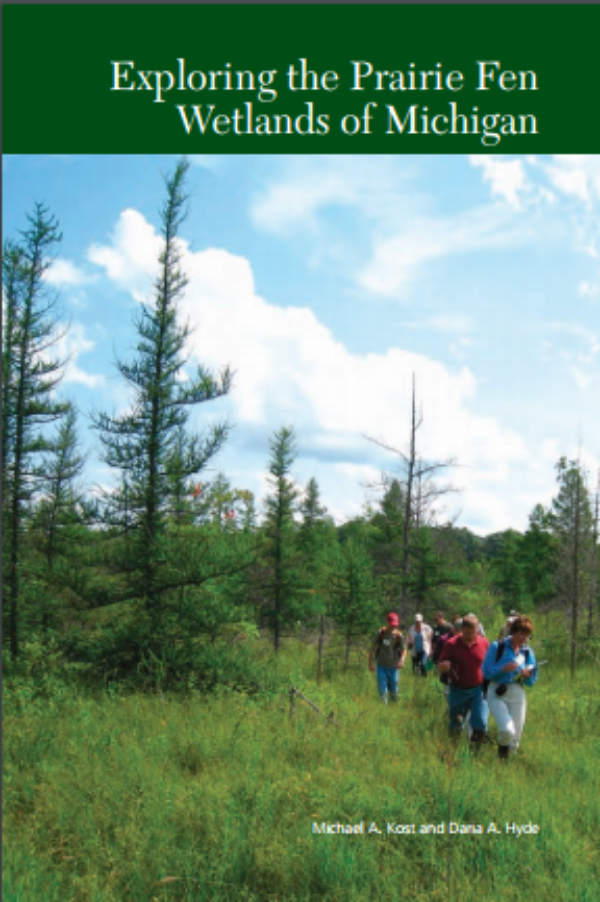 Exploring the Prairie Fen Wetlands of Michigan (E3045)
DOWNLOAD FILE
November 11, 2015 - Author: Michael Kost
Introduction
Nestled within wet depressions among the rolling hills of southern Lower Michigan, prairie fen wetlands are one of Michigan's biological treasures. These globally rare wetlands are dominated by sedges and grasses and provide habitat to hundreds of native plants and animals. In addition to being incredibly rich in biological diversity, prairie fens form the pristine headwaters of many of the region's rivers and lakes. The streams and lakes that emanate from prairie fens sustain countless species and provide recreational activities cherished by swimmers, boaters and anglers. These wetland communities serve as a rich biological reservoir and form a critical component of the natural landscape of southern Michigan.
Walking through a prairie fen is an amazing experience at any time of the year. The community comes alive in spring with the boisterous calls of mating frogs and toads, melodious songs of nesting birds and colorful blooms of wildflowers. During summer, the sounds of tree crickets and other insects fill the air, and a beautiful array of butterflies, moths and flowering plants forms a dazzling spectacle of color. In fall, migrating songbirds and waterfowl descend on prairie fens to feed on berries and aquatic plants and take refuge among the groves of shrubs and trees and isolated lakes. It is during this time of year that the needles of tamarack, Michigan's only native deciduous conifer tree, turn from bright green to golden yellow, bringing yet another striking display of color to prairie fens. With winter comes a blanket of white and near silence, softly accentuated by the constant gurgling of tiny streams that flow continuously from the many springs that form this unique native ecosystem.
Chapter 1: Prairie Fen Wetlands
Chapter 2: Landscape Context
Special Topic: Fens and Bogs: What are the Differences?
Special Topic: Carnivorous Plants
Chapter 3: Ecological Processes
Special Topic: Orchids
Special Topic: Ant Mounds
Special Topic: Amphibians and Reptiles in Prairie Fens
Chapter 4: Importance to Biodiversity
Special Topic: Mitchell's Satyr
Special Topic: Prairie Fen Butterflies and Moths (Lepidoptera)
Special Topic: Dragonflies and Damselflies (Odonota)
Special Topic: Brook Sticklebacks
Special Topic: Aquatic and Terrestrial Snails (Gastropods)
Special Topic: Rare Amphibians and Reptiles (Herps)
Chapter 5: Vegetation
Table: Common Plants Found in Each Vegetation Zone of Prairie Fen
Special Topic: Grasses, Sedges and Rushes: What are the Differences?
Chapter 6: Threats
Chapter 7: Restoration and Management
Special Topic: Ecological Restoration at Ives Road Fen
Appendices
Appendix 1: Places to Visit a Prairie Fen
Appendix 2: Plants Commonly Found in Prairie Fens
Appendix 3: Animals Associated with Prairie Fens in Michigan
Appendix 4: Rare Plants of Prairie Fens in Michigan
Appendix 5: Rare Animals Associated with Prairie Fens in Michigan