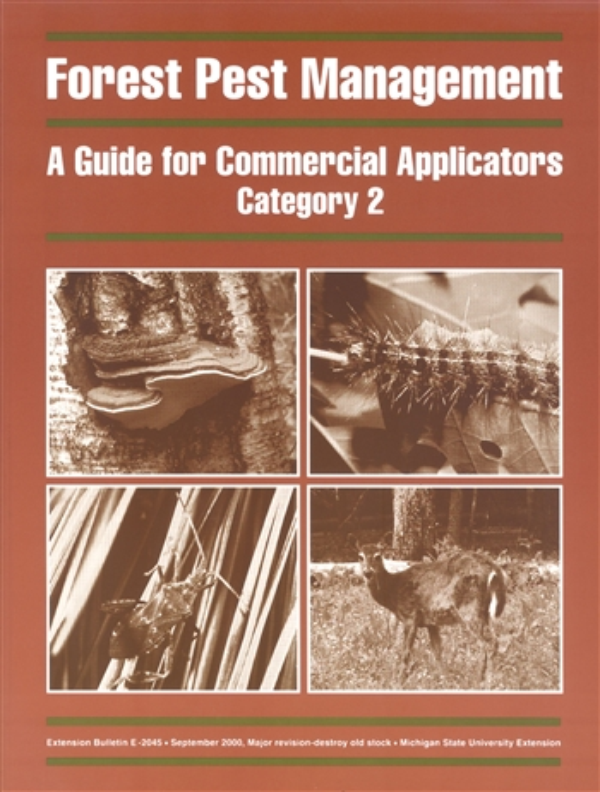 Forest Pest Management: Guide for Commercial Applicators - Category 2 (E2045)
October 28, 2015 - Author: Carolyn Randall
Order Information
To order training manuals, go to https://npsecstore.com/pages/michigan
Introduction
How to Use This Manual
This manual contains the information needed to become a certified commercial applicator in Category 2, Forest Pest Management. This manual is intended for use in combination with the Pesticide Applicator Core Training Manual (Extension Bulletin E-2195), available through the Michigan State University Bulletin Office. However, this manual would also be useful to anyone interested in learning more about forest pest management.
Category 2, Forest Pest Management, covers the management and control of common forest pests in natural stands, plantations, Christmas tree operations, nurseries, and seed orchards. Basic scientific information is presented on forest ecosystems and pest life cycles. Protecting non-target organisms and preventing the development of resistance in pests are also emphasized.
The Category 2 certification exam will be based on information found in this booklet. Each chapter begins with a set of learning objectives that will help you focus on what you should get out of each chapter. The table of contents will help you identify important topics and Forest Pest Management v understand how they relate to one another through the organization of headings and subheadings. As you prepare for the exam, read each chapter and answer the review questions located at the end. These questions are not on the certification exam. They are provided to help you prepare for the exam. Questions on the exam will pertain directly to the learning objectives.
The appendices and glossary, including an answer key (Appendix A), at the end of this manual provide supplemental information that will help you understand the topics covered in the chapters. Terms throughout the manual text that are bold and italicized can also be found in the glossary.
This certification manual benefits the applicator and the general public. By learning how to handle pesticides correctly, applicators will be able to protect themselves, others, and the environment from pesticide misuse. For more specific information on how to become a certified applicator in Michigan, refer to the beginning of the core manual (E-2195) or to the Michigan Department of Agriculture's Web site.
CHAPTER 1: PRINCIPLES OF PEST MANAGEMENT
Integrated Pest Management
Monitoring
Identification
Threshold Level
Management Strategy
Evaluation
Review Questions
CHAPTER 2: MINIMIZING PESTICIDE IMPACT
Guidelines for Selection and Use of Pesticides
FIFRA and the Use of Pesticides for Pests Not on the Label
Protecting Our Groundwater
Keeping Pesticides Out of Groundwater and Surface Water
Protecting Non-target Organisms
Potential for Pesticide Resistance
The Development of Resistance
Resistance Management
Notifying Neighbors
Review Questions
CHAPTER 3: APPLICATION METHODS AND EQUIPMENT
Methods of Application
Special Application Methods
Components of Sprayers
Tanks
Agitators
Pumps
Strainers
Hoses
Pressure Regulators
Pressure Gauge
Nozzles
Sprayers
Hydraulic sprayers
Low-pressure sprayers
High-pressure sprayers
Backpack sprayers
Miscellaneous Equipment
Operation and Maintenance of Sprayers
Before Spraying
During Spraying
After Spraying
Granular Applicators
Drop-through Spreaders
Rotary Spreaders
Review Questions
CHAPTER 4: CALIBRATION
Introduction
Calibration of Sprayers
Variables that Determine the Spray Rate
Nozzle Flow Rate
Ground Speed of the Sprayer
Precalibration Check of Nozzle Output
Spray Pattern Uniformity
Broadcast Sprayer Calibration
Amount of Pesticide to Add to the Tank
Hand Sprayer Calibration
Liquid Application on a Percentage Basis
Granular Applicator Calibration
Drop-through Spreaders
Rotary Spreaders
Conversion Tables
Review Questions
CHAPTER 5: FOREST TYPES IN MICHIGAN
An Overview of Michigan Forestry and Forest Pest Management
Forest Types in Michigan
Maple-Beech
Aspen-Birch
Oak-Hickory
Elm-Ash-Soft Maple
Pine
Review Questions
CHAPTER 6: DISEASE MANAGEMENT
What Causes Tree Disease?
Objectives of Disease Management
Timing of Disease Control Measures
Forest Disease Management
Disease Surveys
Some Important Forest Tree Diseases in Michigan
Canker Diseases-Various Fungi
Decay in Northern Hardwoods
Hypoxylon Canker
Armillaria (Shoestring) Root Rot
Oak Wilt
Dutch Elm Disease
Scleroderris Canker
White Pine Blister Rust
Intensive Disease Management Situations
Christmas Tree Plantations
Lophodermium Needlecast
Sphaeropsis (Diplodia) Blight
Phythophthora Root Rot
Swiss Needlecast
Rhabodoline Needlecast
Rhizosphaera Needlecast
Forest Nurseries
Seed Orchards
Pest Resistance to Fungicides
Review Questions
CHAPTER 7: INSECT MANAGEMENT
Economic Thresholds
Non-chemical Management
Natural Controls
Applied Controls
Chemical Management
Some Common Forest Insect Pests in Michigan
Forest Tent Caterpillar
Gypsy Moth
Two-lined Chestnut Borer
European Elm Bark Beetle
Native Elm Bark Beetle
White Pine Weevil
Jack Pine Budworm
Intensive Insect Management Situations
Christmas Tree Plantations
Pine Needle Scale
Pine Root Collar Weevil
Zimmerman Pine Moth
Balsam Gall Midge
Cooley Spruce Gall Adelgid
Eastern Spruce Gall Adelgid
Spruce Spider Mites
Forest Nurseries
Seed Orchards
Pest Resistance to Insecticides
Review Questions
CHAPTER 8: WEED MANAGEMENT
Forest Weed Control
Objectives of Forest Weed Management
Integrated Control
Cultural Control
Mechanical Control
Chemical Control
Evaluating the Results
Christmas Tree Plantation Weed Control
Objectives of Weed Control
Herbicide Characteristics
Selectivity or Specificity
Mode of Action
Residual Nature
Formulation
Factors Influencing Herbicide Effectiveness
Application Rate
Equipment Calibration
Application Method
Targeted Vegetation
Soil-site Characteristics
Weather Conditions
Resistance to Herbicides
Review Questions
CHAPTER 9: VERTEBRATE PESTS
Wild Vertebrate Populations and Problems
Damage Control Techniques
Repellents
Physical Barriers
Cultural and Silvicultural Practices
Toxic Baits
Trapping and Shooting
Biological Controls
Dog Restraint Systems
Beaver Dam Modification
Desirability of a Specific Control Prescription
Review Questions
CHAPTER 10: LAWS AND REGULATIONS
Prevention, Detection, and Regulation of Exotic Pests
Prevention of Exotic Pest Invasion
Detection Systems
Regulating Pests
Optimizing Mandated Regulatory Sprays
What Pests are Regulated in Michigan?
Worker Protection Standard (WPS)
WPS Requirements
Information
Protection
Mitigation
Other Regulations
Review Questions
APPENDICES
APPENDIX A: Answers Appendix
APPENDIX B: Glossary
APPENDIX C: Bibliography
APPENDIX D: Resources
APPENDIX E: Forest Pests