A day in the life of a Michigan State University invasive species boat washer
Two interns from the Mobile Boat Wash program share their experience from a summer of washing boats and talking to the public about aquatic invasive species.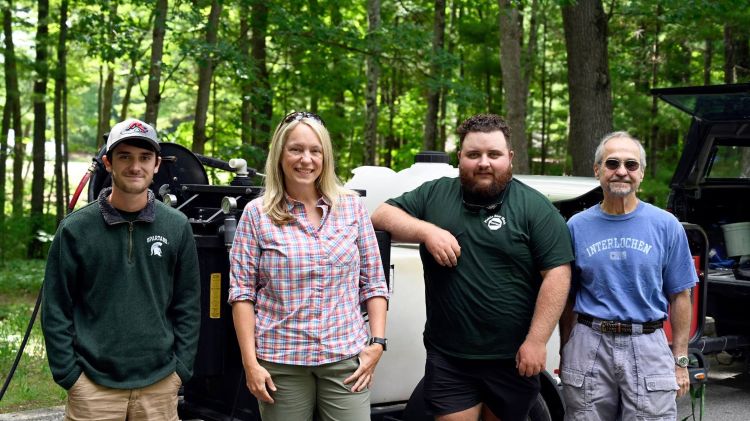 Every summer a group of interns from Michigan State University Extension's Mobile Boat Wash (MBW) program voyage across the state with one goal in mind: to prevent the spread of aquatic invasive species. The interns go from lake to lake, decontaminating boats and educating the public about the value of cleaning, draining, and drying boating and fishing gear every time they leave the water.
Oftentimes boaters are unaware of unwanted hitchhiking invasive species and inadvertently spread them to other bodies of water. To combat these invasive hitchhikers, the MBW crew is outfitted with a trailered hot water, high pressure boat washing system which allows them to decontaminate boats and gear. It has a large containment mat that boats and trailers park over, preventing invasive species and wastewater from washing back into the lake. In addition to the boat wash, the crew comes equipped with an extensive library of educational materials on aquatic invasive species. Since 2014, the program has washed thousands of boats and shared aquatic invasive species educational materials with the public throughout Michigan.
So, what is it like to spend a summer on the road visiting some of Michigan's most pristine inland lakes? No day is quite the same for Mason Spiess from Lake Superior State University and Will Harris from Michigan State University. In 2021, they attended 46 events, washed over 330 boats, and interacted with over 1,500 boaters and lake enthusiasts. More than 100 of the boats they washed had a hitchhiking aquatic invasive species.
We asked Mason and Will to give us a peek into their day-to-day operations. These interview questions may help both lake associations and Cooperative Invasive Species Management Areas (CISMAs) decide if a MBW lake event is right for them.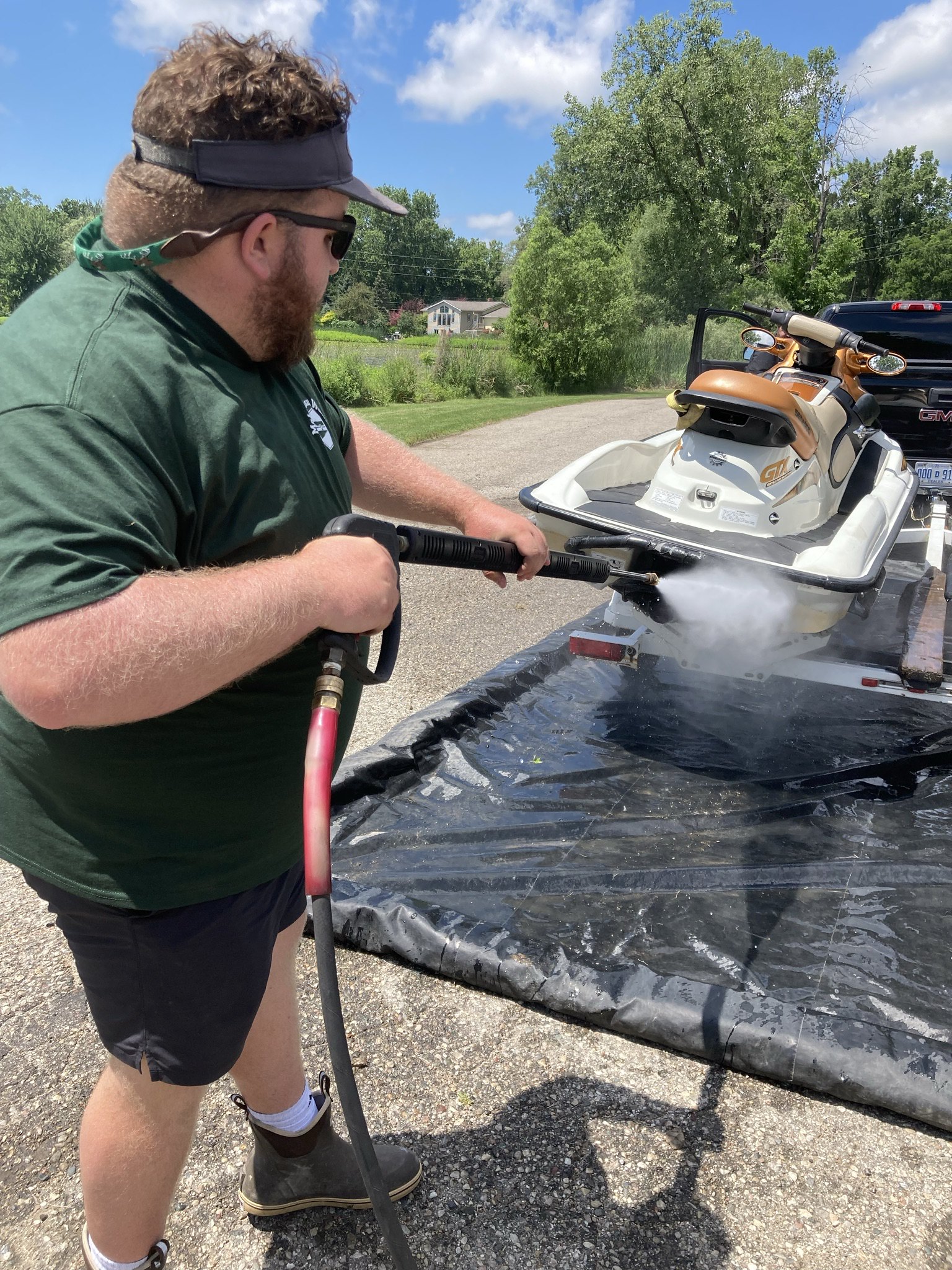 What kinds of organizations request the Mobile Boat Wash program?
We primarily worked with lake associations and CISMAs. We also had the Coast Guard Auxiliary at a few events. It is exciting to see a variety of groups using this program. All of them have been great to work with.
What would you say to someone considering requesting the MBW for their event?
Requesting the MBW crew is one of the first steps towards protecting our lakes and natural resources. When considering a MBW event, scheduling a date early is key because our calendar fills up quickly. Weekend events are the most popular. While weather and other factors may limit the number of boaters reached at events, it's still a great opportunity to raise awareness of aquatic invasive species issues and it serves as a public relations opportunity.
What factors contribute to a successful day at a boat launch?
To us, a successful day is having conversations with boaters and providing them with tools and knowledge to ensure they are not transporting aquatic hitchhikers in the future. While an obvious successful day would be 100% of boaters using the mobile boat wash, other factors also contribute to what a "successful day" may look like. Even on days where some boaters opt out of using the boat wash, many stop to talk with us and collect educational materials.
What was the most common invasive species you discovered on boats this summer?
Overwhelmingly, Eurasian watermilfoil was the most prevalent and abundant at events. Curly leaf pondweed was quite prevalent in early summer. And we also noticed starry stonewort in some lakes as well.
What do you think other people should know about the MBW?
The MBW program is more than a quick boat wash, we are here to provide outreach about aquatic invasive species. Hosting an event is a great way to generate awareness of lake protection organizations and local lake issues. If someone is interested in spreading the word about invasive species prevention, we encourage them to schedule a MBW event.
What have you learned about Michigan lakes and boaters through this position?
Overall, many boaters are aware of invasive species, but fishermen seemed keenly knowledgeable about the issue. Even when boaters were unaware of invasive hitchhikers, they were almost always interested in learning the simple steps they could take to prevent the spread of aquatic invasive species.
What was most surprising to you about this job?
Two things surprised us that we did not expect. The first was how well our message was received by the public. The overall response from communities was gratitude for coming out and helping them protect their lake. The second surprising thing was the variety and amount of aquatic invasive species in Michigan's waterways. We were surprised to find Eurasian watermilfoil in nearly all the lakes we visited.
What would you say to future seasonal interns about this position?
This position is an excellent opportunity to gain experience in public outreach and ongoing issues facing Michigan's fisheries and abundant aquatic resources.
For more information
To learn more about boating and aquatic invasive species, visit the Michigan Clean Boats, Clean Waters website. Since 2006, Clean Boats, Clean Waters has been engaging communities in the prevention of AIS through boater education. The program is a joint effort between MSU Extension and the Michigan Department of Environment, Great Lakes and Energy.