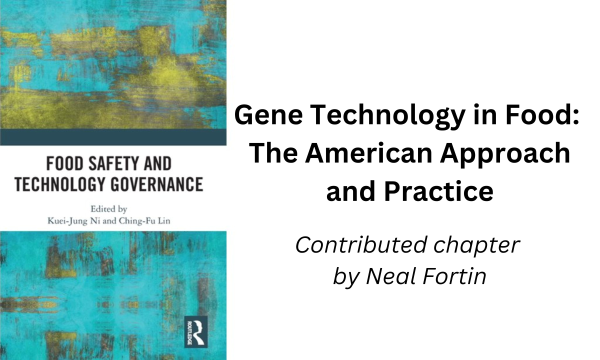 Gene Technology in Food: The American Approach and Practice
December 15, 2022 - Author: Fortin, Neal
Chapter 4 - Food Safety and Technology Governance (by Neal D. Fortin)
Abstract: In the United States, there are seven government centers within three main federal agencies that are involved in the oversight of gene technology with food. Nine different statutes regulate different aspects of gene technology with food. This fragmented structure gives the appearance of disorganization, but the United States food safety law is generally organized around product characteristics so that agencies regulate those aspects of gene technology that match their area of expertise. The U.S. Department of Agriculture (USDA) oversees the safety of genetically engineered plants and food from some aspects of animal husbandry. The Food and Drug Administration (FDA) oversees the safety of foods derived via gene technology. The Environmental Protection Agency (EPA) oversees the regulation of any pesticide and related genetic material for human and environmental safety. USDA and FDA also have responsibilities for environmental protection related to approvals of gene technology products.
From the book: Food Safety and Technology Governance, 1st Edition
About the Book
Volume edited by Kuei-Jung Ni (Institute of Technology Law at National Yang Ming Chiao Tung University) and Ching-Fu Lin (National Tsing Hua University).
Recent advances in agri-food technology have brought increasing complexity and emerging challenges to food safety regulation and governance, with many countries greatly divided in their regulatory approaches. As more advanced CRISPR-based gene-editing technologies and novel foods such as cloned animal products, non-traditional plants, nanofood, and plant-based meat are rapidly being developed, debates arise as to whether the existing models of governance require revision to ensure consumer safety. Of equal importance is the extensive use of pesticides, additives, and animal drugs, which raise concerns over the methods and approaches of government approval and phasing out of potentially risk-causing chemicals. Heightened public criticism of food safety and technology poses a significant challenge to governments around the world, which struggle to strike a proper balance between technocracy- and democracy-oriented risk governance models.
Drawing on expertise from the United States, European Union, Japan, China, Korea, Association of South East Asian Nations, Malaysia, and Taiwan, this book explores existing and emerging issues of food law and policy in the context of technology governance to offer an overarching framework for the interaction between food regulation and technology.
It will be essential reading for academics, students, and practitioners with an interest in food law and policy, agricultural law and policy, and food safety and nutrition studies.
IFLR Collaboration
Professor Kuei-Jung Ni is a contributor to IFLR's course FSC 810 on International Food Laws and Regulations.