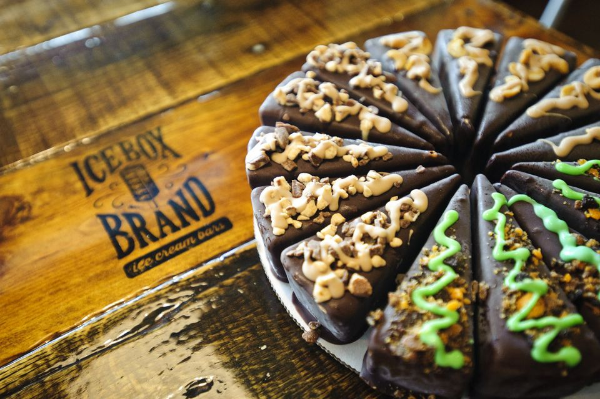 Ice Box Brand
DOWNLOAD FILE
Another Making It In Michigan Success Story: Ice Box Brand
Chris Morin was scrolling through listings on Craigslist one day and came across an ice cream truck for sale. On an impulse, he decided to take his family to look at it, took a test drive and bought it the next day. At the time, he was managing a Chili's restaurant, but thought that it would be a fun experience for the summer. In July of 2012, he started driving it around the Whitehall area selling the usual ice cream truck fare – popsicles, fudge bars and ice cream sandwiches. Having always wanted to own his own business and holding a culinary degree from Grand Rapids Community College, he started thinking he could offer his own product to fill an unserved market niche.
During the winter of 2012 and 2013, Chris began experimenting out of the Starting Block kitchen incubator in Hart, and, in April of 2013, he introduced some of his own creations. He continued to sell the usual summer treats but his own ice cream recipes soon became a hit. It didn't take long for word to spread about his creations and soon venues and retail stores throughout west Michigan were asking to sell them.
Ice Box Brand Ice Cream Bars are produced in Chris' own factory in North Muskegon. He sources ingredients locally whenever possible, including ice cream from Country Dairy in New Era and fruits from local farmers. He has a factory store where customers can try flavors that are currently not in distribution and offers over thirty different kinds along with several dairy-free vegan bars. The product line is sold in over 130 locations throughout the lower peninsula and available outlets can be found at www.iceboxbrand.com. Chris is also selling from the ice cream truck at events across west Michigan.
He is currently looking for additional distribution in and out of state and is seeking other entrepreneurs who are interested in having their own Ice Box Brand trucks to sell at events across Michigan.
"By attending the Making It In Michigan show in the fall, we have been fortunate to find several of our current retailers," states owner Chris Morin. "It's a great venue to be able to tell our story and have buyers and owners sample our product. I feel very fortunate to have the MSU Product Center as a resource. They have helped me out many times over the past several years. From questions about packaging and labeling, to production issues they have always pointed me in the right direction!"
"Chris wanted to improve his packaging and work on practical ways to ship his product when he came to us for assistance. The MSU Product Center was able to answer his questions and provide resources from a research-based viewpoint. - Kay Cummings Innovation Counselor, MSU Product Center Food • Ag • Bio