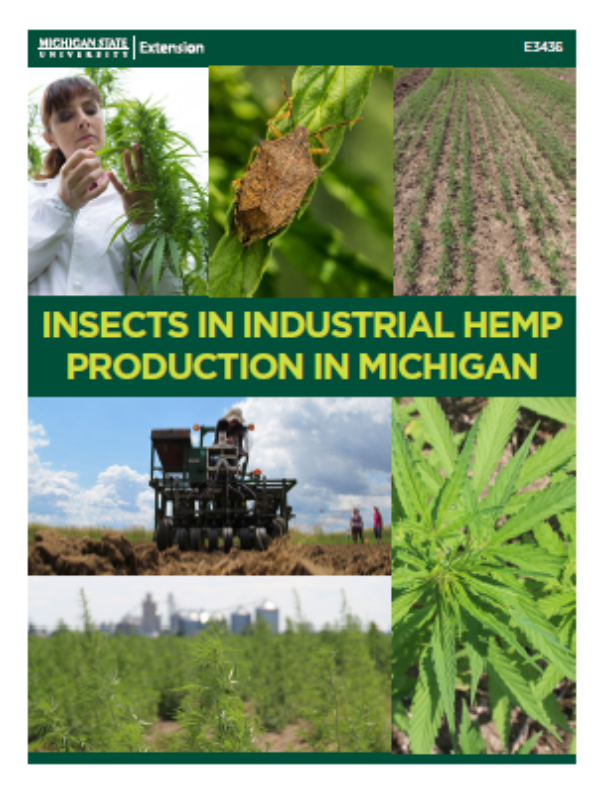 Insects in Industrial Hemp Production in Michigan E3436
DOWNLOAD FILE
July 1, 2020 - Author: Chris DiFonzo, Michigan State University Extension
The 2019 field season was the first in which Michigan growers could legally plant industrial hemp (Cannabis sativa L.) in nearly 100 years. Insect pests were not a key limiting factor in Michigan hemp production in the 2019 season, but that may change as hemp production increases.
This bulletin summarizes information on biology, timing, and impact of insect pests in industrial hemp based on observations from the 2019 Michigan field season. Where possible, observations made directly in Michigan are distinguished from those made in other states.
Most of the insects recorded in Michigan hemp thus far have been generalist species with broad host ranges. These generalists may feed on multiple crops, ornamentals, trees, or weeds. They were present in the landscape before hemp was planted and they will visit or colonize hemp to some degree every year. High pest populations in the future likely will be tied to favorable environmental conditions OR to their mass movement from overwintering areas or nearby hosts. Since there were no reports of economic damage by insects to industrial hemp in 2019, experiences in other field crops or in the greenhouse are used to speculate on potential future impacts.
This helpful guide includes many photos to aid in identification.