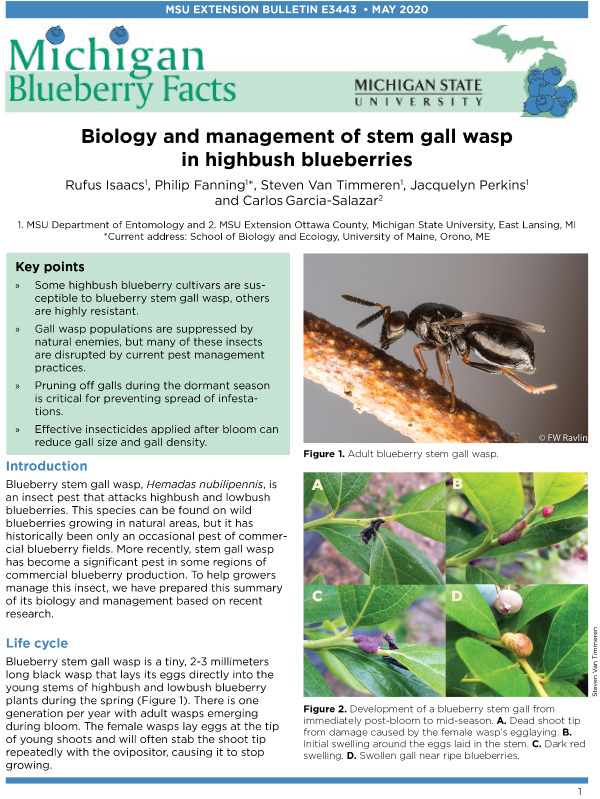 Michigan Blueberry Facts: Biology and Management of Stem Gall Wasp in Highbush Blueberries (E3443)
DOWNLOAD FILE
May 11, 2020 - Author: Rufus Isaacs, Philip Fanning, Steve Van Timmeren, Jacquelyn Perkins and Carlos Garcia-Salazar
Key points
Some highbush blueberry cultivars are susceptible to blueberry stem gall wasp, others are highly resistant.
Gall wasp populations are suppressed by natural enemies, but many of these insects are disrupted by current pest management practices.
Pruning off galls during the dormant season is critical for preventing spread of infestations.
Effective insecticides applied after bloom can reduce gall size and gall density.
Introduction
Blueberry stem gall wasp, Hemadas nubilipennis, is an insect pest that attacks highbush and lowbush blueberries. This species can be found on wild blueberries growing in natural areas, but it has historically been only an occasional pest of commercial blueberry fields. More recently, stem gall wasp has become a significant pest in some regions of commercial blueberry production. To help growers manage this insect, we have prepared this summary of its biology and management based on recent research.