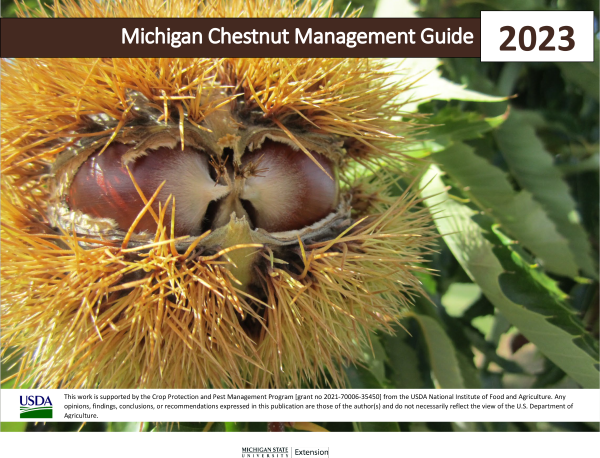 Michigan Chestnut Management Guide
DOWNLOAD FILE
March 23, 2023 - Author: Erin Lizotte
Table of Contents
Chestnut Management Calendar…….………………………………………………………3
Chestnut Pest Scouting Calendar…….…………………………………………………….4
Nutrient Management Considerations………………………………………………..…5
Insecticide Management…..…………………………………………………………………..…8
Disease Management………………………………………………………………………………13
Weed Management.…………..…………………………………………………………………….14
Information presented here does not supersede the label directions.
The efficacies of products listed have not been evaluated on chestnuts in Michigan. This information is for educational purposes only. Reference to commercial products or trade names does not imply endorsement by MSU Extension or bias against those not mentioned. To protect yourself, others, and the environment, always read the label before applying any pesticide. Although efforts have been made to check the accuracy of information presented, it is the responsibility of the person using this information to verify that it is correct by reading the corresponding pesticide label in its entirety before using the product. Labels can and do change.
For additional chestnut management information, visit www.chestnuts.msu.edu.
This work is supported by the Crop Protection and Pest Management Program [grant no 2021-70006-35450] from the USDA National Institute of Food and Agriculture. Any opinions, findings, conclusions or recommendations expressed in this publication are those of the author(s) and do not necessarily reflect the view of the U.S. Department of Agriculture.