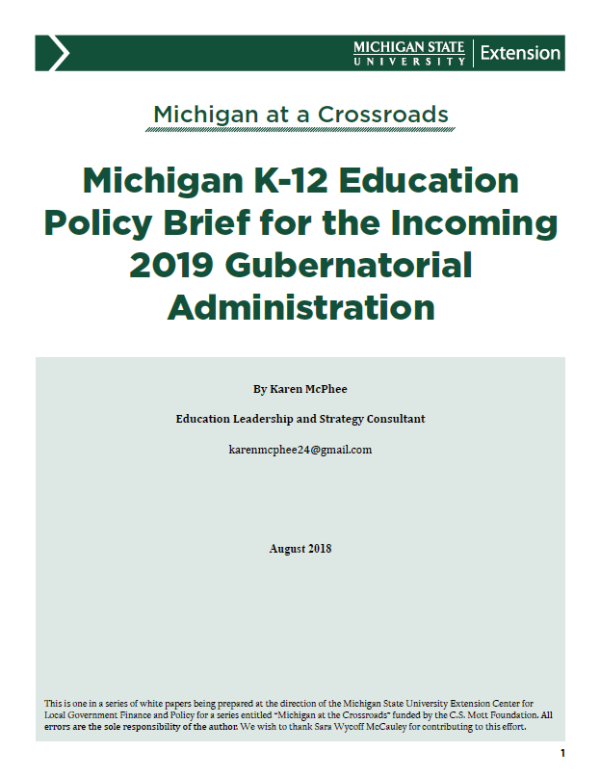 Michigan K-12 Education Policy Brief for the Incoming 2019 Gubernatorial Administration
DOWNLOAD
August 1, 2018 - Author: Karen McPhee, Education Leadership and Strategy Consultant
Michigan's public school system is a complex organism. This brief is, at best, a 30,000-feet-fly-over of the significant structural and contextual components of that system, including how schools are organized, funded, and governed, and current issues and trends that impact their success.
Except in occasional reference to other issues, this summary does not address early childhood education, post-secondary education, special education, career and technical education, or the special circumstances surrounding the newly created Detroit Public Schools Community District. It does offer,
for consideration, policy recommendations addressing key challenges faced by the majority of the state's schools.
There is, in Michigan, historical tension between various education policy agendas. This tension often divides the necessary and capable actors who should coalesce around shaping the rules, policies, and laws that define the landscape upon which our teachers teach and our students learn. Each election cycle can swing the pendulum toward new ideologies and interests. Schools can struggle to keep up.
This is not to say there isn't a legitimate urgency to the concerns expressed by school critics. Some of our schools and students do very well. Some do not. On national tests we are, on average, below average. In an increasingly competitive world, with many states making significant effort to improve student outcomes, Michigan cannot afford to be complacent. The industries that absorbed our graduates for years with scant concern about their school performance no longer exist. Every student, regardless of circumstance or zip code, must now emerge from our schools with the academic, social-emotional, and career competencies to compete. Their future, and Michigan's future, hangs in the balance.