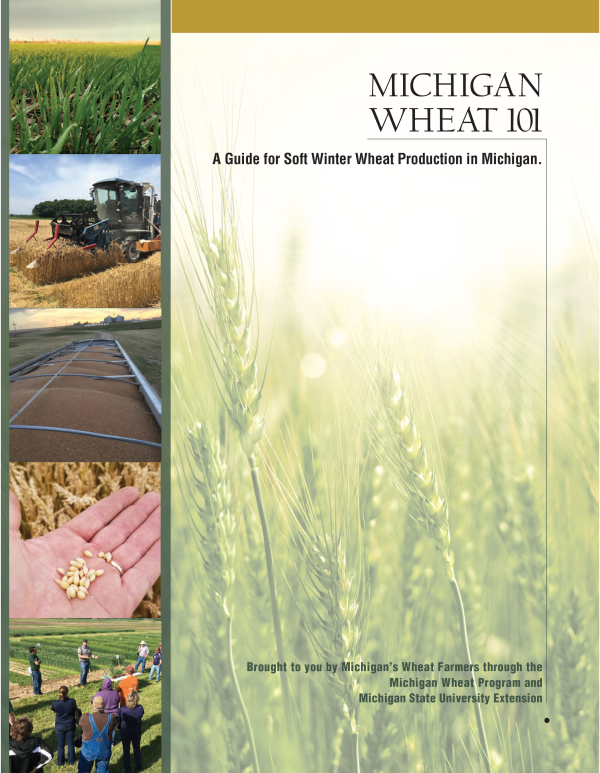 Michigan Wheat 101
DOWNLOAD FILE
January 24, 2022 - Author: Michigan State University Extension and Michigan Wheat Program
The Michigan Wheat Program was voted in by the state's wheat farmers in the summer of 2011. The goal for the check-off program was to increase yields and decrease quality issues for farmers growing the golden grain in the Great Lakes State.
Since its early meetings in 2012, the board of directors has focused on those two priorities. As they have continued their programming, they have found that research is just one of the pillars of that foundation. They have also needed to fund people and invest in infrastructure. This Michigan Wheat 101 publication highlights those research projects funded over the past 10 years to benefit Michigan's 8,000 wheat farmers.
In fact, during these first years of the Michigan Wheat Program nearly 60-65% of grower funds annually have been channeled into wheat research specific to Michigan. Most of that research has been done at MSU with researchers seeking information and solutions for growing wheat more efficiently and cost-effectively here in the Great Lakes State.
Every year those research projects are individually reported out to the board and discussed at winter grower meetings, which accounts for another 23% of the budget that goes toward grower events and communication to share these research results.
This year, for the first time, the Michigan Wheat Program, MSU Extension and MSU researchers along with wheat specialist Dennis Pennington have compiled the best of these reports along with the most recent recommendations into a new publication. Michigan Wheat 101 is the culmination of a decade of wheat-focused research and hard work made possible through the financial support and guidance from the farmer-led board of directors of the Michigan Wheat Program.
To complement that research there have been additional investments. Over the last decade the Michigan wheat check-off has identified and supported grower needs including…
Nearly $3.5 million targeted to almost 150 research projects;
A $700,000 donation to MSU put towards a land purchase at the Saginaw Valley Research & Extension Center to ensure long-term wheat research;
$250,000 for essential, modern field and lab research equipment bought through partnerships and collaborations; and
Additional boots on the ground through the collaborative funding of positions to strengthen research and coordination in priority areas.

Wheat breeder Dr. Eric Olson who is releasing new varieties (including Whitetail) was supported collaboratively by industry and growers for his first three years;
Wheat specialist Dennis Pennington is funded on an annual basis in a 50/50 partnership with MSU and the Michigan Wheat Program; and
Wheat educator Martin Nagelkirk who was funded prior to and now during his retirement to keep his wheat work ongoing and to coordinate with others as he more fully retires.
As the three areas of research, staff and infrastructure have come together over the past 10 years, it makes sense to pull information together and publish this vital information in one place: This Michigan Wheat 101 publication.
Our goal is to have this available in both an electronic format on the Michigan Wheat Program website (www.miwheat.org) and in a printed format as a way to provide an overview of "best practices" for wheat production in the Great Lakes State. Our goal is for this to become a living document that will be updated by researchers as more and new information is available so the best and most recent information is easily accessible for growers use.
Hopefully as you read this publication in either its entirety or just use it as a reference, you will find nuggets of information to enhance your farming operation now and into the future.