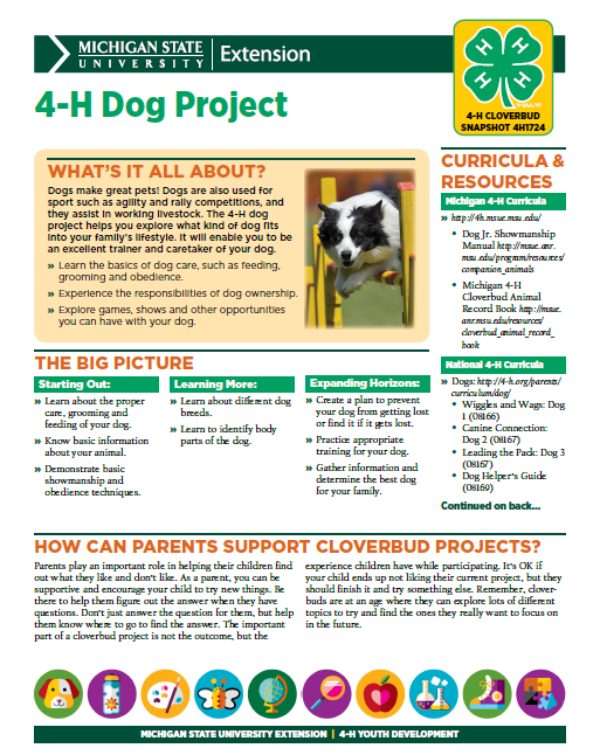 Michigan 4-H Cloverbud Snapshot Sheet: 4-H Dog Project (4H1724)
DOWNLOAD FILE
February 6, 2017 - Author: Michigan State University Extension
WHAT'S IT ALL ABOUT?
Dogs make great pets! Dogs are also used for sport such as agility and rally competitions, and they assist in working livestock. The 4-H dog project helps you explore what kind of dog fits into your family's lifestyle. It will enable you to be an excellent trainer and caretaker of your dog.
Learn the basics of dog care, such as feeding, grooming and obedience.
Experience the responsibilities of dog ownership.
Explore games, shows and other opportunities you can have with your dog.
THE BIG PICTURE
Starting Out:
Learn about the proper care, grooming and feeding of your dog.
Know basic information about your animal.
Demonstrate basic showmanship and obedience techniques.
Learning More:
Learn about different dog breeds.
Learn to identify body parts of the dog.
Expanding Horizons:
Create a plan to prevent your dog from getting lost or find it if it gets lost.
Practice appropriate training for your dog.
Gather information and determine the best dog for your family.
CURRICULA & RESOURCES
Michigan 4-H Curricula
Dog Jr. Showmanship Manual http://msue.anr.msu.edu/program/resources/ companion_animals
Michigan 4-H Cloverbud Animal Record Book http://msue.anr.msu.edu/resources/cloverbud_animal_record_book
National 4-H Curricula
Dogs: http://4-h.org/parents/ curriculum/dog/
Wiggles and Wags: Dog 1 (08166)
Canine Connection: Dog 2 (08167)
Leading the Pack: Dog 3 (08167)
Dog Helper's Guide (08169)
Other Resources
American Kennel Club: www.akc.org
United Kennel Club: http://www.ukcdogs.com/Web.nsf/WebPages/Home
HOW CAN PARENTS SUPPORT CLOVERBUD PROJECTS?
Parents play an important role in helping their children find out what they like and don't like. As a parent, you can be supportive and encourage your child to try new things. Be there to help them figure out the answer when they have questions. Don't just answer the question for them, but help them know where to go to find the answer. The important part of a cloverbud project is not the outcome, but the experience children have while participating. It's OK if your child ends up not liking their current project, but they should finish it and try something else. Remember, clover­buds are at an age where they can explore lots of different topics to try and find the ones they really want to focus on in the future.
FOCUS ON 4-H DOGS
Science
Learn the parts of a dog's body and what they do.
Learn about pack behavior and compare it to your own dog's behavior.
Life Skills
Keep records on your project.
Explore careers in working with dogs.
Learn about responsibility by caring for your dog.
Communication
Listen to presentations about: How to approach a dog safely.
How to train a dog to perform basic commands.
Citizenship & Leadership
Volunteer at an animal shelter.
Help other members of the club.
HOW CAN YOU GET INVOLVED?
Contact your local Michigan State University (MSU) Extension office for workshops, activities and events.
Participate in dog exhibits at the fair to show what you have learned throughout the year.
Go to local and area dog shows and explore the differences in dog breeds and the different ways they are shown.
Explore what kinds of dogs make the best pets and what breeds make the best inside or outside dogs.
Attend a 4-H dog project meeting.
Show at your county fair.
Complete a dog project record book.
QUESTIONS TO THINK ABOUT:
What was your favorite part of this activity/project?
What do you know now that you did not know before?
What do you want to explore more/next?