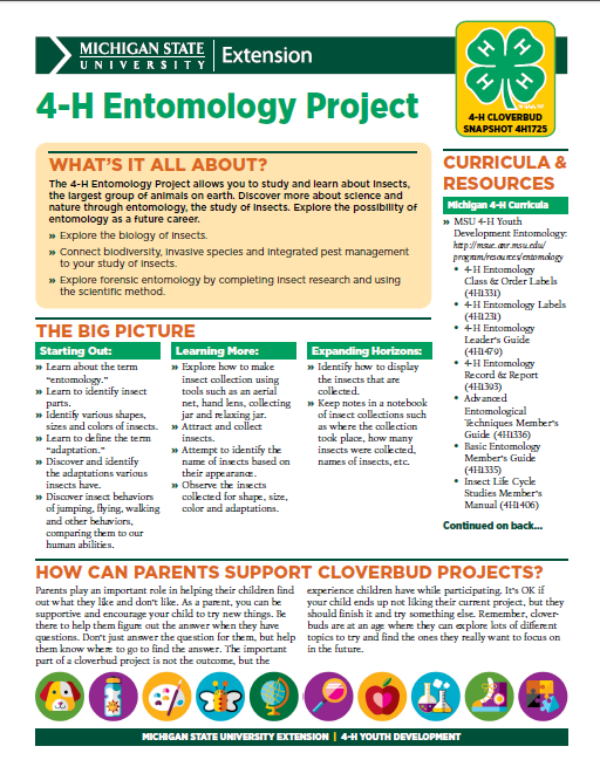 Michigan 4-H Cloverbud Snapshot Sheet: 4-H Entomology Project (4H1725)
DOWNLOAD FILE
February 6, 2017 - Author: Michigan State University Extension
WHAT'S IT ALL ABOUT?
The 4-H Entomology Project allows you to study and learn about insects, the largest group of animals on earth. Discover more about science and nature through entomology, the study of insects. Explore the possibility of entomology as a future career.
Explore the biology of insects.
Connect biodiversity, invasive species and integrated pest management to your study of insects.
Explore forensic entomology by completing insect research and using the scientific method.
THE BIG PICTURE
Starting Out:
Learn about the term "entomology."
Learn to identify insect parts.
Identify various shapes, sizes and colors of insects.
Learn to define the term "adaptation."
Discover and identify the adaptations various insects have.
Discover insect behaviors of jumping, flying, walking and other behaviors, comparing them to our human abilities.
Learning More:
Explore how to make insect collection using tools such as an aerial net, hand lens, collecting jar and relaxing jar.
Attract and collect insects.
Attempt to identify the name of insects based on their appearance.
Observe the insects collected for shape, size, color and adaptations.
Expanding Horizons:
Identify how to display the insects that are collected.
Keep notes in a notebook of insect collections such as where the collection took place, how many insects were collected, names of insects, etc.
CURRICULA & RESOURCES
Michigan 4-H Curricula
MSU 4-H Youth Development Entomology: http://msue.anr.msu.edu/program/resources/entomology
4-H Entomology Class & Order Labels (4H1331)
4-H Entomology Labels (4H1231)
4-H Entomology Leader's Guide (4H1479)
4-H Entomology Record & Report (4H1393)
Advanced Entomological Techniques Member's Guide (4H1336)
Basic Entomology Member's Guide (4H1335)
Insect Life Cycle Studies Member's Manual (4H1406)
Curricula From Other States:
National 4-H Curricula
http://4-h.org/parents/curriculum/
Entomology: Teaming With Insects – Level 1 (08440)
Teaming With Insects – Level 2 (08441)
Teaming With Insects – Level 3 (08442)
Facilitator's guide – (08443)
Other Resources:
The Bee Hive (Purdue University): http://extension.entm.purdue.edu/beehive/
Biocontrol of Purple Loosestrife Program (Purdue University): http:// www.fourh.purdue.edu/purple/
Entomological Society of America: http://www.entsoc.org/
How to Make an Awesome Insect Collection (Purdue University): https://extension.entm.purdue.edu/401Book/default.php?page=home/
How to Make Butterfly Gardens (University of Kentucky): http://www2.ca.uky.edu/entomology/entfacts/ ef006.asp
MSU's Bughouse: http://www.ent.msu.edu/bughouse
MSU Extension Entomology resources: http://www.ent.msu.edu/extension
National Invasive Species Information Center: http://www.invasivespeciesinfo.gov/index.shtml
National Pest Management Association: http://www.npmapestworld.org/
Pest Management eXtension: http://www.extension.org/urban_integrated_pest_ management
HOW CAN PARENTS SUPPORT CLOVERBUD PROJECTS?
Parents play an important role in helping their children find out what they like and don't like. As a parent, you can be supportive and encourage your child to try new things. Be there to help them figure out the answer when they have questions. Don't just answer the question for them, but help them know where to go to find the answer. The important part of a cloverbud project is not the outcome, but the experience children have while participating. It's OK if your child ends up not liking their current project, but they should finish it and try something else. Remember, clover­buds are at an age where they can explore lots of different topics to try and find the ones they really want to focus on in the future.
FOCUS ON 4-H ENTOMOLOGY
Science
Collect various insect species.
Identify insect body parts.
Identify insect adaptations.
Life Skills
Keep records on your project.
Explore careers in entomology.
Communication
Listen to an educational presentation about entomology or insect management.
Practice showing others your insect collection using the proper terms that have been learned.
Citizenship & Leadership
Volunteer in community locations that would have an interest in learning more about entomology.
Teach family, friends and fellow 4-H members about the entomology project area.
HOW CAN YOU GET INVOLVED?
Contact your local Michigan State University (MSU) Extension office for workshops, activities and events.
Participate in an entomology exhibit at a county fair.
QUESTIONS TO THINK ABOUT:
What was your favorite part of this activity/project?
What do you know now that you did not know before?
What do you want to explore more/next?