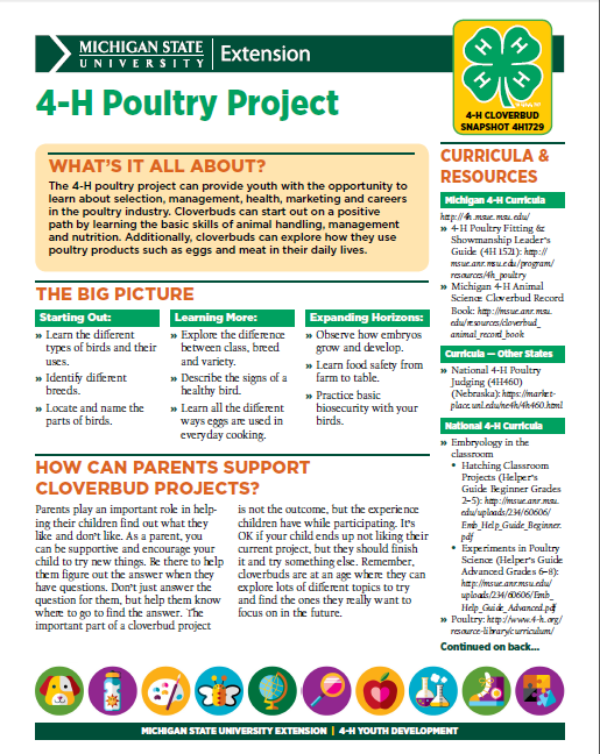 Michigan 4-H Cloverbud Snapshot Sheet: 4-H Poultry Project (4H1729)
DOWNLOAD FILE
February 6, 2017 - Author: Michigan State University Extension
WHAT'S IT ALL ABOUT?
The 4-H poultry project can provide youth with the opportunity to learn about selection, management, health, marketing and careers in the poultry industry. Cloverbuds can start out on a positive path by learning the basic skills of animal handling, management and nutrition. Additionally, cloverbuds can explore how they use poultry products such as eggs and meat in their daily lives.
THE BIG PICTURE
Starting Out:
Learn the different types of birds and their uses.
Identify different breeds.
Locate and name the parts of birds.
Learning More:
Explore the difference between class, breed and variety.
Describe the signs of a healthy bird.
Learn all the different ways eggs are used in everyday cooking.
Expanding Horizons:
Observe how embryos grow and develop.
Learn food safety from farm to table.
Practice basic biosecurity with your birds.
HOW CAN PARENTS SUPPORT CLOVERBUD PROJECTS?
Parents play an important role in help­ing their children find out what they like and don't like. As a parent, you can be supportive and encourage your child to try new things. Be there to help them figure out the answer when they have questions. Don't just answer the question for them, but help them know where to go to find the answer. The important part of a cloverbud project is not the outcome, but the experience children have while participating. It's OK if your child ends up not liking their current project, but they should finish it and try something else. Remember, cloverbuds are at an age where they can explore lots of different topics to try and find the ones they really want to focus on in the future.
CURRICULA & RESOURCES
Michigan 4-H Curricula
4-H Poultry Fitting & Showmanship Leader's Guide (4H 1521): http://msue.anr.msu.edu/program/ resources/4h_poultry
Michigan 4-H Animal Science Cloverbud Record Book: http://msue.anr.msu.edu/resources/cloverbud_ animal_record_book
Curricula — Other States
Embryology in the classroom Hatching Classroom Projects (Helper's Guide Beginner Grades 2–5): http://msue.anr.msu.edu/uploads/234/60606/Emb_Help_Guide_Beginner.pdf
Experiments in Poultry Science (Helper's Guide Advanced Grades 6–8): http://msue.anr.msu.edu/ uploads/234/60606/Emb_Help_Guide_Advanced.pdf
Poultry: http://www.4-h.org/resource-library/curriculum/
Curricula & Resources Continued
Scratching the Surface: Level 1 (06363)
Testing Your Wings: Level 2 (06364)
Flocking Together: Level 3 (06365)
Poultry Helper's Guide (06366)
Other Resources
American Egg Board: http://www.aeb.org/egg-industry/related-links
Michigan Allied Poultry Industries, Inc.: http://www.mipoultry.com/
Michigan Department of Agriculture and Rural Development: http://www.michigan.gov/mdard
National Poultry Improvement Plan: http://www.aphis.usda.gov/animal_health/ animal_dis_spec/poultry/
National Poultry Association: http://www.amerpoultryassn.com/
FOCUS ON POULTRY
Science
Observe the 21-day incubation period and track the development of a fertilized egg.
Observe and discuss the changes eggs go through when they are cooked in various recipes.
Learn about different types of feed birds eat.
Communication
Design a poster on the parts of a bird.
Participate in Cloverbud Showmanship at the Michigan State 4-H Poultry Show.
Demonstrate how to use a recipe that contains eggs.
Citizenship & Leadership
Hand out food samples at your local grocery store or farmer's market.
Volunteer to help at a local poultry show.
Teach others how to handle birds safely.
Life Skills
Learn responsibility through the daily care an animal needs.
Discuss daily chores done on the farm.
Keep records on your project.
Learn to stay safe around animals.
QUESTIONS TO THINK ABOUT:
What was your favorite part of this activity/project?
What do you know now that you did not know before?
What do you want to explore more/next?
HOW CAN YOU GET INVOLVED?
Contact your local Michigan State University (MSU) Extension office for workshops, activities and events.
Tour a poultry producer's farm.
Attend a poultry show and observe the judges and their techniques.
Attend a 4-H poultry project meeting.
Attend the Michigan State 4-H Poultry Show and participate in cloverbud classes.
Complete a poultry project record book to track your experiences in your poultry project.