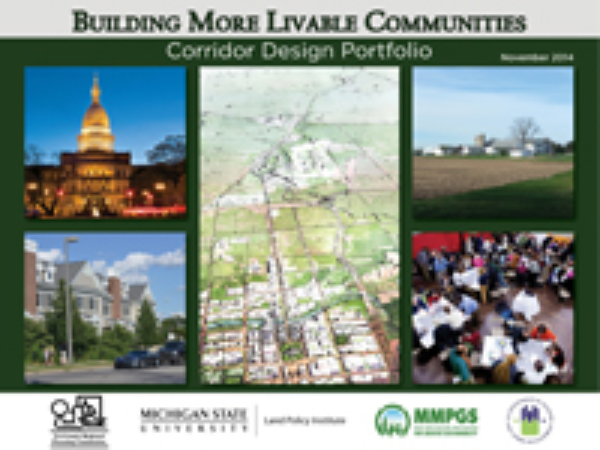 Building More Livable Communities: Corridor Design Portfolio
Author: MSU Land Policy Institute for the Mid Michigan Program for Greater Sustainability
Download Portfolio PDFs
The Mid-Michigan Program for Greater Sustainability (MMPGS), a three-year HUD funded grant administered by the Tri-County Regional Planning Commission (TCRPC) with local partners, including the MSU Land Policy Institute, released of the "Building More Livable Communities: Corridor Design Portfolio" in 2014. Designed for online distribution only, the Portfolio has 159 techniques and is more than 420 pages long, and focuses predominantly on the built environment and placemaking. It is organized the same way as another tool developed by the MSU School of Planning, Design and Construction, the Sustainability Audit Tool. The Portfolio was prepared by LPI for MMPGS.
The Portfolio is an especially valuable resource for citizens wishing to become more engaged in community work, or to simply become more informed on these topics. The Portfolio is intended to be used by planners, local elected officials and interested citizens to help communities become more sustainable. It highlights common techniques that communities use today to meet sustainability needs, including energy, local food, built environments, mobility, natural resources, capacity and economic development.
The Portfolio came about as the result of work that MMPGS is doing related to corridors, specifically the Michigan Ave./Grand River Ave. Corridor that extends from the State Capitol in Lansing to Webberville. This Corridor is considered by many in the Tri-County Region (Clinton, Eaton and Ingham counties) as the "main street" of the region and in 2013, a two-part design charrette was commissioned to help develop a vision for this Corridor. Many examples from this effort are highlighted in the Portfolio.
There are two other major initiatives that serve as an important backdrop to the Portfolio, providing both valuable examples for inclusion in it and simultaneously creating the need for it: 1) A grant that TCRPC received from the U.S. Department of Housing and Urban Development under the Sustainable Communities Program; and 2) a statewide placemaking initiative, called the MIplace Partnership Initiative, of which the MSU Land Policy Institute is an active member.
This Portfolio has the opportunity to serve as a model resource for all future placemkaing projects in and outside the Tri-County Region, and draws examples not only from the Michigan Ave./Grand River Ave. Corridor, but also from other HUD Sustainable Communities in Michigan and a variety of new local plans (Lansing, Grand Rapids, Networks Northwest Grand Plan, Detroit and Flint). It also draws heavily from the two charrettes conducted in the Corridor (mentioned above). Occasionally examples from other parts of the country are used when a local example couldn't be found, or the alternative example was especially good.
This publication includes five main chapters (Livability, Governance, Environment, Community and Economy), and features a multitude of links to other websites and online resources. It is meant to be a highly visual, educational tool for citizens, neighborhood leaders, developers and local officials. The Resources provided in each technique, however, are often more technical, and are probably most useful to practitioners.
Questions about the Portfolio can be directed to LPI's Holly Madill at madill@landpolicy.msu.edu or call 517.884.7743.