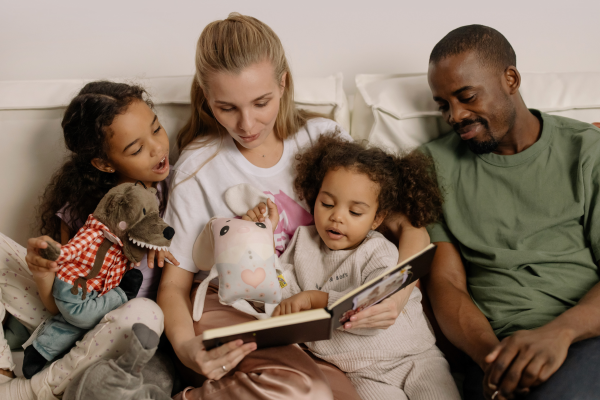 Parenting the Preschooler: Intellectual Development Overview
July 11, 2022 - Author: Kylie Rymanowicz, Vivian Washington, Kevin Zoromski, Michigan State University Extension
Ages & Stages
Preschooler A child who is 3 to 5 years of age.
Young child A child who is 0 to 8 years of age.
---
Minding Our Language
In this series we have chosen to use the inclusive words they, their, and them as singular, nongendered pronouns.
Families and parents come in all shapes, sizes, and styles. A family may include people who are related by blood, by marriage, and by choice. Parents may be biological, step-, foster, adoptive, legally appointed, or something else. When we use the words family and parent in these materials, we do so inclusively and with great respect for all adults who care for and work with young people.
---
For preschool-aged children, intellectual development (also called cognitive or thinking development) occurs mostly through play. Playing with objects that are different shapes, colors, and textures gives them a chance to learn how things are the same and how things are different. They can learn about spatial relationships by manipulating blocks or learn about time through daily activities. Opportunities to explore different objects, participate in dramatic play, and observe the world around them are also important parts of intellectual development.
This unit of Parenting the Preschooler focuses on the range of thinking skills and knowledge that children need to be prepared for school. The concept sheets in this unit offer information that will help you help your child learn:
Concrete information about shapes, colors, numbers, and other knowledge of objects
Problem-solving skills
How things work
About the physical and social world they live in
Playing, having fun, and trying new things are also vital to your child's brain and thinking development, and to their school readiness. Therefore, the unit offers tips on creating opportunities for new experiences for your child and helping them build on their previous experiences.
Intellectual Development Concept Sheets
Brain Development
01-Scaffolding—How do you help your child learn?
02-General Brain Development—How do you help boost your child's brain development?
03-Types of Intelligence—What does your child do well?
04-School Readiness—How are you preparing your child for school?
Skills
05-Playing to Learn—How do you make play time fun for your preschooler?
06-Colors and Shapes—How do you help your child learn about colors and shapes?
07-Time—How do you help your child learn about time?
08-Math—How do you make learning math fun for your child?
09-Spatial Relations—How do you help your child see things from different perspectives?
10-Learning From the Environment—How do you interest your child in the things around them?
Find Out More
MSU Extension provides the following resources for parents and caregivers of preschoolers and young children at no or low cost. Be sure to check out these and other MSU Extension resources available at www.extension.msu.edu.
This is a revised edition of the Parenting the Preschooler curriculum that was originally published by Michigan State University Extension in 2006. The authors of this edition would like to thank the authors of the first edition for leading the way.
Parenting the Preschooler: Intellectual Development Overview © 2022 Michigan State University. These concept sheets may be copied for purposes of 4-H and other nonprofit educational programs and for individual use with credit to Michigan State University Extension. 1R-1P-Web-04:2022-RM/CFD WCAG 2.0 AA