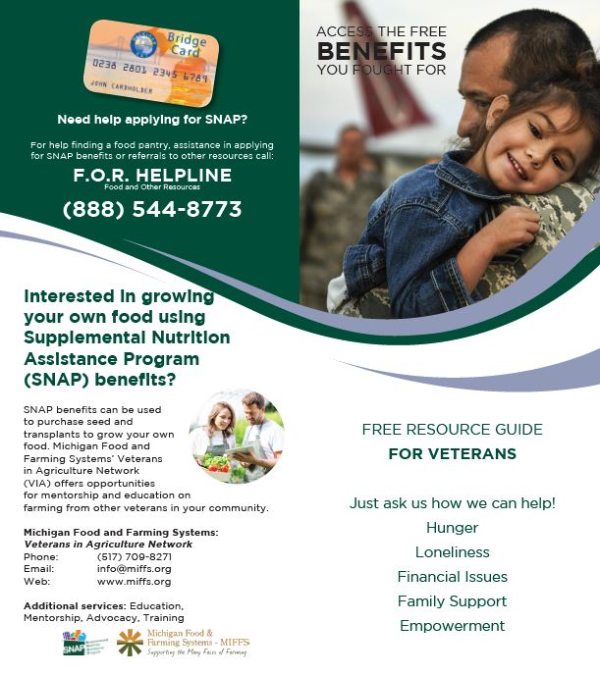 SNAP for Veterans Folded Rack Card
DOWNLOAD
August 24, 2020 - Author: MSU Extension
Interested in growing your own food using Supplemental Nutrition Assistance Program (SNAP) benefits?
SNAP benefits can be used to purchase seed and transplants to grow your own food. Michigan Food and
Farming Systems' Veterans in Agriculture Network (VIA) offers opportunities for mentorship and education on
farming from other veterans in your community.
Michigan Food and Farming Systems: Veterans in Agriculture Network
Phone: (517) 709-8271
Email: info@miffs.org
Web: www.miffs.org
Additional services: Education, Mentorship, Advocacy, Training
FREE RESOURCE GUIDE FOR VETERANS
Just ask us how we can help!
Hunger
Loneliness
Financial Issues
Family Support Empowerment
Late on your bills or facing eviction?
The Michigan Veterans Affairs Agency (MVAA) offers emergency financial assistance for qualifying veterans to
help with bills, home repairs, medical costs, and other debts.
Michigan Veterans Affairs Agency Toll-Free: (800) 642-4338
Additional services: Employment, Education, Healthcare Benefits, DD-214 Re-Printing Services
Trouble buying groceries?
The Supplemental Nutrition Assistance Program (SNAP) offers monthly benefits to help you provide food for you and your family and is used by nearly 1.4 million veterans. Michigan State University Extension offers veteran led support to help individuals apply for SNAP benefits.
MSU Extension's SNAP Outreach for Vets Program: Explains the SNAP food assistance program and offers enrollment assistance to veterans.
Website: https://www.canr.msu.edu/veterans
Facebook: www.facebook.com/msueveterans
To request free SNAP Outreach materials (brochures, vegetable seeds), order online at: https://bit.ly/SNAPOutreachForVets
Additional services: Education, Family Support, Business Support, Mental Health Services, Supporting Healthy Family Relationships, Kids Programming
It is common for veterans to feel alone after leaving the supportive community of
the military. The VA offers support through their Veterans Crisis Line. You can receive confidential support through a toll-free hotline, online chat, or text 24/7.
US Department of Veterans Affairs Veterans Crisis Line
Toll-Free: (800) 273-8255 (Press 1)
Text: 838255
Online Chat: www.veteranscrisisline.net
Additional services: Benefits, Healthcare, Education, Employment, Support Services
Do you need access to resources to support your family's personal and financial wellness?
The Michigan Department of Health and Human Services offers multiple ways to support the health and wellness of you and your family through their online referral and benefits service, MI Bridges.
Michigan Department of Health and Human Services (MI Bridges)
Toll-Free: (800) 275-6424
Web: www.michigan.gov/mibridges
Additional services: Healthcare, Cash Assistance, Emergency Relief, Medicaid, Child Care Assistance, Burial Assistance