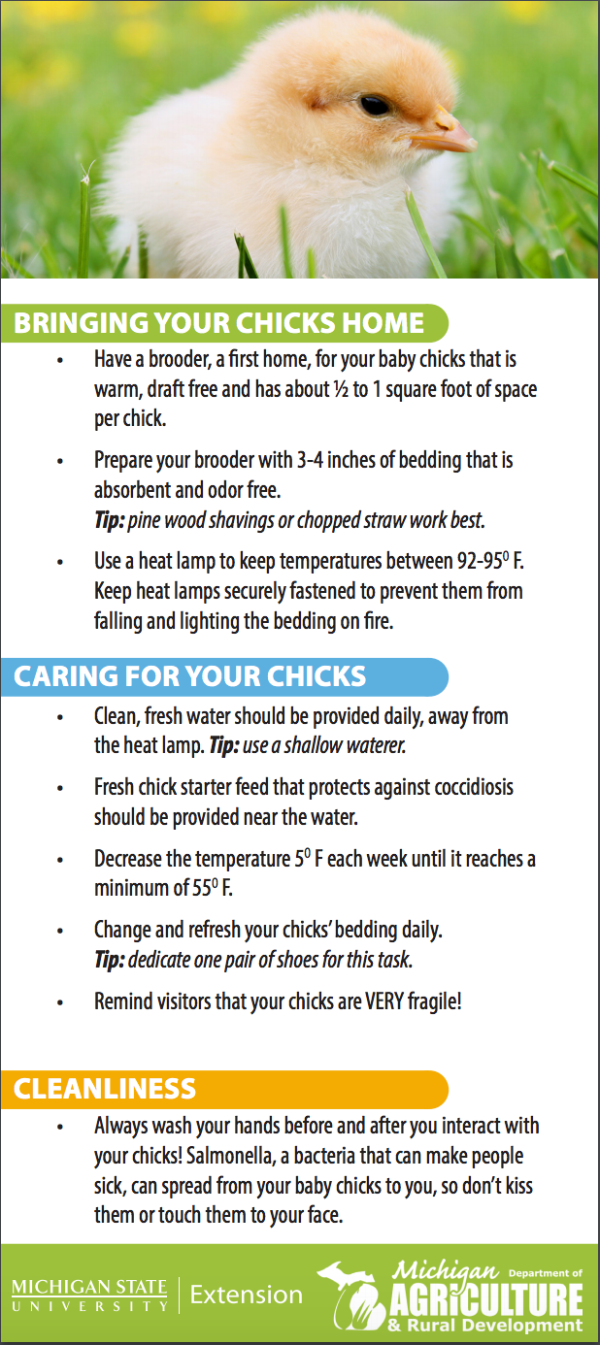 Tips for New Chick Owners
DOWNLOAD FILE
March 10, 2017 - Author: Michigan State University Extension
Bringing your chicks home
Have a brooder, a first home, for your baby chicks that is warm, draft free and has about 1/2 to 1 square foot of space per chick.
Prepare your brooder with 3-4 inches of bedding that is absorbent and odor free. Tip: pine wood shavings or chopped straw work best.
Use a heat lamp to keep temperatures between 92-95 degrees Fahrenheit. Keep heat lamps securely fastened to prevent them from falling and lighting the bedding on fire.
Caring for your chicks
Clean, fresh water should be provided daily, away from the heat lamp. Tip: use a shallow waterer.
Fresh chick starter feed that protects against coccidiosis should be provided near the water.
Decrease the temperature 5 F each week until it reaches a minimum of 55 F.
Change and refresh your chicks' bedding daily. Tip: dedicate one pair of shoes for this task.
Remind visitors that your chicks are VERY fragile!
Cleanliness
Always wash your hands before and after you interact with your chicks! Salmonella, a bacteria that can make people sick, can spread from your baby chicks to you, so don't kiss them or touch them to your face.
Get involved
Michigan State University (MSU) Extension has many hands-on opportunities for youth (5-19 yrs. old) to learn more about poultry through 4-H.
Contact your local MSU Extension office to find out about programs in your area. Visit 4h.msue.msu.edu to explore opportunities, msue.anr.msu.edu/county to find your county office or call 888-678-3464.
Sign-up for the MSU Extension Poultry Newsletter to get poultry-related news and events delivered right to your inbox. To subscribe, text "MSUE" to 22828 or visit msue.msu.edu and click on "Newsletter Sign-Up."
Resources