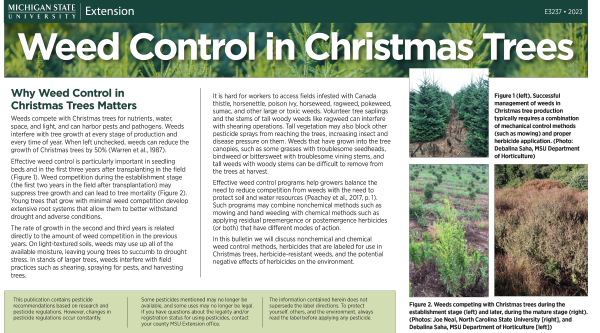 Bulletin E3237


Weed Control in Christmas Trees - E3237 DOWNLOAD

June 20, 2023 - Author: Debalina Saha, Bill Lindberg, Manjot Kaur Sidhu

Weeds compete with Christmas trees for nutrients, water, space, and light, and can harbor pests and pathogens. Weeds interfere with tree growth at every stage of production and every time of year. When left unchecked, weeds can reduce the growth of Christmas trees by 50% (Warren et al., 1987).

In this bulletin we will discuss nonchemical and chemical weed control methods, herbicides that are labeled for use in Christmas trees, herbicide-resistant weeds, and the potential negative effects of herbicides on the environment.

This publication contains pesticide recommendations based on research and pesticide regulations. However, changes in pesticide regulations occur constantly. Some pesticides mentioned may no longer be available, and some uses may no longer be legal. If you have questions about the legality and/or registration status for using pesticides, contact your county MSU Extension office. The information contained herein does not supersede the label directions. To protect yourself, others, and the environment, always read the label before applying any pesticide.