Landscape Architecture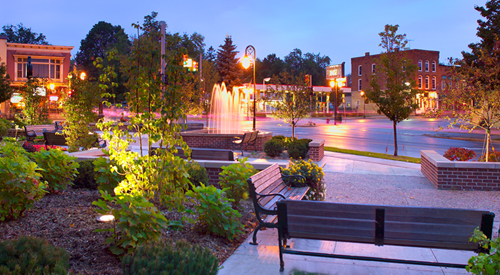 Photo courtesy of Hamilton-Anderson Associates.
Established in 1898, the Landscape Architecture Program at MSU, accredited by the Landscape Architectural Accreditation Board (LAAB), balances ideology, design, technology, art and science toward creating a resilient world. Faculty blend teaching, research and engagement to build new knowledge and advance the LA profession. The curriculum prepares students to be responsible landscape architects and fulfilled individuals with a breadth and depth of professional knowledge, bridged with the employability skills to advance in practice. Graduates master the design process across scales with the integration of art, science and human interaction, applying their knowledge to diverse and immersive project types from local to international settings.
The undergraduate program's long-standing reputation for proficient skill development provides a strong foundation for the Bachelor of Landscape Architecture/Master of Environmental Design Dual Degree program (BLA/MED option), the Bachelor of Landscape Architecture Degree (BLA) and the Doctor of Philosophy in Planning, Design and Construction with a concentration in Environmental Design.
Leadership is nurtured through rigorous research and interdisciplinary collaboration. Wide-ranging, diverse areas of focus are supported through partnerships and programs, which tap MSU's resource-rich academic culture within the land-grant mission to address real-world challenges and needs.
The MSU LA Program is proud to note that more than 90% of our graduates are placed in the job market within seven months of graduation. These graduates have been placed in numerous firms throughout the state of Michigan and the nation. Firms with Spartan graduates working to improve our built environment include: Beckett and Raeder, Conservation Design Forum, Design Workshop, Edgewater Resources, EDSA, EDAW, ECT, Inc., Grissim Metz Andriese Associates, Hamilton/Anderson Associates, Hitchcook Design Group, Hughes, Good, O'Leary and Ryan, JJR SmithGroup, Mariani Landscape, Michael Van Valkenburgh Associates, Nievera Williams Design, William McDonough and Partners, National Park Service, Sasaki Associates, Inc., TBG Partners, Turner Design Group, and The SWA Group.
An integral part of the MSU Landscape Architecture curriculum, these study abroad programs are endowed with generous financial support, making this outstanding life changing experience affordable for all.
A unique opportunity, the study abroad program allows one to visit historical and current examples of international landscape architecture. The program is fun, immersive and experiential, including visits to professional offices and foundation settings of the landscape architecture profession.
Estimated Tuition Cost
The estimated cost (tuition and fees) for a full-time undergraduate student for one academic year are:
In-State: $22,700
Out-of-State: $44,500
Students can better calculate costs based on their specific circumstances here: MSU Tuition, Fees and Housing Calculator.
Student Job Placement Rate
The full-time job placement rate for our landscape architecture graduates has been up to 100% with an average starting salary of $42K.
Why Become a Landscape Architect? from ASLA on Vimeo.