Biennial Graphic Workshop and Big Ten Design Charrette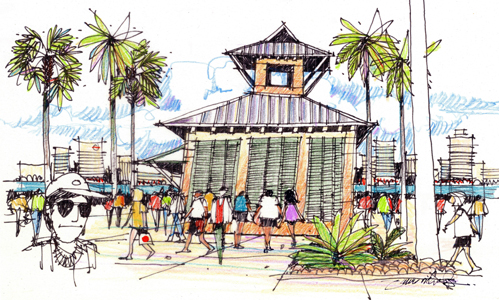 Biennially, the SPDC Landscape Architecture Program hosts the Graphic Workshop and Big Ten Design Charrette. This is a fun and creative design event that allows SPDC students to work with nationally acclaimed designers to draw and write ideas for the future vision of local community- and University-based sites. It also provides an opportunity for the public to give comments and ideas as the design unfolds and allows them to learn how community planning works.
Design Competition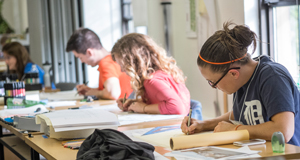 The highlight of the Graphic Workshop and Design Charrette is the design competition in which SPDC students have the opportunity to work together in teams to develop concepts and draw ideas for a proposed site. A jury of professional landscape architects, developers and industry peers then choose the winning team and design. After the winning drawing goes through final revisions in Nieratko's 4th year studio, it is sent to the community, politial entities and developers for consideration and/or further design by professional staff and private developers.
2013 Winning Team and Design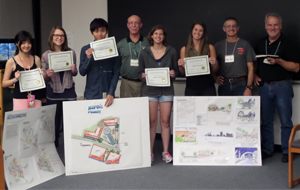 From Left: Sophomore Dexin Chen, First Year Alum Jessica Wendlandt, Freshman Hanhao Yuan, SPDC Senior Specialist Paul Nieratko, Senior Bridget Safferman, Senior Maudie Smith, Landscape Architect Bob Chipman, Landscape Architect James Richards and Sophomore Tierra Nelson (not pictured).




Past Design Projects*
2015: Bailey to Broad: Connecting Community to Art. Linking the Bailey Community Center to the Ely and Edythe Broad Museum.
2013: East Lansing Park District, including Abbot Road entrance to the MSU Campus.
2011: Old Morrill Hall Building site renovation to Morrill Plaza.
2009: Working Master Plan for the Woldumar Nature Center.
2007: Grand River waterfront at Cooley Gardens and Michigan Women's Historical Society.
2005: Community Dream, Lansing Catholic Central and Lansing Eastern High School's joint athletic fields.
2003: Grand River waterfront at the Lansing Board of Water and Light's Ottawa Street Power Station.
2002: Courtyard for Lansing Eastern High School.
2001: Original City Center II, Albert Avenue, East Lansing.
1999: Commercial District Walkway and pedestrianization of MAC Avenue, East Lansing.
1997: Village of Dimondale, MI, dam and community park along the Grand River.
*It should be noted that the winning designs from prior competitions were submitted to and reviewed for consideration by the communities, political entities and developers, but not all of them made it to the construction phase.
Contact
Questions about this event should be directed to Paul Nieratko, LA Senior Specialist and Design Studio Instructor.