Careers in Landscape Architecture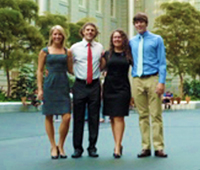 Landscape Architecture is the licensed design profession that applies artistic, cultural, ecological, scientific and technical knowledge to the design, planning and management of built and natural environments across scales, from local to global.
Landscape Architects work in a wide range of diverse private practices. Landscape Architects provide services, including landscape architecture, land planning, environmental assessment and management, site engineering, and general landscape design.
They enjoy careers in mined land reclamation, golf course architecture, healing garden design, green roof and wall design, campus planning and design, urban design, transportation design and planning, housing site design, and park design and planning.
They work in local, state and national public agencies, including city planning and parks departments, National Forest and National Parks Services, and the Army Corp of Engineers. Landscape Architects manage and oversee site construction at all scales, frequently coordinating teams of planners, architects, engineers, and contractors in implementing visionary and sustainable designs. Ultimately, Landscape Architects serve as the stewards of planet earth.

While in school, our students are encouraged to complete internships and part time jobs, often in firms owned or managed by our alumni. Students are employed annually on campus by the MSU Office of Campus Planning and Administration, and Office of Architecture and Engineering Services.
Upon graduation, students accept entry level employment with local, state, national and international landscape architecture firms. Entry-level landscape architects must have a minimum combined seven years of education and experience to be eligible to sit for the national licensing exam in the State of Michigan.
Personal Paths from ASLA on Vimeo.
Job Listings for Landscape Architecture