LA Distinguished Speaker Series
Two or more times a year, the Landscape Architecture (LA) Program and the Landscape Architecture Alumni & Advisory Board (LAAAB) co-host the Distinguished Speaker Series at Michigan State University.
The series came about as a result of the LA Program and LAAAB wanting to bring together students, alumni, faculty and staff to interact and learn together. These events have created wonderful evenings consisting of a mixture of friends, colleagues and a hallmark commemorating the visiting professional's remarkable achievements.
Along with each speaking engagement to share inspirational experiences, the visiting professional, either an LA alumni or a well-know landscape architect, also participates in the classroom, where LA faculty have graciously worked to coordinate inter-curricular events that promote sharing of the professional's expertise and knowledge.
2023 Speaker
"The Landscape of Future History" - 125th LA Program Anniversary Keynote Address
Date: October 6, 2023
Speaker: David A. Rubin, PLA, FASLA, FAAR, Principal DAVID RUBIN Land Collective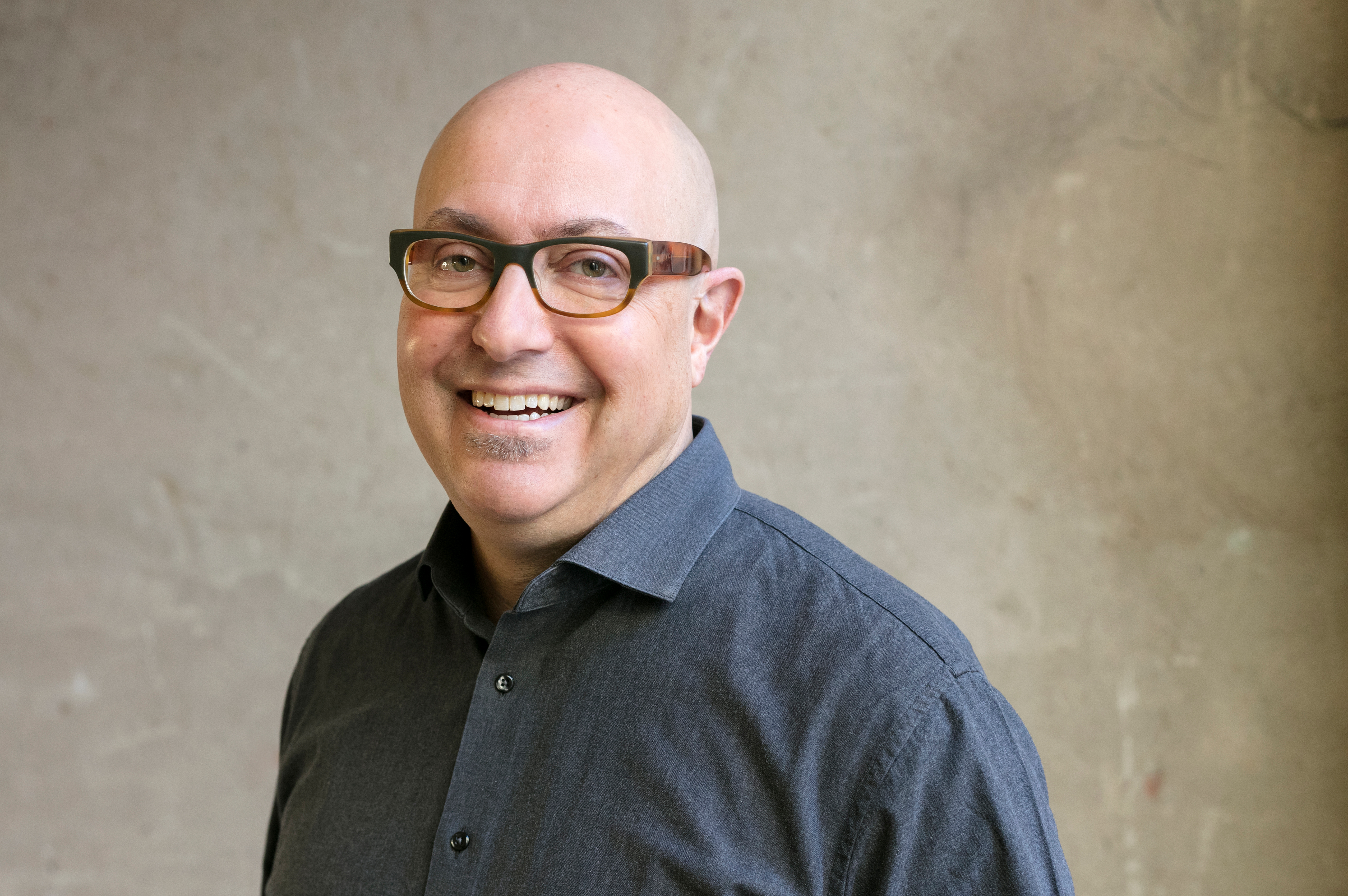 David A. Rubin, PLA, FASLA, FAAR is the founding principal of DAVID RUBIN Land Collective, a landscape architecture, urban design, and planning studio committed to practicing socially-purposeful design. David's visionary contribution to the field in "empathy-driven design" is a hallmark of the studio, earning increasing renown for fusing issues of social justice in cities with excellence in the design of public spaces. His projects have received awards and honors from the American Society of Landscape Architects and the American Institute of Architects, among others. David was recently appointed by the State Department to The Bureau of Overseas Building Operations (OBO) Industry Advisory Group to advise the U.S. government on best practices in landscape architecture.
2021 Speaker Panel
The Detroit Waterfront: Charting a Just and Equitable Future
Date: October 14, 2021
Speaker: Mark Wallace, President and Chief Executive Officer of the Detroit RiverFront Conservancy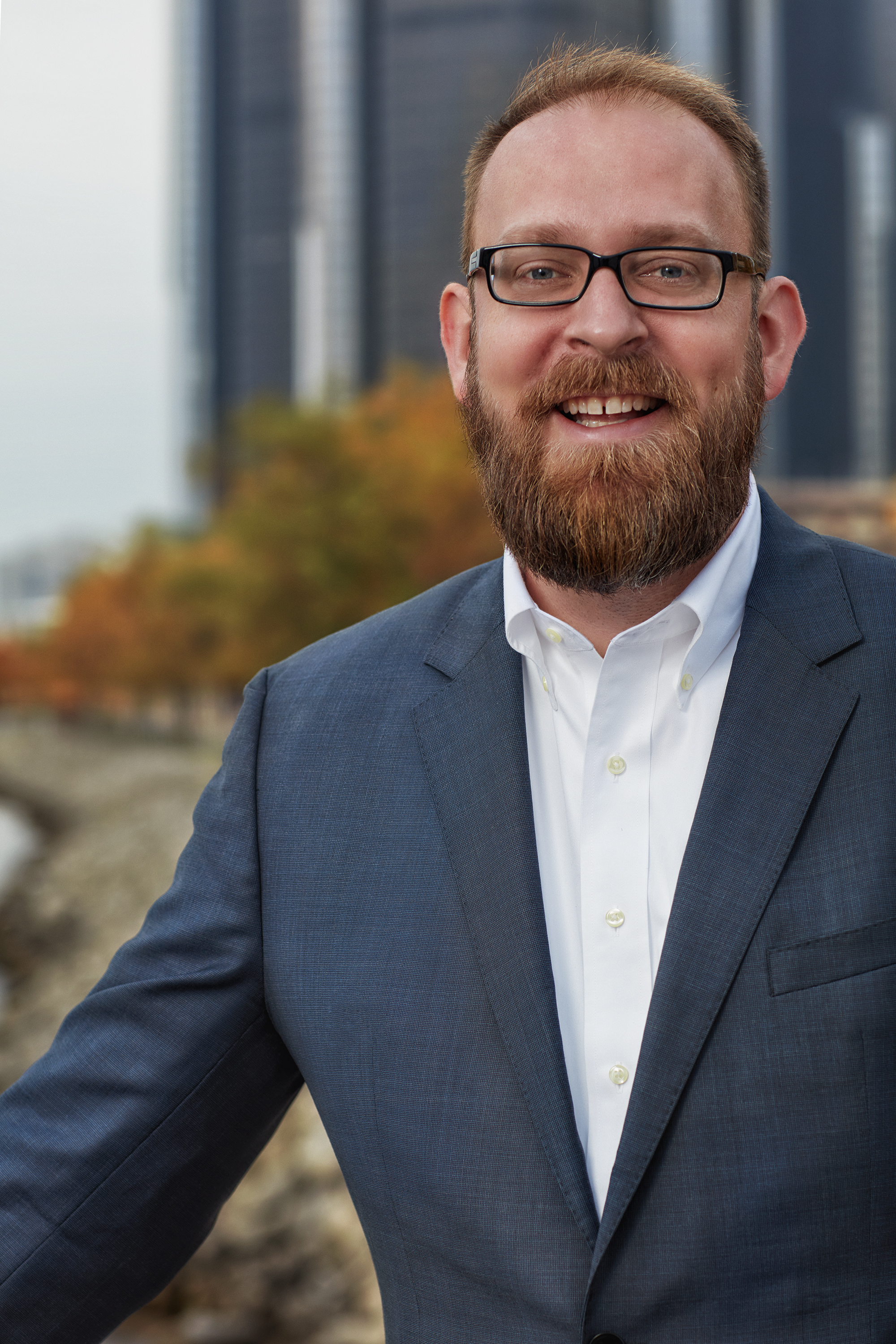 Mark Wallace serves as President and Chief Executive Officer of the Detroit RiverFront Conservancy. Prior to joining the Conservancy in August 2014, Wallace was a director with Hines Interests LP from 2003 to 2014 and most recently served as project manager of the River Point development in Chicago, a 1,050,000-square-foot, 50-story, state-of-the-art tower located on the Chicago River. The project includes a 1.5-acre public park that opens the West Loop neighborhood to the main branch of the Chicago River. Wallace earned his bachelor's degree from Princeton University in 1999 and his master's degree from the Gerald R. Ford School of Public Policy at the University of Michigan in 2003. Mark grew up in Hillsdale and Chelsea and currently lives in the Indian Village neighborhood of Detroit.
Speaker: Nate Trevethan, Principal at Michael Van Valkenburgh Associates.
Since joining MVVA in 2002, Nate has led the design and planning of large-scale urban master planning projects. Nate's is an expert in narrating a project's complex story and leads MVVA's job development efforts. He worked on the design for Brooklyn Bridge Park, Pennsylvania Avenue at the White House, and the Port Lands Flood Protection Plan in Toronto. He received a Master of Landscape Architecture from Harvard University's Graduate School of Design and earned a Bachelor of Arts in landscape architecture from Michigan State University.
Speaker: Elnora Austell, President of E. Austell Associates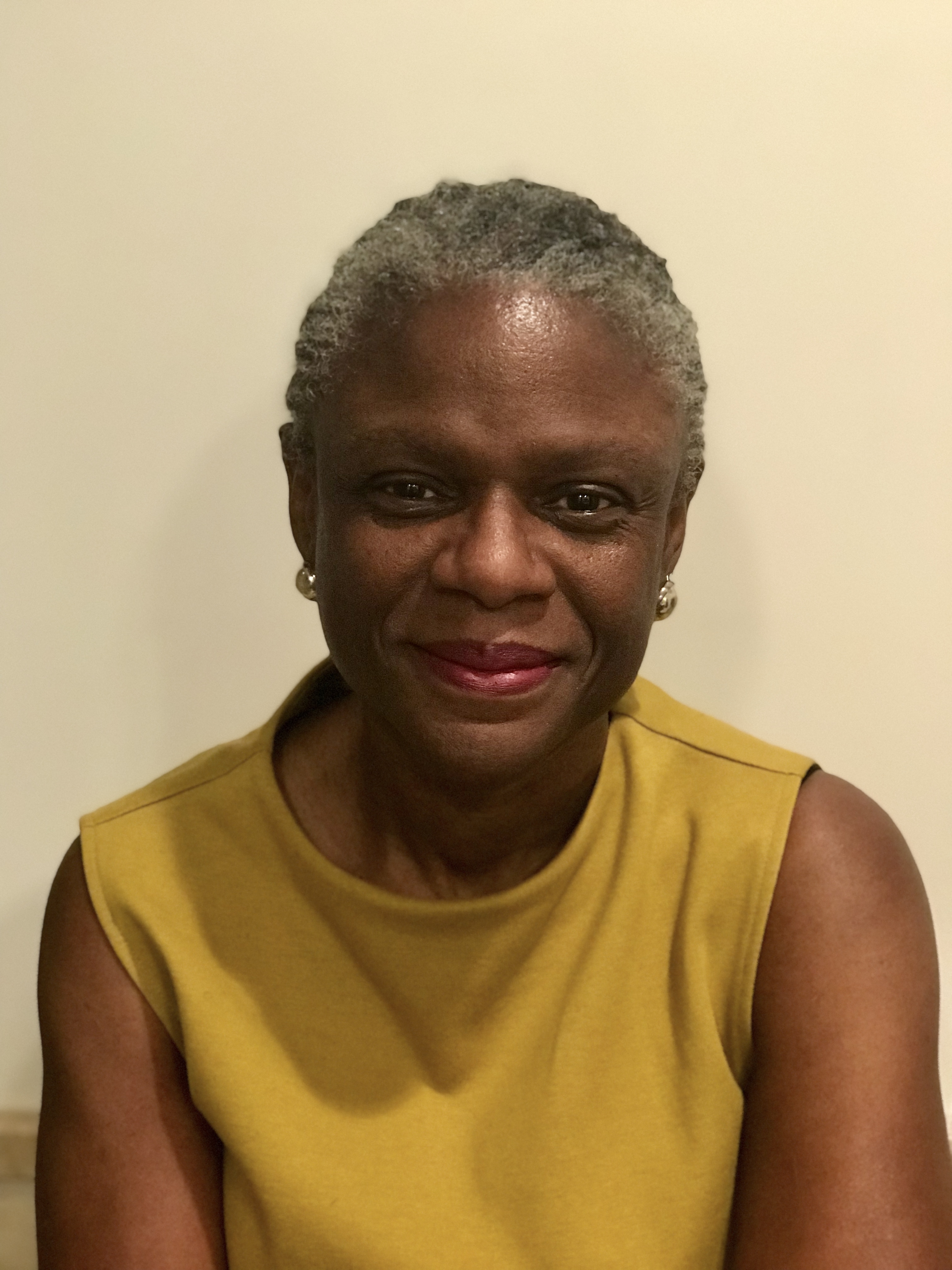 Elnora Austell is president of E. Austell Associates, Inc., a communications consultancy focusing on community engagement, strategic planning, and project management. With more than 35 years of experience, her ongoing goal is to engage in projects that have positive and lasting impacts on people and communities. Elnora has managed community engagement for some of southeast Michigan's most important initiatives including the Detroit East Riverfront Framework Plan, the Southeast Michigan Regional Transit Master Plan, the Detroit I-375 Alternatives Study, and the Detroit I-94 Modernization Project. She was vice-president of Hermanoff & Associates Public Relations in Farmington Hills, Mich. and held communications posts for the Neighborhood Development and Employment Agency in Boston. Mass. She holds a B. A in English from the University of Massachusetts, Boston.
2020 Speaker Panel
Social Equity in a Post-COVID-19 World: A Designer's Perspective
Date: October 22, 2020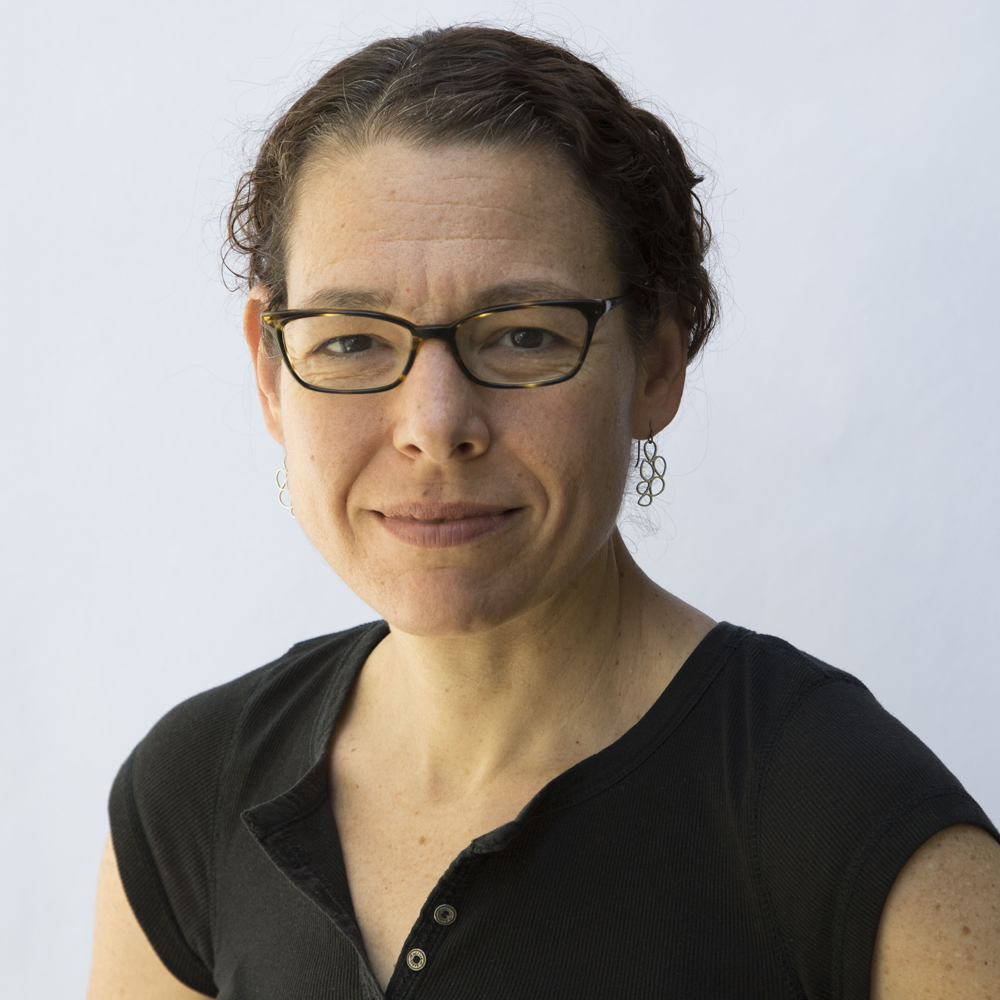 Speaker: Alma Du Solier, Landscape Architect, and Studio Director, Hood Design Studio
Alma Du Solier is a landscape designer and architect with a Masters in Landscape Architecture from the University of California, Berkeley and a Bachelor in Architecture from ITESM Campus Monterrey (Mexico). She holds a Landscape Architecture License in the State of California. Solier has 20 years of experience in the practice of design and is currently the Studio Director at Hood Design, in Oakland, CA. She has been lead designer for a wide range of projects from urban parks and mixed-use projects to long-term open space and resources strategic planning. Solier is currently working on the open space planning and design of a mixed use campus in Tijuana, Baja California, Mexico. She is a recurrent guest lecturer at UC Berkeley's Department of Landscape Architecture and Environmental Planning and in 2010 was invited as guest lecturer at ITESM Campus Zacatecas, School of Architecture.
Speaker: Billy Fleming, Wilks Family Director, The McHarg Center, UPenn Weitzman School of DesignID Guest Lecture
Billy Fleming is the Wilks Family director of the Ian L. McHarg Center in the Weitzman School of Design, a senior fellow with Data for Progress, and co-director of the "climate + community project." His fellowship with Data for Progress has focused on the built environment impacts of climate change, and resulted most prominently in the publication of low-carbon public housing policy briefs tied to the "Green New Deal for Public Housing Act" introduced in 2019.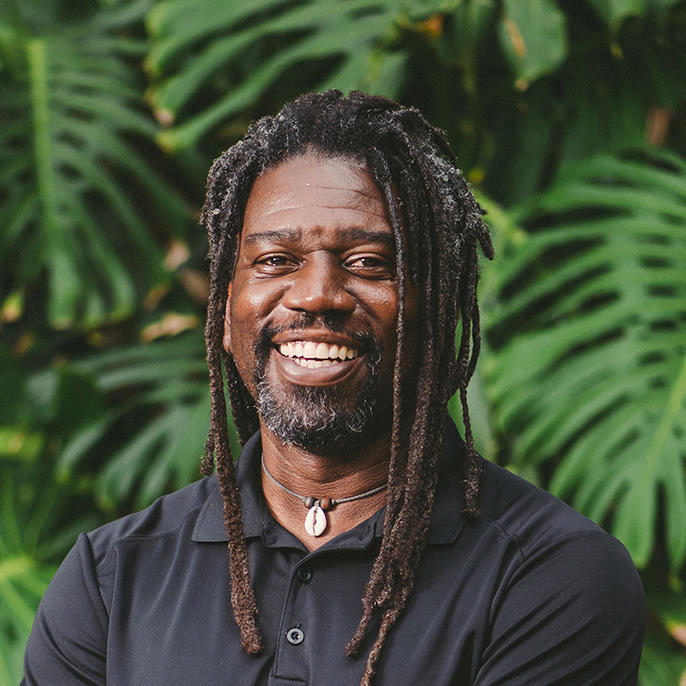 Speaker: Kona Gray, FASLA, PLA, Principal at EDSA.
Kona Gray is a principal at EDSA. Strong leadership and a sense of purpose are part of his DNA. With experience in 30+ countries, Gray's global management sense has positively shaped the outcomes of many award-winning assignments. He successfully integrates creativity and regional resources into functional environments that invigorate the imagination. With an uncompromising dedication to quality, Gray creates welcoming public places that bring a strong sense of vitality back to neighborhoods. Blending sensitivity with innovative design solutions, he unites a client's vision with his own vanguard designs to produce programs with purpose and presence.
2019 Speaker
Plant Passion, Roberto Burle Marx and Raymond Jungles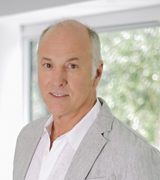 Speaker: Raymond Jungles, FASLA, Founder, Raymond Jungles, Inc. (RJI).
Date: September 19, 2019.
Raymond Jungles, FASLA, is the founder of the Miami-based Landscape Architecture firm, Raymond Jungles, Inc. (RJI), recognized for excellence in the design and implementation of public and private sector projects. His work has been celebrated with numerous awards including two National awards from the American Society of Landscape Architects for the Sky Garden and Island Modern residential gardens. He is also a recipient of forty-eight design awards from the Florida Chapter of the American Society of Landscape Architects, including sixteen Awards of Excellence and six Frederic B. Stressau Awards. Raymond earned his Bachelor of Landscape Architecture from the University of Florida, and is a Licensed Landscape Architect in the states of Florida and New York.
2018 Speaker
The New Landscape Declaration: Our 21st Century Call to Action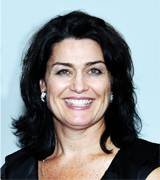 Speaker: Barbara Deutsch, FASLA, CEO, Landscape Architecture Foundation.
Date: September 13, 2018.
Barbara Deutsch, FASLA, has served as executive director of the Landscape Architecture Foundation since 2009. She brings 10 years of award-winning marketing experience from IBM before becoming a landscape architect. This experience was influential in the development of he foundation's new strategic research initiative called The Landscape Performance Series. Prior to LAF, Deutsch served most recently as an associate director for the BioRegional's OnePlanet Communities program in Washington, DC, to deliver Zero Carbon, Zero Waste, Livable communities. In addition she served as senior director of Casey Trees, where she was principal investigator for the award-winning EPA Grant titled "The Green Build-out Model: Quantifying the Stormwater Management Benefits of Trees and Green Roofs in Washington, DC." Deutsch earned a BS in Commerce from the University of Virginia, a Master's in Landscape Architecture from the University of Washington, and was awarded a Loeb Fellowship from the Harvard Graduate School of Design.
2017 Speaker
Why Not Cultural Systems? Design, Historic Preservation & Cultural Landscapes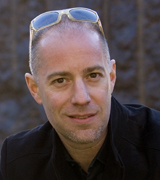 Speaker: Charles Birnbaum, FASLA, FAAR, President and CEO, The Cultural Landscape Foundation.
Date: September 14, 2017.
Charles A. Birnbaum, FASLA, FAAR, is the president and CEO, as well as founder of The Cultural Landscape Foundation. Prior to creating TCLF, he spent 15 years as the coordinator of the National Park Service Historic Landscape Initiative (HLI) and a decade in private practice in New York City with a focus on landscape preservation and urban design. One of Birnbaum's major projects is the web-based initiative What's Out There (a searchable database of the nation's designed landscape heritage). He has authored and edited numerous publications, including the Modern Landscapes: Transition and Transformation series printed in 2012 and 2014, Shaping the American Landscape (2009), Design with Culture: Claiming America's Landscape Heritage (2005), Preserving Modern Landscape Architecture (1999), Making Post-War Landscapes Visible (2004), Pioneers of American Landscape Design (2000) and The Guidelines for the Treatment of Cultural Landscapes (1996). In 1995, the American Society of Landscape Architects (ASLA) awarded the HLI the President's Award of Excellence and in 1996 he was inducted as a Fellow of the Society. He served as a Loeb Fellow at Harvard's GSD. In 2004, Birnbaum was awarded the Rome Prize in Historic Preservation and Conservation and spent spring/summer of that year at the American Academy in Rome. In 2008, he was the visiting Glimcher Distinguished Professor at Ohio State's Austin E. Knowlton School of Architecture. That same year, the ASLA awarded him the Alfred B. LaGasse Medal; in 2009, the President's Medal; and in 2017, the ASLA Medal, the profession's highest honor. Birnbaum is currently a visiting professor at the Columbia University Graduate School of Architecture Planning + Preservation and a frequent contributor to The Huffington Post.
2016 Speaker
ANTHROPOCENE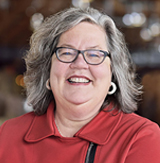 Speaker: Debra Guenther, ASLA, LEED AP BD+C, partner, Mithun.
Date: Thursday, September 22, 2016
As a partner and landscape architect at Mithun, Deb Guenther has built a team of landscape architects that brings exceptional quality, critical thinking and award-winning design to projects. She is interested in the role of the public realm in our cities—how it can connect people with their surroundings and each other, support equity and increase social cohesion. Her innate understanding of that interaction leads her to work on complex, diverse projects across scales for public, private and nonprofit partnerships, delivering conceptual design ideas for projects firm-wide. This range of work allows her to make strategic connections and create new partnerships that strengthen projects. Clients benefit from her dedication to integrating policy, practice and design through her understanding of national trends and relationships with other national leaders. Guenther is a regular speaker at conferences, such as Greater and Greener, an urban parks conference: Living Futures, and the Urban Land Institute. Nationally recognized for her leadership on green infrastructure and ecosystem service issues, she was awarded the American Society of Landscape Architect's Presidents Medal in 2010.
2015 Series Speakers
30 Years of Finding Lost Space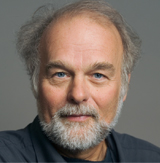 Speaker: Roger Trancik, FASLA, Professor Emeritus, Cornell University
Date: Sunday, September 20, 2015

Roger Trancik, FASLA, is professor emeritus of landscape architecture and city and regional planning at Cornell University, and founding principal of Urban Design Consultants in Ithaca, New York. He has served on the Cornell faculty since 1982, and from 1970 to 1982 was professor of urban design at Harvard University Graduate School of Design. Prof. Trancik has held visiting professorships at Chalmers University of Technology in Sweden, the Royal Academy of Fine Arts in Denmark, Wuhan University in China, and was professor-in-residence in Rome for Cornell and the University of Colorado. In addition to professional planning studies, journal articles, and scholarly papers on urban design, Trancik has published several national award-winning books, including Finding Lost Space, and Hamlets of the Adirondacks. In 1990, Prof. Trancik was elected Fellow of the American Society of Landscape Architects, and in 2004 appointed U.S. Senior Fulbright Scholar to Panama, Central America. Trancik served as chair of NEA and NYSCA Design Arts panels, City of Cambridge Zoning Board, ASLA National Committees and U.S. Fulbright Screening Committee. He has authored/curated art gallery exhibits on Roman Views and Panama's Garden Cities, and has worked with leading professional design and planning firms, including Sasaki Associates, Ralph Erskine Architects and CBT Architects. During his years as faculty member at Cornell and Harvard, he taught core curriculum lecture and seminar courses on urban design, landscape architecture and planning, and conducted numerous graduate and undergraduate studios in New York, Boston, Panama, China, Rome and Scandinavia.
Reflections: Planning and Designing Landscapes for Wildlife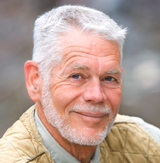 Speaker: Craig Johnson, Professor Emeritus, Utah State University
Date: Thursday, February 12, 2015
Craig Johnson joined the USU Landscape Architecture and Environmental Planning (LAEP) faculty in 1966 and was an integral part of the department for an unprecedented 42 years. He received a BLA degree from Michigan State University in 1964 and an MLA degree from the University of Illinois in 1966. In 1984 he received an MS degree in Fisheries and Wildlife Biology from South Dakota State University. During his impressive tenure at Utah State University, he enriched the educational experiences of countless students and conducted innumerable environmental planning and ecological restoration projects. Craig Johnson has had an significant impact on the landscape architecture profession. His areas of expertise include: planting design, land reclamation, urban forestry and wildlife habitat planning and design. His publication Conservation Corridor Planning at the Landscape Level received the Wildlife Society's book of the year award in 2001. He was a licensed landscape architect in the states of Idaho and Utah, and is licensed in Minnesota. He has been a collaborator or director on numerous projects which have received state and national ASLA, American Planning Association and American Institute of Landscape Architects awards. In 1982, he was awarded the Utah Chapter of ASLA Distinguished Service Award.
2014 Series Speakers
Olmsted, Richardson and VanRenssealer: Origins of Modern Landscape Design" and "Frederick Law Olmsted: Portrait of a Designer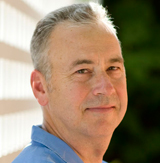 Speaker: Ethan Carr, Olmsted Scholar, Associate Professor of Landscape Architecture & Regional Planning, University of Massachusetts
Date: October 9 and 10, 2014
Download Carr News Release
Ethan Carr, Phd, FASLA, is an associate professor of landscape architecture at the University of Massachusetts, Amherst. He is a landscape historian and preservationist specializing in public landscapes, particularly municipal and national park planning and design. He has written two award-winning books, "Wilderness by Design" (1998) and "Mission 66: Modernism and the National Park Dilemma" (2007) that describe the 20th century history of planning and design in the U.S. national park system within the context for considering its future management. In 2008, with partners from the National Park Service and the Cultural Landscape Foundation, Carr co-organized a two-part conference on the history and future of public park design, Designing the Parks, which has resulted in a national park design competition administered by the Van Alen Institute ("Parks for the People," currently ongoing), and the Designing the Parks initiative for design excellence within the National Park Service. Carr is also the volume editor of the forthcoming eighth volume of the Papers of Frederick Law Olmsted, which covers the period of the 1880s, when Olmsted's practice developed into the first modern landscape architecture office. His career in the fields of landscape architecture and historic preservation began in the professional world, where he worked for New York City Parks and the National Park Service, where he was the lead historical landscape architect at the Denver Service Center. He has taught at the Harvard GSD, the University of Virginia and at the University of Massachusetts, where he is currently inaugurating the Heritage Landscape Conservation Program.
International Water Resource Planning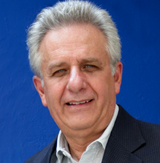 Speaker: Mario Schjetnan, ALSA Fellow and CEO, Group de Diseno Urbano
Date: February 20, 2014
Mario Schjetnan discussed his international accomplishments and water resource planning. Born in Mexico City, he holds a degree in Architecture from the National University of Mexico and a Master's Degree in Landscape Architecture with an emphasis in urban design from the University of California, Berkeley. In 1984, he was selected as a Loeb Fellowship at the Graduate School of Design, Harvard University.
2013 Series Speakers
Strategic Design: The Power of Framework Thinking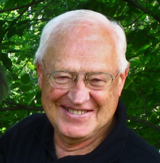 Speaker: William Johnson, FASLA, 1953 Distinguished Alumnus, Professor Emeritus, University of Michigan
Date: October 24, 2013
William (Bill) Johnson has focused on issues of environmental design throughout his 50 year career as planner, designer, teacher and academic administrator. A landscape architect by training, his early interests focused on broad-scale land development/protection strategies. Johnson pioneered in shaping cross-disciplinary ways-of-working in fitting land development programs to sensitive environmental conditions. His practice has ranged across projects of regional and community planning, urban design, long-range campus development, natural resource and historic preservation. Johnson's contributions emphasize the balancing of social, cultural and environmental values in problem-solving initiatives. The scope of his personal involvement ranges from designer to development strategist to facilitator in environmental conflict-resolution issues. This event celebrated his career achievements. Johnson obtained his bachelor's degree from MSU in 1953. He went on to complete an MLA from Harvard after his military service. He formed Johnson, Johnson and Roy with his brother Carl and Clarence Roy in 1961, and amongst other accomplishments served as Dean of the School of Natural Resources at the University of Michigan from 1975–1983. Johnson was named a Fellow of the American Society of Landscape Architects in 1973 and awarded the ASLA Medal in 1986.
Building the Urban Landscape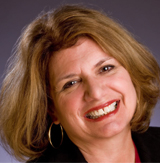 Speaker: Barbara Faga, FASLA, 1972 Distinguished Alumna, AECOM Fellow and Georgia Tech Adjunct
Date: April 4, 2013
Barbara Faga is an urban designer with experience in projects in the EU, Latin America, Australia, Korea, the Caribbean and the U.S. Projects include: Centennial Olympic Park, Atlanta, GA; Parc Diagonal Mar, Barcelona, Spain; Carter Presidential Center, Atlanta, GA; Celebration, FL; Schuylkill River Master Plan, Philadelphia, PA; Miami Downtown Vision Plan, Miami, FL; Wharf District Park/Rose Fitzgerald Kennedy Greenway, Boston, MA; Porta Nuova, Milan, Italy; East Edisto, Charleston, SC; and the Atlanta BeltLine, Atlanta, GA. She also worked for the cities of Alexandria, VA and Atlanta, GA. Barbara has conducted hundreds of public meetings and is a recognized expert in building public consensus. Faga has directed complex teams on large, time-sensitive and award-winning projects. She celebrated her 30-year career as an urban designer, author and professor, and was named a Fellow with AECOM. Faga was a former principal with EDAW, where she chaired their board of directors. In 2007, Design Intelligence named her one of the top 15 women who are changing the world of architecture. Faga received the Distinguished Alumni Award in Landscape Architecture from MSU in 2001, and planned to complete a dissertation for a PhD in public policy at the Georgia Institute of Technology in 2013.
Problem Seeking: Designing the Natural City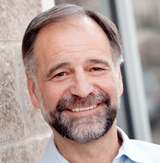 Speaker: Bill Wenk, FASLA, 1969 Distinguished Alumna, Wenk Associates
Date: February 7, 2013
The first Distinguished Speaker in the Series was William (Bill) Wenk of Wenk Associates in Denver, Colorado. The firm, where he is founder and president, is recognized internationally for integration of natural systems and processes into urban settings. Their philosophy maximizes the benefit from public investment by creating artful landscapes that have meaning and solve basic human needs. For more than 30 years, he has been influential in the restoration and redevelopment of urban river and stream corridors, the transformation of derelict urban land and the design of public parks and open spaces. He is recognized nationally for utilizing stormwater as a resource. Wenk's recent national work includes a master plan for the reclamation of the 32-mile Los Angeles River corridor in California; "green infrastructure" planning and implementation for the redevelopment of abandoned railyards, and restoration of the Menomonee River in Milwaukee, WI; and master planning for a 17-mile corridor of the Mississippi River through St. Paul, MN. Recent work in Denver includes site planning and design of stormwater gardens as part of redevelopment of derelict industrial properties into thriving live/work destinations, and multiple projects related to the transformation of the Platte River Valley into a mosaic of parks, open spaces and in-fill development.