Mega Events: Inside the FIFA World Cup
The SPDC Mega Event Planning Group and MSUglobal offered a free Massive Open Online Course (MOOC) on the 2014 FIFA World Cup. This MOOC is the second offered in the SPDC MOOC Series on Mega Event Planning; the first being the 2014 Winter Olympics MOOC. The course featured five self-paced modules focused on different aspects of the FIFA World Cup, including the sport itself; its history, culture and politics; business; and urban planning.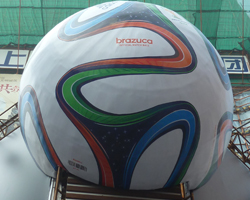 The course took place online June 23-July 21, 2014. It provided video lectures and provide opportunities for interaction with the instructors and other students. The course made use of discussion forums and offer external social networking participation (Twitter (connect to MEPupdates) and Facebook (Mega Event Planning Group)) or elements.
The course will be taught by Mark Wilson, PhD, a Professor in the SPDC Urban & Regional Planning (URP) Program and Director of SPDC Global; Eva Kassens-Noor, PhD, an Assistant Professor for the SPDC URP and the MSU Global Urban Studies Program; and Lisa Robinson, head of metadata management for MSU Libraries. Yuya Kiuchi, assistant professor of MSU Writing, Rhetoric & American Culture; and Francisco Villarruel, professor of MSU Human Development & Family Studies, taught the module on Laws of the Game.