CAMPAIGN FOR
The Joe Vargas Endowed Chair in Turfgrass Pathology
Goal: $5 million endowment
How you can help
As the nation's pioneer land-grant university, it is our responsibility to recruit and support faculty who are ready to tackle the world's most challenging issues. We value research that enhances our ability to deliver advanced solutions and educational initiatives for the turfgrass industry.
By helping to create the Joe Vargas Chair in Turfgrass Pathology at Michigan State University, you are investing in the industry, our students, faculty, and research. With your partnership, we will ensure that Michigan State University continues to lead the field as the premier school for turfgrass science and management. Together, we can make a difference in ways that improve the lives of our communities, strengthen the economy, and change our world.
The Joe Vargas Chair in Turfgrass Pathology
The individual who holds the Joe Vargas Chair in Turfgrass Pathology will be driven, creative and utilize cutting-edge techniques to tackle pressing challenges for solutions that positively impact the field of turfgrass science around the world. Funds from the Vargas Chair endowment will allow us to do research in the area of greatest promise rather than being constrained by a specific grant opportunity. At the same time, the research they conduct with resources from the endowment, along with the benefits of being a part of a large research institution, will provide the catalyst for additional grant and research support. The Vargas Chair will conduct innovative research that will forever link the MSU brand with a meaningful and positive impact on the industry.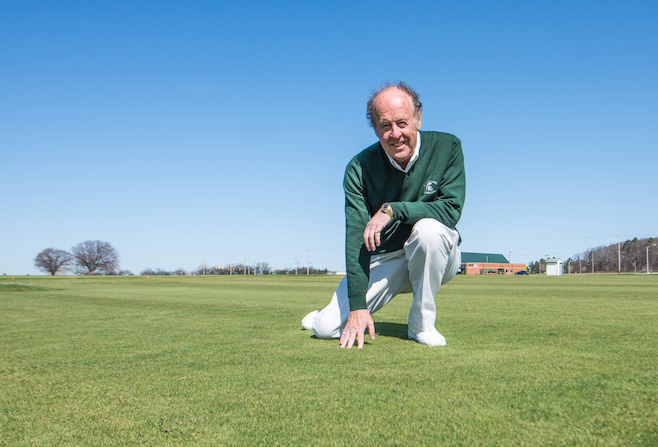 A Pioneering Turfgrass Program
For over 70 years, Michigan State University's turfgrass management program has provided significant, cutting-edge research that positively impacts practitioners and end-users, from our back yards to world-class golf courses. The research taking place within our turfgrass program not only serves to positively affect our campus community and the state of Michigan's economy, but also the U.S. and the world.
Michigan State University offers a two-year certificate program, a four-year undergraduate degree, and graduate degrees in turfgrass science and management. The programs bring together faculty, specialists, and educators who work with both professional turfgrass managers and homeowners in managing turfgrass in an environmentally responsible manner.
The Importance of Endowed Faculty
At the forefront of our turfgrass program are our faculty members who are leaders in their areas of expertise. They create new knowledge through research, while educating and inspiring the students who will become the next generation of leaders in the field. These talented individuals are the heartbeat of the program, and we must continue to attract the most forward-thinking researchers and educators to Michigan State.
What holds true for successful businesses holds true for universities: we live in a competitive world. In academia, we compete for the best students, for funds to fuel our research programs, and for the best faculty. Endowed positions offer a huge competitive advantage when recruiting faculty, as they are one of the most pivotal factors that candidates consider when weighing their options between multiple universities. For that reason, we are seeking a $5 million endowment to fully endow the Joe Vargas Chair in Turfgrass Pathology at Michigan State University.
The Joe Vargas Chair in Turfgrass Pathology will ensure that a strong and robust program is possible in perpetuity, and that MSU's land-grant tradition of linking research to our region's needs continues to advance the economic development, environmental stewardship, and improved quality of life in Michigan and around the world.
We seek faculty members who will offer unique viewpoints and expertise to educate and inspire our students, and who will conduct collaborative research with colleagues in other colleges and industries. The Vargas Chair will enable MSU to effectively compete for top faculty members who are leaders in the field of turfgrass pathology.

For more information, contact:
Dr. Brian Horgan, Ph.D.
Chair, Department of Plant, Soil & Microbial Sciences
Brittany Lawrence
Development Officer, College of Agriculture and Natural Resources
Or contact CANR Advancement.