View information by type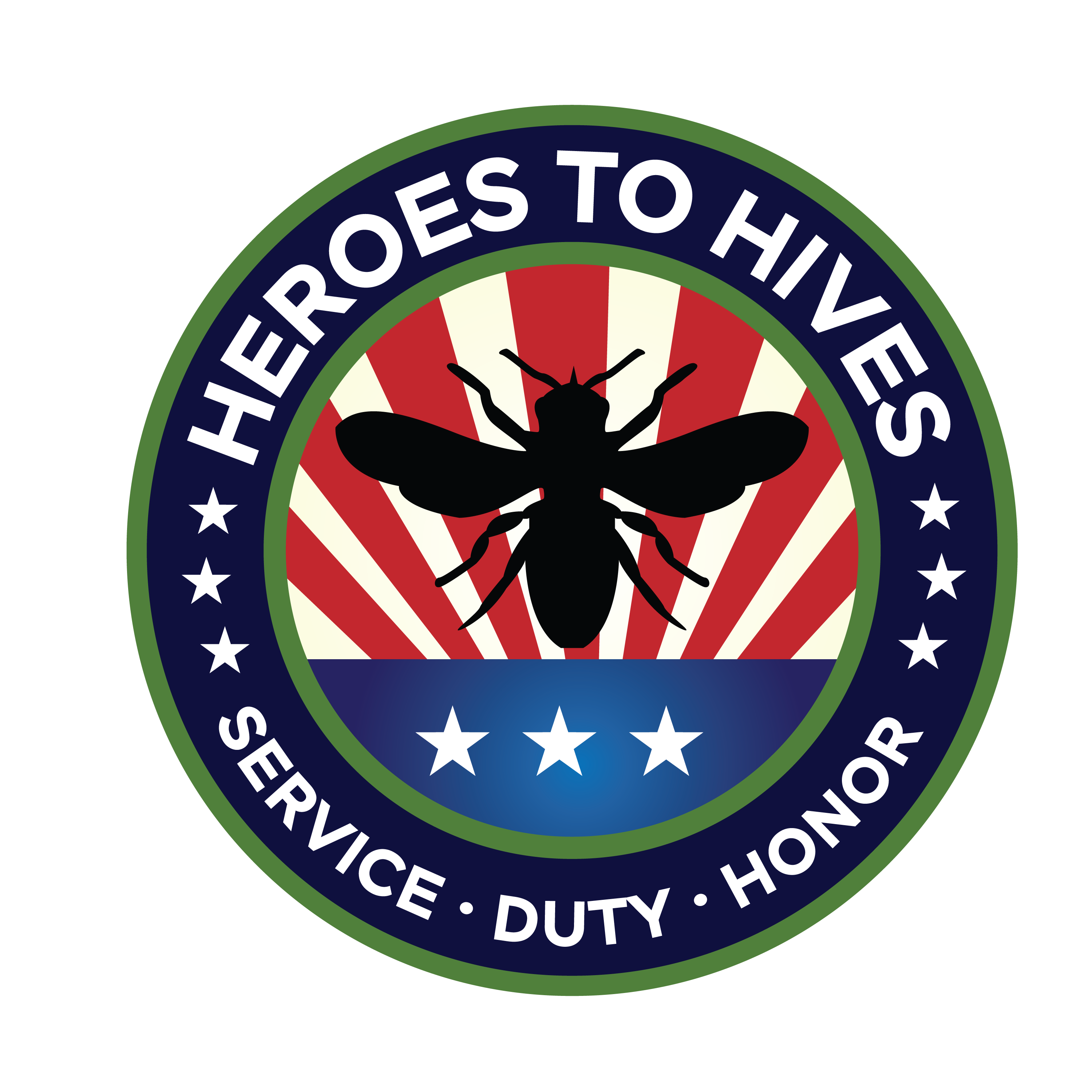 Our Mission
Safeguarding U.S. food security by protecting the most important managed pollinator on the planet
Heroes to Hives (H2H) is a unique program offered through offered through Michigan State University Extension and its partners, Michigan Food & Farming Systems, University of Minnesota Bee Veterans program, University of Missouri Extension Heroes to Hives, and University of Nebraska-Lincoln's Great Plains Master Beekeeping Program. The program seeks to address financial and personal wellness of veterans through free professional training and community development centered around beekeeping. Veterans leave our program with a broad depth of beekeeping knowledge. Our students understand the importance of pollinators in U.S. agriculture and stand to protect managed honey bees through small-scale, sustainable beekeeping operations
Our focus is to educate veterans to be the next generation of beekeepers and we believe veterans are the well-positioned to fill this important service for U.S. agriculture. We believe that through beekeeping, veterans have the opportunity to continue to serve their country as they transition from protecting our national security to our food security. We support our veterans through comprehensive training, a supportive community, access to scientific knowledge, and a network of veteran beekeepers across the country.
Heroes to Hives Online Course
The Heroes to Hives online course has 9 modules, which include pre-recorded lecture videos, instructional videos, articles, and quizzes.
The online course is self-paced, allowing students to review course materials at their own pace and on their own schedules. There are no live or synchronous sessions.
The Heroes to Hives online course is open to all U.S. Veterans, Active Duty Military Personnel, National Guard Members, and Reservists across the globe, as well as their eligible dependents (spouses and children at least 18 years of age of participating U.S. Veterans, Active Duty Military Personnel, National Guard Members, and Reservists).
Students who complete the online course are eligible to receive a downloadable certificate of completion from Michigan State University Extension and can transfer credits to Great Plains Master Beekeeping.
Whether you are retired at home or active duty far away, we welcome you to the Heroes to Hives online course. Although our curriculum is specifically focused on beekeeping in Michigan, veterans in any location will gain valuable knowledge on honey bee biology, colony biology, pest and pathogen management, and overwintering.
Register for the 2022 Heroes to Hives online course.
Heroes to Hives On-Ground Training
On-ground training will be held in Michigan, Minnesota, Missouri, and Nebraska. Training typically runs April-October and covers hive handling, colony inspections, pest and pathogen management, and beekeeping ergonomics. Students can choose to participate in one or many sessions.
Students who are enrolled in the online course will receive information in the spring about on-ground sessions. We will also announce in the spring which states have the capacity to accept out-of-state students in their on-ground sessions.
It is not necessary to participate in the on-ground training to receive the certificate of completion for the online course. Many of our students only participate in the online course portion of the program.
Community building is a specific focus of the Heroes to Hives on-ground training, and our veteran-centered approach to teaching and engagement allows veterans to feel comfortable and supported in a peer network of veteran beekeepers.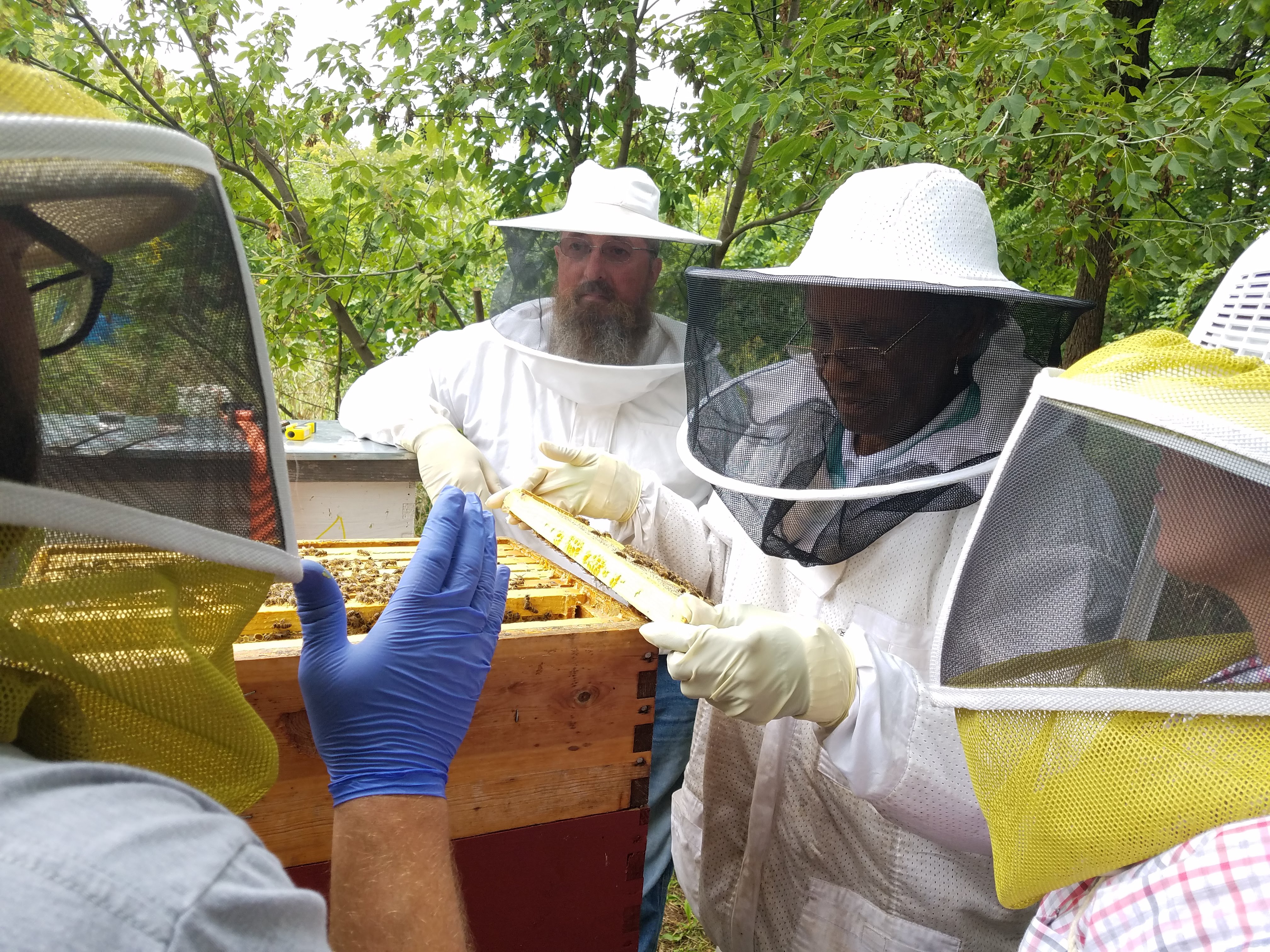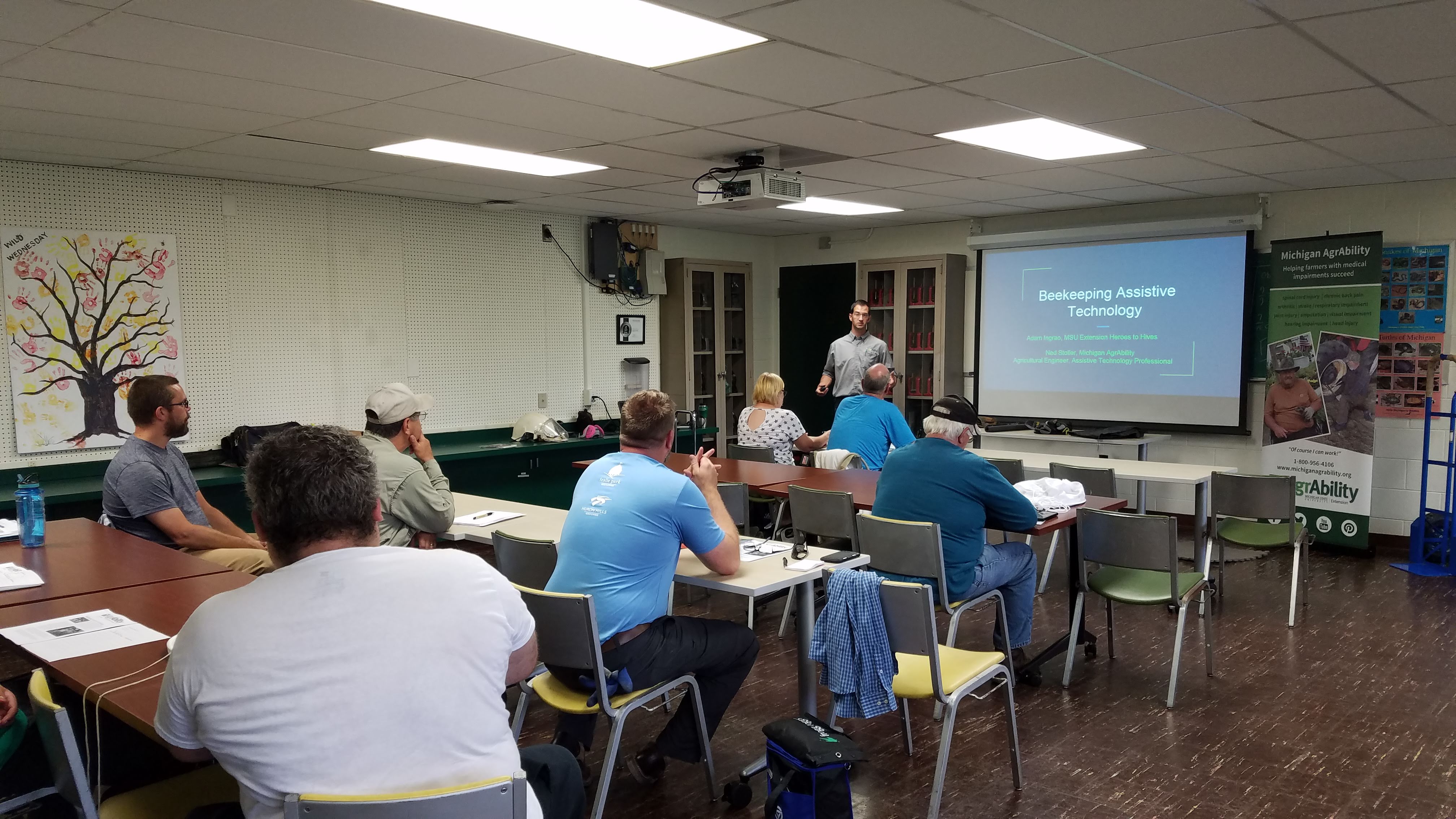 Heroes to Hives Supports Veterans and Honey Bees
Veterans
Michigan is home to approximately 640,000 veterans who are facing a multitude of challenges as they transition from military to civilian life. These challenges include anxiety, depression, dealing with service related health issues and disabilities, and finding career opportunities that are personally rewarding. These challenges are exacerbated by the loss of the camaraderie and support that is inherent in military units and often results in a sense of isolation and loss in the lives of many transitioning vets. Heroes to Hives offers veterans a chance to reconnect with their brothers and sisters in arms with a common mission of protecting the most important managed pollinator on the planet.

Air Force veteran Torrie Condet inspects a frame of bees.
Honey Bees
Honey bees provide pollination services to 35% of agricultural crops grown, a service worth almost 20 billion dollars in the U.S. each year. In the last decade, beekeepers have reported losses at unprecedented rates, with beekeepers losing 30 – 40% of their colonies each year. While beekeepers are able to split surviving colonies to keep national honey bee colony numbers relatively stable, the high losses reported highlight the difficult of keeping honey bees healthy. Beekeepers face more challenges than ever before, with pests, pathogens, poor nutrition, and pesticides making beekeeping more difficult, and expensive. Heroes to Hives seeks to set our veterans up for success in beekeeping through intensive training focused on honey bee health and minimizing losses to ensure sustainable beekeeping operations.
Our Partners