December 15, 2017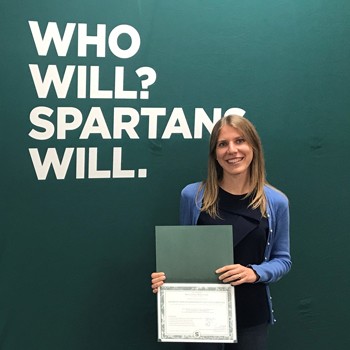 University of Milan Department of Health, Animal Science and Food Safety PhD student Maria Elena Marescotti has spent six months at MSU as a visiting scholar in the Department of Agricultural, Food, and Resource Economics (AFRE), in collaboration with AFRE assistant professor Vincenzina Caputo. Before her departure at the end of the Fall 2017 semester, AFREinterviewed Marescotti on her work with the department and her experiences in Michigan.
AFRE: How did your visiting scholarship start?
Maria Elena: In Europe Dr. Vincenzina Caputo is one of the highest reputed experts in consumer behavior in food market research and choice modelling. Luckily, she came to University of Milan as an invited speaker last year and I was completely amazed at her knowledge of the use of experimental methods to elicit consumer preferences and demand. When she was there, I had the opportunity to meet and discuss my research study with her. She then invited me to come here for a six month period as a visiting scholar to design the experiments for my research.
AFRE: What did you work on during your time here?
Maria Elena: My research has been focused on consumer choice behaviour and demand toward novel foods and pricing decisions using a discrete choice experiment method. Despite having to work incredibly hard during to take full advantage of this opportunity, I have enjoyed every step of the process. I was interested in the changes and development of my survey questionnaire and the experimental procedures, which are the most important steps when designing a choice experiment study. The data collection will be completed by end of January and I plan to submit two articles for publications to international journal by the end of the spring semester.
AFRE: How was your time in our department?
Maria Elena: I have tried to take as much advantage as possible of all the numerous activities offered by AFRE. I have attended most of the seminars organized by AFRE and I found them very useful and interesting. In addition, I attended the summer school organized by Dr. Caputo last summer and two classes offered by AFRE as an auditor. During these activities and other social events organized by MSU I have had the opportunity to meet a number of great professors such as Titus Awokuse, Thomas Reardon, Scott Swinton, among others as well as highly motivated graduate students, and have already started discussing potential future collaborations with some of them.
AFRE: Did you like Michigan?
Maria Elena: I love to travel, discover new cultures and exchange experiences. Michigan was the first American place in which I have been. Everything for me was new and different. During these months I've tried to live the real American experience which before I had only seen it in the movies. I've been to football, hockey and basketball games, tailgated on Saturday mornings, tried cider & donuts, made s'mores on a fire, went to apple picking, celebrated Thanksgiving with an amazing Michigander family and shopped during black Friday. Michigan surprised me a lot, in terms of wilderness, especially during the fall. Since I'm here I have taken thousands of pictures with my camera and save these memories forever.
AFRE: Thank you so much for being a part of our department. Anything else you'd like to add?
Maria Elena: I would like to thank all of those people that I have met during these months. Special gratitude to Vincenzina for her patience and her generosity to transfer all her knowledge to me. I would like to thank Dr. Titus Awokuse for hosting me in the department he heads, Dr. Soren Anderson for allowing me to attend his wonderful class "Economics of Environmental Resources" which will tie into my future research career. Most of all, I would also like to thank another international scholar working with Dr. Caputo, Petjon Ballco, and a PhD student from AFRE, Angelos Lagoudakis, for all the help and the laughs, and for having been by my side during this great and unforgettable experience Thank you AFRE, thank you MSU. Go green, go white!