Dilrukshi Hashini Galhena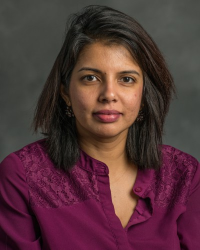 galhenad@msu.edu
Telephone: 517-355-0271

Research Assistant Professor
---
Location:
Plant and Soil Sciences
1066 Bogue St Room A418
East Lansing MI 48824
Dr. Hashini Galhena Dissanayake received her Bachelor's degree in International Business and Trade with minors in Economic and Finance from Oklahoma State University (OSU), Stillwater, Oklahoma. She then joined the Master of Science program in the Department of Agricultural Economics at OSU and proceeded to pursue a Ph.D. from the Department of Plant, Soil, and Microbial Sciences at Michigan State University (MSU). Dr. Galhena Dissanayake is currently a Research Assistant Professor at MSU and a member of the World Technology Access Program (WorldTAP) of the College of Agriculture and Natural Resources at MSU. Her research interest lies in the socioeconomic aspects of new science and technology on agricultural and economic development in developing countries. She has conducted research related to this topic in countries in Asia and Africa and has been involved in a number of international development projects funded by USDA FAS, USAID, and the Bill and Malinda Gates Foundation.