Paige Filice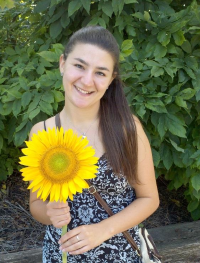 ---
Location:
13 Natural Resources
Major Advisor: Jo Latimore
Biography: Paige's research involves promoting a new State of Michigan campaign aimed at consumers and retailers in the aquarium and water garden industry and proper disposal of aquatic invasive species. Since 2011, she has been at MSU working as an Outreach Program Assistant. The majority of her work has involved aquatic invasive species education for boaters, anglers, and lake associations as well as the development of two online courses for MSU Extension. She was previously employed by the Clinton Conservation District as a Watershed Technician and mainly worked with the agricultural community. Paige currently serve as a board member for the Middle Grand River Organization of Watersheds and as a reporter for East Lansing Info, a citizen run local news cooperative. She earned a B.A. degree from Lake Superior State University in Conservation Leadership. She is from Lansing, MI and has 3 'fur kids' at home- a rabbit, red foot tortoise, and cat along with 2 freshwater fish tanks. In her free time she enjoys backpacking, camping, kayaking, biking, and playing badminton.