Thomas R. Pierson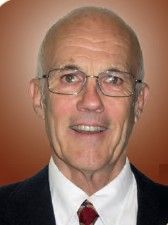 Department of Agricultural, Food, and Resource Economics
Professor Emeritus
Degree:
Ph.D., 1974. Cornell University
M.S., 1968. Purdue University
BS., 1966. Cornell University
---
Bio-Info
Professor Emeritus Thomas R. Pierson, retired from Michigan State University in 1997 as Director of the Food Industry Management Program. Professor Pierson dedicated his career to teaching food marketing with a food system perspective encompassing producers, processors, manufacturers, wholesalers, retailers and consumers. He distinguished himself in these endeavors. In 2013, he was elected to the Meat Industry Hall of Fame based on his contributions to the welfare of the meat industry's producer, processor, wholesaler, and retailer segments. His work was always done based on careful research into issues and problems, followed by the development of effective visual and spoken communication tools to contribute to the knowledge base of his meat industry colleagues.
Dr. Pierson collaborated professionally with his colleague Dr. Jack Allen, a member of the Meat Industry Hall of Fame Class of 2011. Much of their work was at the request of food industry groups seeking answers or additional knowledge and information about current industry problems and developments. He was a co-presenter of a ground-breaking research project entitled, "The State of the Meat Industry" to an audience of over 800 meat industry executives in 1980, the first in a series of joint industry presentations over a twenty year period.
During his career at Michigan State, Dr. Pierson conducted research and made approximately 50 presentations to food industry audiences every year, totaling over 1,000 during his service to the food industry. Those presentations addressed new opportunities for enhanced marketing of meats, produce and fresh prepared foods. He played a leading role in the conduct of research and established creative ways to communicate knowledge to industry audiences. The approach was to identify progressive practices in their early stages and to document them with photos and evidence of economic feasibility.
Dr. Pierson played a key role in demonstrating the merits of central packaging and a host of other programs and products that added value and convenience for consumers. An important aspect of many studies and presentations was the Consumer Value Equation which focuses on understanding the true wants and needs of different types of consumers. He recognized that changes in meat products and services in response to consumers' wants and needs required investments and aptly demonstrated that greater profits could be achieved by efficiently responding to those wants and needs.
Established in Dr. Pierson's honor, The Dr. Jack Allen and Dr. Tom Pierson Scholarship Endowment benefits students enrolled in Michigan State's Food Industry Management program to support their travel expenses associated with participation at professional conferences, seminars, and meetings. The scholarship also supports study and travel abroad connected to a course of study where language studies (non-English speaking) and cultural orientation will precede the travel abroad experience.
Students
Pubs Online
Notable Docs/Pres