August 2-8, 2020


Camp Chickagami
Young teens have fun and amazing outdoor hands-on learning experiences as they go charter fishing, snorkeling, sailing, hike through forests, wade through wetlands, explore dunes and more! This really fun MSU pre-college program could be the highlight of your summer - it could even change your life!
Learning sessions and recreation are designed to:
Increase teens' appreciation and enjoyment of the outdoors, natural resources, and science.
Increase teens' knowledge about the Great Lakes, natural resources ecology and management issues.
Develop strong attitudinal attachment to Michigan's unique natural resources and bioregional features.
Foster scientifically rooted environmental stewardship.
Develop and expand career and personal interests.
Develop leadership skills and self-confidence.
Increase social and academic skills needed for a successful transition to college and life as an adult.
Download the 2018 Great Lakes & Natural Resources Camp brochure. Learn more by reviewing the one-page 2018 impact summary.
Who should attend?
The camp is for teens aged 13 to 15, or going into 8th-10th grades in the fall, who are functioning at grade-level or above. (We use the public school cut-off date for school-year eligibility which is that 2020 campers must be born before 12/01/2007 to be entering 8th grade in the fall.) You don't need to be a 4-H member to attend.
So each camper can have the best experience possible, each camper must be able to fully participate in grade-level appropriate small group science learning sessions as well as very active large group recreation. It's an action-packed week of fun and learning! (Campers who are unable to meet these expectations will be dismissed from camp at the parent/guardians expense.)
Maximum camper capacity is 70 campers, so apply early to increase your chances of getting a spot. Promotional materials and applications will be available in March.
Where is the Camp?
The camp is held at a place called Camp Chickagami in Presque Isle, near the shores of Lake Huron between Alpena and Rogers City. The state-licensed camp has dormitory-style cabins, a dining hall, and toilet and shower facilities. Meals are all prepared by a qualified cook and served right in the dining hall.
Related Programs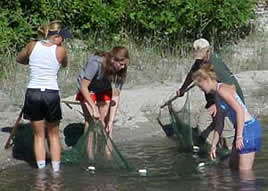 4-H Great Lakes and Natural Resources Camp is just one of many 4-H environmental and outdoor education program offerings. For more information, please visit the Environmental and Outdoor Education section of this site.
For information about the pre-college programs offered at MSU, please visit Spartan Youth Programs at http://www.spartanyouth.msu.edu. You'll find a multitude of programs that can help you develop valuable skills, make new friends and taste college life.
Contact
Laura Potter-Niesen, Educational Programs Event Coordinator
Phone: 517-432-2963
Fax: 517-353-4846
Email: potterla@msu.edu