The Science
The Feed the Future Biotechnology Potato Partnership (The Project) is a five-year, $5.8 million cooperative agreement between Michigan State University (MSU) and USAID to develop and bring to market a 3 R-gene late blight resistant (3 R-gene LBR) potato in farmer-preferred varieties in Indonesia and Bangladesh. The project consists of agreements between USAID, MSU, the University of Minnesota, the University of Idaho, the Bangladesh Agricultural Research Institute (BARI), the Indonesian Center for Agricultural Biotechnology Genetic Resources Research and Development (ICABIOGRAD), the Indonesia Vegetable Research Institute (IVEGRI), the International Potato Center (CIP), and the J.R. Simplot Company, to produce and steward the 3 R-gene LBR potato, containing the Rpi-blb2, the Rpi-vnt1, and the Rpi-mcq1 genes, for distribution to low-income farmers and commercialization.
The Project was also tasked with conducting collaborative research on a USAID funded CIP 3 R-gene LBR potato containing the RB, the Rpi-blb2, and the Rpi-vnt1 genes. This testing will allow comparison of resilience of the 3 R-gene LBR potato and a single R-gene LBR potato against late blight strains endemic to Indonesia and Bangladesh.
In addition to these research and development foci, the project will develop and implement appropriate tools and processes for regulatory compliance and stewardship and also implement a communications strategy to inform the public and stakeholders of the benefits of the LBR potato. We will also develop institutional capacity in each of these areas in the partner institutions with whom we are working and their respective governments, then work with the private sector in the target countries to develop biosafety standard operation procedures. The environmental impact, gender balance contribution and socio-economic impact of the GM products produced through this project will be carefully monitored and assessed.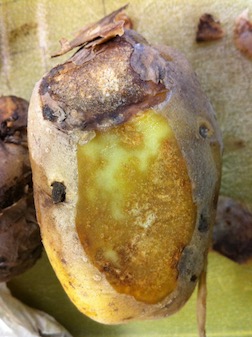 A potato infected with Late Blight Disease