Educational Materials and Resources
There are a variety of ways to share the Clean Boats, Clean Waters message of clean, drain, dry with the public.
Materials
Boat launch signs and rack cards are available through the Michigan Department of Environment, Great Lakes, and Energy at no cost while supplies last. Contact Kevin Walters at Waltersk3@michigan.gov.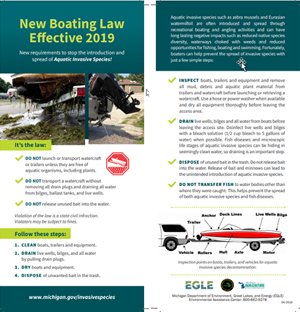 Rack card (4" x 9" double-sided) This rack card describes new boating laws requiring boaters to remove all debris and aquatic plants from boats and trailers and to remove plugs and drain all water from bilges and live wells before transporting. Place or distribute rack cards at local offices, public places and any locations visited by boaters. An electronic version of the rack card can be found here.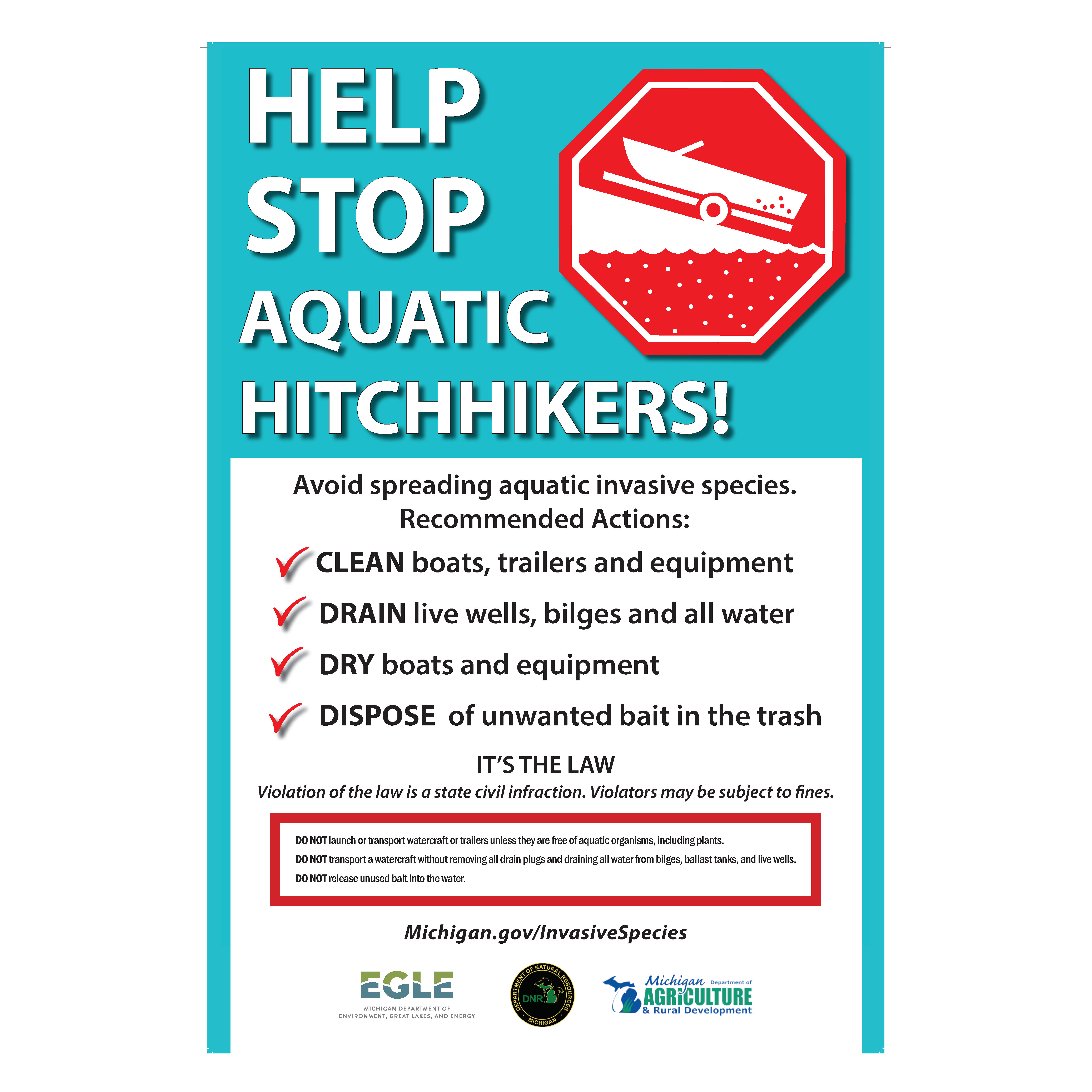 Boat launch sign (16" X 24") Sturdy, weather-resistant sign reminding boaters to clean, drain and dry boats and trailers and to dispose of bait in the trash. These can be placed at municipal boating access sites and private launch sites with permission.
Resources
Aquatic plant identification resources
A variety of identification guides and websites have been developed specifically for aquatic invasive species in the Midwest. Here are some of the most popular publications and websites.
Additional learning opportunities
Videos
The Michigan Department of Environment, Great Lakes and Energy has produced a variety videos highlighting aquatic invasive species and practices to stop their spread. Below is a playlist of some of their most popular educational videos. These videos are publicly available and can be shared.
Articles
If you are looking for articles to reuse for newsletters, websites, or general outreach, consider signing up for email alerts from the Michigan Department of Natural Resources and Michigan State University Extension. Both organizations publish educational articles on invasive species on a regular basis. You can rerun Michigan State University Extension news articles with appropriate credit.