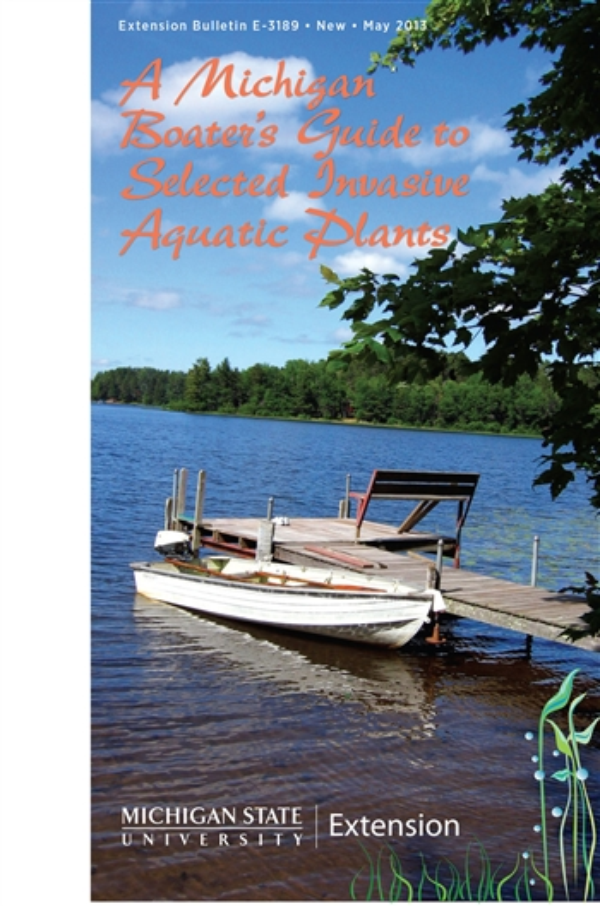 A Michigan Boater's Guide to Selected Invasive Aquatic Plants (E3189)
DOWNLOAD
September 17, 2013 - Author: Lois Wolfson
This handbook is printed on water-repellent paper and is small enough to keep stored onboard in the event a suspicious plant is located while recreating on a Michigan waterway. It includes full-color photos and range maps for selected invasive aquatic plants and a glossary of plant terminology. Click here to purchase the hard copy of the handbook.
The Boater's Guide features 11 invasive plants that either currently pose a threat to the ecosystem or are prone to if they become established. Others are not yet listed but have been found in neighboring states and are considered threats to Michigan waterways.
An important feature of the new Boater's Guide is its connection to the Midwest Invasive Species Information Network (MISIN). The MISIN website is Michigan's designated repository for invasive plant and animal sightings. This interactive mapping and rapid response website allows anyone to enter site-specific locations or upload photos. It also provides additional assistance with identification.
For smartphone users, each plant page of the new guide contains a QR code that, when scanned, takes the user directly to the MISIN website for more information about that particular plant. The guide also provides information about MISIN's smartphone app -- available for free download on the MISIN website.
By reporting your findings, you contribute to a multi-state database on invasive species. As a boater or any concerned citizen, your help in reporting sightings of invasive species is important.