Multiple infestations of invasive water garden plants discovered this fall in southeast Michigan
Over 3,500 pounds of water lettuce and water hyacinth have been removed by the Lake St. Clair Cooperative Invasive Species Management Area and Michigan Department of Environment, Great Lakes, and Energy biologists.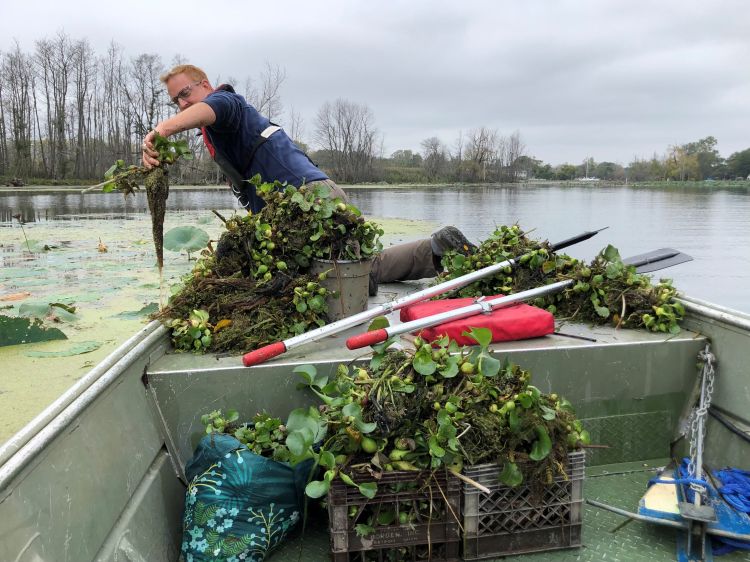 Two infestations of invasive aquatic plants commonly sold for water gardens have occurred during the fall of 2021. In late October, the Lake St. Clair Cooperative Invasive Species Management Area (CISMA) responded to an invasive species report of water lettuce near a residential area in Macomb Township. Since its discovery, over half an acre has been surveyed and is believed to be impacted by both water lettuce and water hyacinth. Both aquatic plants are legal to sell for water gardens. However, they are also on the Michigan aquatic invasive species watch list and therefore, when discovered in the wild, removal and management actions take place.
This is not the first occurrence of water lettuce or water hyacinth in Michigan waterways. Both have been found annually in the Frank and Poet Drain, near the Detroit River, from 2014-2017 and water hyacinth was found again this year. Approximately 100 pounds of water hyacinth was removed by hand in the Frank and Poet Drain by Michigan Department of Environment, Great Lakes, and Energy (EGLE) biologists this fall. The Lake St. Clair CISMA spent eight days removing over 3,300 pounds of plant material by hand. They anticipate monitoring the site in 2022 and performing any needed removal efforts. A landowner likely intentionally planted water lettuce and water hyacinth in the Macomb Township stream without knowing the environmental impact.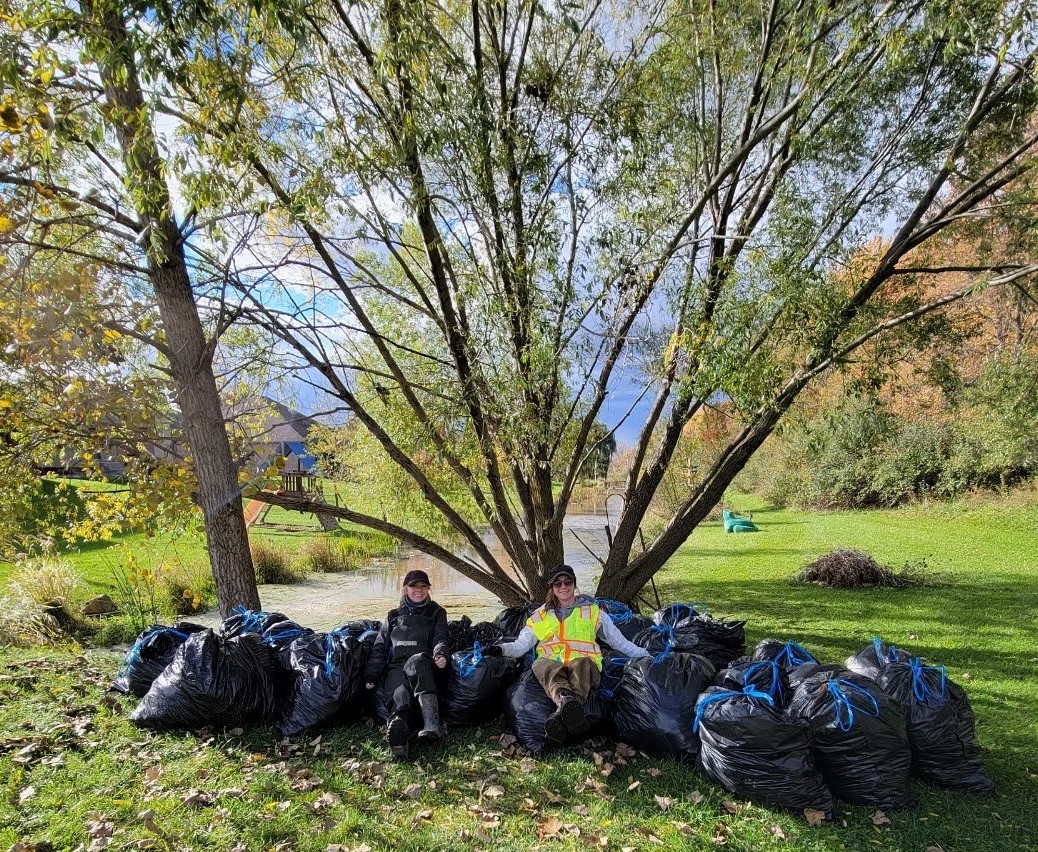 While water lettuce and water hyacinth are commonly available for purchase, gardeners should use caution when using them in their landscapes. Neither plant should ever be planted in a natural waterway. In the southern United States, water hyacinth and water lettuce clog waterways and obstruct boat traffic and impact wildlife. Water hyacinth is a very showy plant and features light purple flowers and dark green, glossy round leaves. As its name implies, water lettuce looks like an open head of lettuce and has thick, hairy leaves. Both float on the surface of water and are extremely easy to care for because they reproduce throughout the summer.
The Macomb Township infestation was first reported by a concerned citizen using the Midwest Invasive Species Information Network (MISIN). MISIN is a regional database used by invasive species specialists and it allows anyone to report new invasions of plants and animals to biologists and managers. The MISIN website also features maps of current infestations and identification learning modules.
Water gardening is one way aquatic invasive species are introduced to Michigan's waterways. Many organisms available for water gardens are exotic species and not native to Michigan. They tend to be hardy and grow rapidly making them easy to care for, but these characteristics can also cause them to be invasive in lakes and rivers. It is important for gardeners to be aware of the risks associated with aquatic invasive species and to never release plants, fish, or other animals in natural waterways. To prevent invasive species introductions from the water garden trade, Michigan State University (MSU) Extension created the Reduce Invasive Pet and Plant Escapes (RIPPLE) program. MSU Extension works with retailers, hobbyists and CISMA's to increase awareness of invasive aquatic organisms in trade to prevent their release.
Cooperative Invasive Species Management Areas also work closely with invasive species infestations and are typically the first ones on-the-ground assessing infestations and performing invasive species removal. CISMAs are regional invasive species cooperatives, and every Michigan county has a local CISMA that can provide invasive species technical assistance, identification tools, educational programs, treatment options, and monitoring assistance. The Lake St. Clair CISMA coordinated the removal of water lettuce and water lettuce in Macomb Township and will be conducting ongoing monitoring of the stream.
The RIPPLE education program is a partnership between Michigan State University Extension and the Michigan Departments of Natural Resources, Agriculture and Rural Development, and Environment, Great Lakes and Energy. RIPPLE and the Lake St. Clair CISMA are funded by the Michigan Invasive Species Grant Program (Michigan.gov/Invasives).