Hay Production 101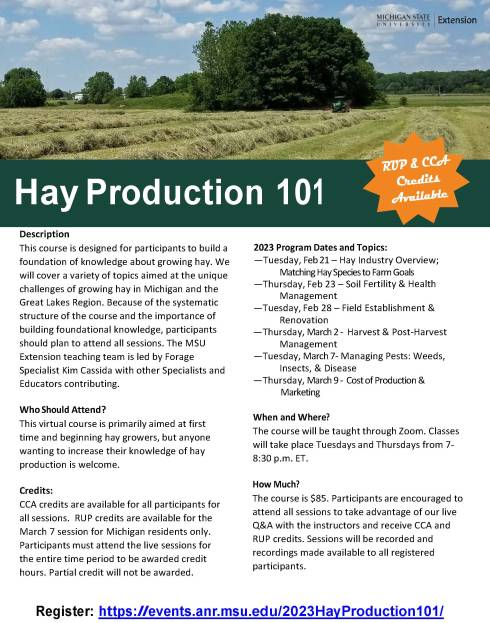 Description
This course is designed for participants to build a foundation of knowledge about growing hay. We will cover a variety of topics aimed at the unique challenges of growing hay in Michigan and the Great Lakes Region. Because of the systematic structure of the course and the importance of building foundational knowledge, participants should plan to attend all sessions. The MSU Extension teaching team is led by Forage Specialist Kim Cassida with other Specialists and Educators contributing.
Who Should Attend?
This virtual course is primarily aimed at first time and beginning hay growers, but anyone wanting to increase their knowledge of hay production is welcome.
2023 Program Dates and Topics:
Tuesday, Feb. 21 – Hay Industry Overview; Matching Hay Species to Farm Goals
Thursday, Feb. 23 – Soil Fertility & Health Management
Tuesday, Feb. 28 – Field Establishment & Renovation
Thursday, March 2 - Harvest & Post-Harvest Management
Tuesday, March 7- Managing Pests: Weeds, Insects, & Disease
Thursday, March 9 - Cost of Production & Marketing
When and Where?
The course will be taught through Zoom. Classes will take place Tuesdays and Thursdays from 7- 8:30 p.m. ET.
How Much?
The course is $85. Participants are encouraged to attend all sessions to take advantage of our live Q&A with the instructors and receive CCA and RUP credits. Sessions will be recorded and recordings made available to all registered participants.
Credits
CCA credits are available for all participants for all sessions. RUP credits are available for the March 7 session for Michigan residents only. Participants must attend the live sessions for the entire time period to be awarded credit hours. Partial credit will not be awarded.
---
Instructor