Introduction to Lakes Online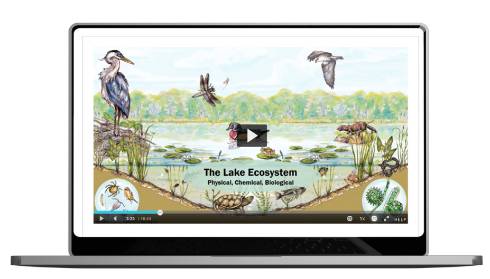 Course Overview
In this course, you will learn about inland lake ecology, management, and protection through six interactive online units. Inland lakes are complex ecosystems and are often negatively affected by both the people that live near them as well as the water that drains into them. Frequently, local communities struggle to protect and manage inland lakes in a way that incorporates the best available knowledge and resources.
Introduction to Lakes Online is designed for concerned citizens, decision makers, local leaders, resource professionals, and lakefront property owners interested in gaining knowledge about inland lakes. From the comfort of home or office, participants have 24/7 access to the course website. Each unit of the course includes closed captioned video lectures, interactive activities, discussion forums, quizzes, and additional resources for those looking to dive deeper into a topic. Each unit will take approximately 2 hours to complete. We also offer three Ask-an-Expert webinars where participants can ask MSU Extension experts and invited guest's questions related to inland lakes. The course is taught on a week-by-week basis, allowing for online communication between classmates and instructors through topical discussion forums.
Through this convenient format, participants increase their knowledge and understanding of the following six topics:
Lake ecology
Watersheds
Shorelines
Aquatic plant management
Michigan water law
Community involvement
Course instructors include Bindu Bhakta, Erick Elgin, Paige Filice, Julia Kirkwood, Dr. Jo Latimore, Brad Neumann, Mary Reilly, and Dr. Lois Wolfson.
Sign-up here to be added to our email list and you will receive a notification when registration opens.
Course Format
This is a six-week cohort based online course meaning all participants will be advancing through the educational program together in a collaborative manner. Each week a new course topic will become available for completion. Each unit takes approximately 2 hours to complete. You do not need to complete each unit the day it opens.
What to expect
Access to the course will be provided on a week-by-week, unit-by-unit basis with each new unit opening on Tuesday at 8:00 AM eastern. Each week a new unit will become available. You will not have access to all units at once. Your access to future units will be based on completion of the previous unit's quiz. The quizzes are made up of 10 multiple choice and true/false questions. Once a unit is available to view, it will remain open.
You can work on coursework at any time. The course site will be available 24 hours a day, 7 days a week. It is expected that you will complete all course work for the assigned unit per week. Each unit will take approximately 2 hours to complete.
Every other week we offer optional Ask-an-Expert webinars. These one hour webinars are specific to topics in the course and are hosted by the instructional team and outside experts. During the webinar participants ask questions to a panel via a Q&A box.
2023 course syllabus and schedule
Course Registration

This course is offered once a year and it took place January- March 2023. Registration for the next offering will open in the fall.
Sign-up here to receive course registration alerts
Continuing Education Credits
The 2023 course was approved for the following credits:
Price
The cost of the course was $115. Financial assistance was available.
---
More Information
Have a question about the course? For more information, contact Paige Filice at filicepa@msu.edu.
---
Instructor