Manure Hauler Certification Program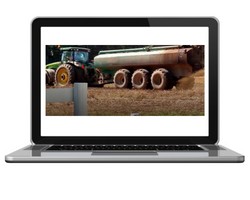 Course Overview
The goals of the Michigan Manure Hauler Certification Program are to:
Prevent manure application problems before they occur.
Increase nutrient management plan implementation.
Demonstrate responsible manure application.
Increase the base level of manure management knowledge of all employees.
Improve professionalism among manure applicators.
The certification program creates a clear pathway for farms and for-hire manure applicators (firms) to move from training, to certification, to third party audit - incentivized by reductions in insurance premiums - without implementing a mandatory program. There are three levels to the certification program. Passing the online course with a score of 80% or more is one of two components of becoming Level 1 certified. Registration instructions for the online course are below. Click on the links in the box to the right for more details about the certification program for farms and firms.
Presented in partnership with

REGISTRATION INSTRUCTIONS
To register for this course you will need to create an account, sign in with your email/password, and complete the registration process. To watch a video tutorial, demonstrating an overview of the registration process, click on the following link: Online Course Registration Video Tutorial. Step-by-step instructions are below.
STEP #1: Create your Michigan State University Guest Account by following the instructions on this website: MSU Guest Account Creation Page. (For detailed instructions visit the following web page: Instructions: Creating Your Guest Account.)
STEP #2: Login to the registration system with your Guest Account (your email) and Password: Manure Hauler Certification Program Registration.
STEP #3: Follow the instructions to register for the course. Upon registration, you will receive a receipt and instructions for accessing the course.
LOGGING INTO THE ONLINE COURSE
Once you have registered, follow the instructions below to login – you will use the same login credentials that you set during registration (your NetID is your email address used during registration and use the same password set during registration).
Go to the Michigan State University's Online Course System (known as Desire2Learnor D2L): https://d2l.msu.edu/.
Click on the Login button. In the MSU NETID field enter your email address (enter the same email used during registration).
Enter the password you set during registration.
You will be logged into D2L - click on the View All Courses link and you will see the Michigan Manure Hauler Certification Program title.
*Note: If you need to reset your password go to: https://community.idm.msu.edu/ and select the option for Forgot Password.
TECHNICAL ASSISTANCE
If you have any technical problems, please contact the Michigan State University IT Service Desk from 7am-12am Monday through Friday and 10am-12am on Saturday/Sunday, any day that the University is open.
Phone: (517) 432-6200
Phone (toll free): 1 (844) 678-6200
FAQ
What is my username/NETID?
Your username (or NET ID) is the email address you used to create your account during registration (you use the same email address/password for registering and for taking the course).
What URL do I go to for logging into the course?
Go to: https://d2l.msu.edu/. You will see the Michigan State University at the top of the page. Login with the email address and password you set during the registration process.
I received a "not authenticated" response when trying to login – what do I do?
A "not authenticated" message is typically an issue with a password not being entered correctly.
I forgot my password – where can I reset it?
If you need to reset your password at any time go to https://auth.msu.edu/ and select the option for "Need help Signing in."
ACKNOWLEDGEMENTS
Content for the Michigan Manure Hauler Certification Program was based on work done by Brian Adams, Jerry Clark, Kevin Erb, Richard Halopka, Janice Kepka, George Koepp, Amber O'Brien, Cheryl Skjolaas, and Dongli Zhang (University of Wisconsin-Madison, Division of Extension), Brian Adams, Daniel Farris, Doug Hamilton, and Craig Woods (Oklahoma State University Extension), Mary Keena (North Dakota State University Extension), and Melony Wilson (The University of Georgia Extension) in support of U.S. Department of Agriculture, Natural Resources Conservation Service, Conservation Innovative Grant number 69-3A75-17-17. USDA is an equal opportunity provider and employer. Any opinions, findings, conclusions, or recommendations expressed in this publication are those of the authors and do not necessarily reflect the Views of the U.S. Department of Agriculture.
---
Instructor
---