Meat Cutter Training Course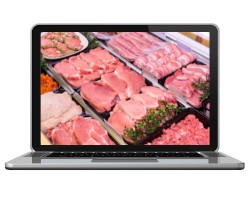 Course Overview
Offered on-demand, the online meat cutter training course includes multiple demonstrational videos on pork and beef carcass breakdown into primal, subprimal and retail cuts. This interactive certificate training program also includes material and exercises covering meat inspection, food safety, beef grading, fabrication, meat grinding, aging meat, retail display and labeling.
This interactive certificate training program covers:
Meat Inspection

Federal
Custom exempt
Retail exempt

Food Safety

Food hazards
Allergens
Microbial growth
Types of bacteria
Foodborne illness

Beef Grading

Yield grading
Quality grading
Carcass valuation

Fabrication

Beef (13 videos)
Pork (8 videos)
Bandsaw Operation (1 video)

Meat Grinding

Ground beef
Fresh sausage
Grind sizes
Grinder operation (1 video)
Formulations

Aging meat
Retail display
Merchandizing

Fresh meat color
Cooked meat color
Packaging
Lighting
Product rotation & location
Display and storage time
Customer interaction
Yield tests and pricing

Labeling

Labeling specifications
Lot coding
Label requirements
Nutritional information
Label approval
Label claims
This training is designed for current and aspiring meat cutters as well as anyone looking for educational information on meat science topics. This training will also benefit employees with cut identification, packaging, and labeling to aid in sales, marketing, and customer service. Upon successful completion, each individual will receive a Certificate of Completion.
Course Format
Self-paced online course (estimated 6-8 hours)
Price
$125.00 per user
$100 2-5 users
$90 6+ users
REGISTRATION INSTRUCTIONS (FOLLOW STEPS 1-3 BELOW)
To register for this course you will need to create an account, sign in with your email/password, and complete the registration process. To watch a video tutorial, demonstrating an overview of the registration process, click on the following link: Online Course Registration Video Tutorial. Step-by-step instructions are below.
STEP #1: Create your Michigan State University Guest Account by selecting the Create Your MSU Guest Account button below. (For detailed instructions visit the following web page: Instructions: Creating Your Guest Account.) Once you have created your guest account, return back to this page.
STEP #2: Click on the button below to login to the registration system with your Guest Account (your email) and Password. Upon registration you will receive an email with instructions on how to login to the course.
Register For The Online Meat Cutter Training Course
STEP #3: Once you are registered you may login to the course.
More Information
For more information, please contact Jeannine Schweihofer grobbelj@msu.edu or Andrea Garmyn garmynan@msu.edu.
Technical Assistance
If you have any technical problems, please contact the Michigan State University IT Service Desk from 7am-12am Monday through Friday and 10am-12am on Saturday/Sunday, any day that the University is open.
Phone: (517) 432-6200
Phone (toll free): 1 (844) 678-6200
Frequently Asked Questions
What is my username/NETID?
Your username (or NET ID) is the email address you used to create your account during registration (you use the same email address/password for registering and for taking the course).
What URL do I go to for logging into the course?
Go to: https://d2l.msu.edu/. You will see the Michigan State University at the top of the page. Login with the email address and password you set during the registration process.
I received a "not authenticated" response when trying to login – what do I do?
A "not authenticated" message is typically an issue with a password not being entered correctly.
I forgot my password – where can I reset it?
If you need to reset your password at any time go to https://auth.msu.edu/ and select the option for "Need help Signing in."
---
Instructors