My Horse University: Purchasing and Owning a Horse 101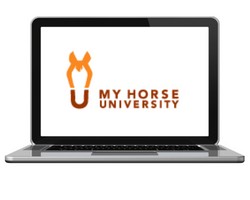 Course Overview
Owning a horse can be a rewarding experience. Success depends on matching the right horse to owner, based on the prospective owner's goals and equestrian ability. Once the match is made, both the fun and work begins! Horse ownership is a big responsibility, not just in relation to the size of the animal, but also in the amount of time and financial investment that is required in the day to day upkeep of an equine companion. A horse requires daily management including feeding and exercising the horse as well as maintaining the horse's housing. In addition, routine health care including annual vaccinations, parasite control, dental care, and hoof care must be regularly attended to. After all of the necessary daily work and health care is accomplished, the owner can enjoy building a partnership with their equine companion through riding, driving or ground work. Course topics include:
​
Matching horse and rider

Shopping for a horse

Behavioral problems to avoid

Sales contracts

Pre-Purchase exams

Facility management

Basic equine nutrition

Basic equine health

Equipment selection
If you have any questions regarding this course, please contact My Horse University at info@myhorseuniversity.com.
Course Format
Self-paced Course
Price
Free
Registration Instructions
To register for this course you will need to create an account, sign in with your email/password, and complete the registration process. To watch a video tutorial, demonstrating an overview of the registration process, click on the following link: Online Course Registration Video Tutorial. Step-by-step instructions are below.
Create your MSU Guest Account/Community ID and Password: Create Your Account. For detailed, step-by-step instructions visit the following page: Account Creation Instructions.

Login to the registration system with your Community ID and Password: Purchasing and Owning a Horse 101.

Follow the instructions to register for the course. Upon registration, you will receive a receipt and instructions for accessing the course.
Technical Assistance
If you have any technical problems, please contact the Michigan State University IT Service Desk from 7am-12am Monday through Friday and 10am-12am on Saturday/Sunday, any day that the University is open.
Phone: (517) 432-6200
Phone (toll free): 1 (844) 678-6200
Frequently Asked Questions
What is my username/NETID?


Your username (or NET ID) is the email address you used to create your account during registration (you use the same email address/password for registering and for taking the course).

What URL do I go to for logging into the course?


Go to: https://d2l.msu.edu/

. You will see the Michigan State University at the top of the page. Login with the email address and password you set during the registration process.

I received a "not authenticated" response when trying to login – what do I do?


A "not authenticated" message is typically an issue with a password not being entered correctly.

I forgot my password – where can I reset it?




If you need to reset your password at any time go to https://auth.msu.edu/ and select the option for "Need help Signing in."
---
Instructor