2023 Hesse-Earl Youth Fishing Program
May 20, 2023 8:30AM - 12:00PM Check in at 8:30AM, program runs 9:00AM to Noon
Registration Deadline: May 19, 2023 - 11:59PM
Motz Park
---
Contact: Rachel Sheff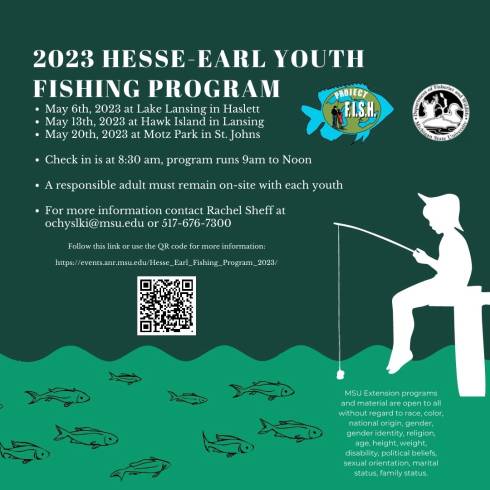 This is a free program for youth, ages 5-16, where they can learn basic fishing skills such as casting, knot tying, rigging for different types of fishing, regulations, and fishing ethics. Then the kids get to apply those skills and knowledge at a local fishing site in the Lansing area with the assistance of trained volunteers. Check-in will begin at 8:30am and the program runs from 9:00am to Noon. A responsible adult must remain on-site with each youth participant.
May 6th, 2023 Lake Lansing, Haslett (past)
May 13, 2023 Hawk Island, Lansing (past)
May 20, 2023 Motz Park, St. Johns
Registration for this event has closed.
Get Directions
Related People
---