Adulting 101 May-August 2023
May 18, 2023 - August 16, 2023 Different sessions offered monthly
Registration Deadline: August 15, 2023 - 05:00PM
Zoom
---
Contact: Katherine Jamieson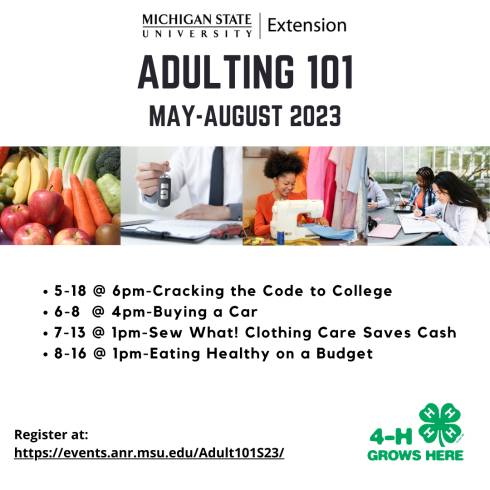 Are you ready to leave for college or be out on your own? Are you prepared to do adult tasks and have skills to be successful? Michigan State University Extension's Adulting 101 programs help teenagers and young adults demystify the obscure reality of being an "adult" through engaging educational sessions. Each FREE session is packed full of important life skills and tools necessary to live independently.
Join us Monthly

Cracking the Code to College - Thursday, May 18 at 6:00 p.m. ET
How do you choose a college that is right for you? Explore the admission and application process and get tips on writing your essay.
How to Buy a Car - Thursday, June 8 at 4:00 p.m. ET
Buying a car is an important and costly decision to make. Attend this session to learn about choosing a vehicle, purchasing it, and all of the considerations when making your decision.
Sew What! Clothing Care saves Cash-Thursday, July 13 at 1:00 p.m. ET
Does sorting dirty laundry seem mind boggling? Not sure about detergent, bleach, fabric softener and dryer sheets? Want to know the difference between ironing and pressing? Have a loose button or need something hemmed? Then you've come to the right place! We'll spend an hour addressing these concerns and sew much more!
Eating Healthy on a Budget -Wednesday, August 16 at 1:00 pm ET
Preparing healthy food and staying within your budget does not have to be a challenge. Planning, preparing, and purchasing strategies will be shared so you can stretch your food dollars further.

Stay informed of upcoming events, news, and more by signing up for a digest, following us on Facebook, Instagram, Twitter or checking out our website.
Registration for this event has closed.
Related People
---