Michigan Beekeeping September Office Hours - Webinar
September 14, 2022 7:00PM - 8:00PM
---
Contact: Ana Heck

Not sure what to do with your honey bee colonies this month? Want to hear about seasonal beekeeping management in Michigan? Join Michigan State University's Apiculture Team for our 2022 Michigan Beekeeping Office Hours!
Register for the 2022 series of Michigan Beekeeping Office Hours webinars.
Dates for Michigan Beekeeping Office Hours (all are on Wednesdays at 7pm Eastern):
April 13th
May 4th
June 1st
July 13th
August 10th
September 14th
All sessions are subject to change and cancelation.
Staying connected with MSU Extension and Michigan Pollinator Initiative
Accessibility accommodations
Michigan State University is committed to providing equal opportunity for participation in all programs, services and activities. Accommodations for persons with disabilities may be requested by contacting the event contact, Ana Heck, two weeks prior to the start of the event. Requests received after this date will be honored whenever possible.
Related People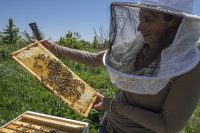 Meghan Milbrath
milbrat2@msu.edu
---